Arsenal's struggles this season have been well-documented; the club were knocked out of the Champions League in the round of 16 for the seventh season running, and it will be 13 years without a Premier League title by the time the campaign comes to an end. Whilst a third FA Cup is four years in within their grasp, Arsenal's lack of ability to challenge at the very elite level is perhaps a major factor in why so much doubt surrounds the futures of Mesut Ozil and Alexis Sanchez. Their contracts at Arsenal have been a stumbling block, with the pair reportedly asking for a weekly pay packet in the region of £290k to remain at the club; however, this may be a ploy to buy themselves a bit of thinking time and also to see what the future of current manager Arsene Wenger will be.
Can Ozil and Sanchez be forgiven for looking for trophies elsewhere? During the German's spell at the club, Arsenal have claimed two FA Cups and two Community Shields, whilst Sanchez has picked up one FA Cup and two Community Shields. We've cast our eyes back and looked at some of the biggest names to have left Arsenal during Wenger's tenure. How did they fare afterwards? Was the grass always greener at new pastures?
Thierry Henry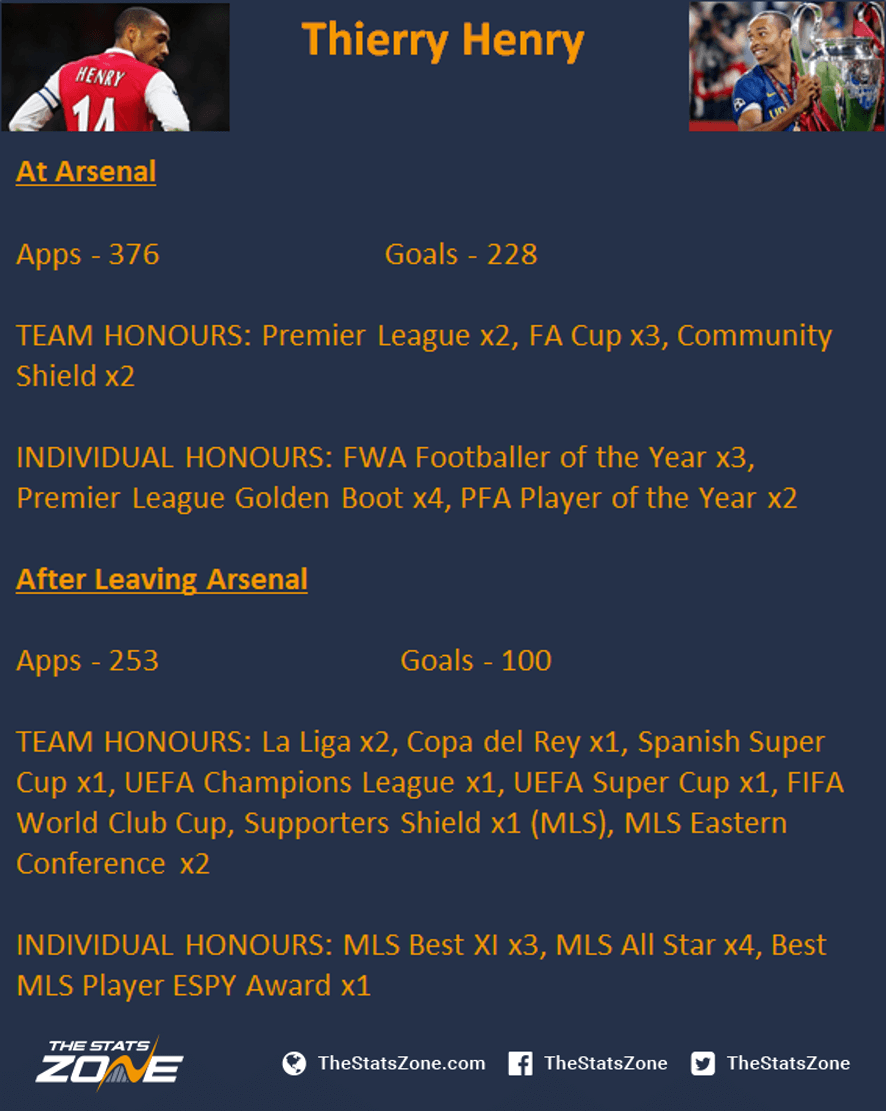 The brilliant Frenchman is a club legend and will always be remembered as one of the best ever players to play in the Premier League, let alone at Arsenal. The striker enjoyed many years of success as a Gooner, winning two Premier League titles, three FA Cups and two Community Shields at a time when the club was enjoying a purple patch. Nevertheless, in 2007, after two trophyless seasons, Henry decided he needed to move on to chase his dream of winning the Champions League.
The striker was granted a move to Barcelona, where he was able to return to winning trophies, securing two La Liga titles, as well as the Spanish Super Cup, UEFA Super Cup, FIFA Club World Cup and the all-important Champions League.
Verdict - There is no doubt that Henry enjoyed his best years at Arsenal but nobody can argue that he moved at the right time to continue his search for titles after two trophyless seasons at Arsenal, whilst then ending his career with a nice pay packet over in North America for the New York Red Bulls. Correct decision to leave.
Robin van Persie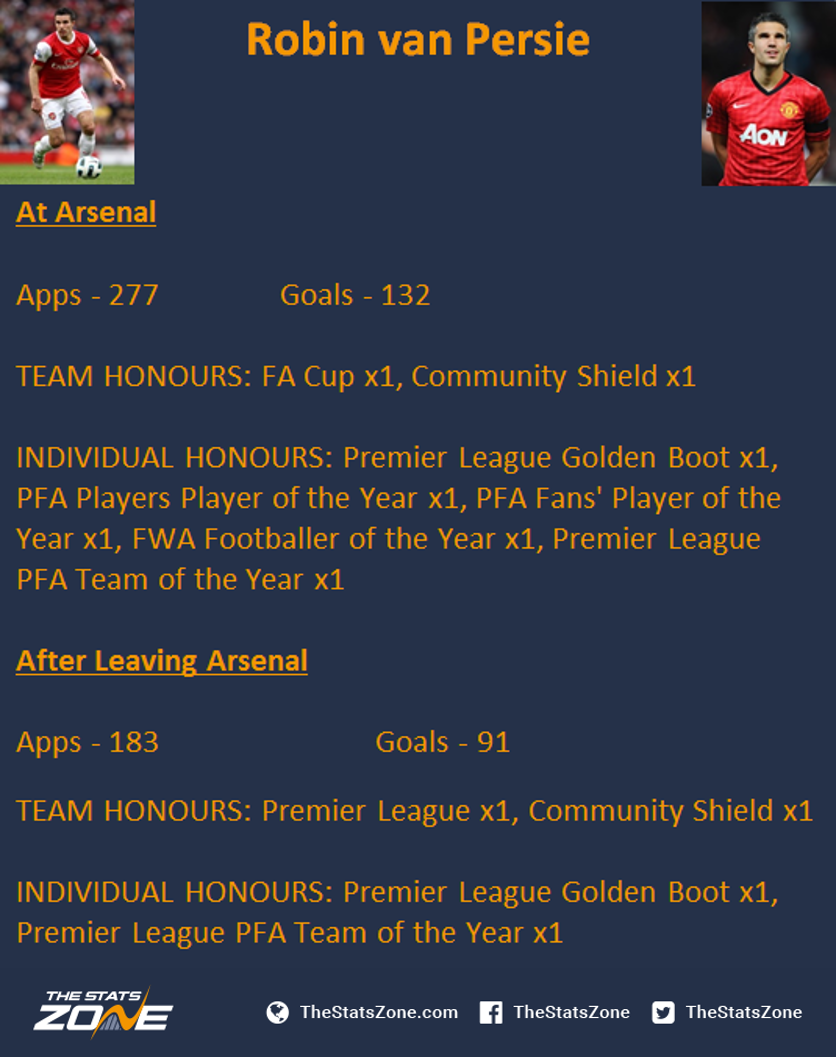 Yet another brilliant striker at Arsenal that the club allowed to leave with only one year left on his contract. The deal that took Van Persie to Manchester United was a bitter pill to swallow for many Arsenal fans, but from the player's point of view was it a wise decision.
In eight years at Arsenal, Van Persie won just one FA Cup and one Community Shield. After joining Manchester United, the striker won the Premier League in his first season and finished as the Golden Boot winner. The Dutch international also won the Community Shield in 2013.
Verdict - The striker enjoyed instant success after leaving Arsenal, winning the Premier League title in his first season with Manchester United; something he failed to manage at Arsenal in his eight-year stint at the club. Now past his prime, the forward plays for Fenerbahce, and whilst he has not achieved success in Turkey, his triumphs with Manchester United fully justify his decision to leave Arsenal. Correct decision to leave.
Cesc Fabregas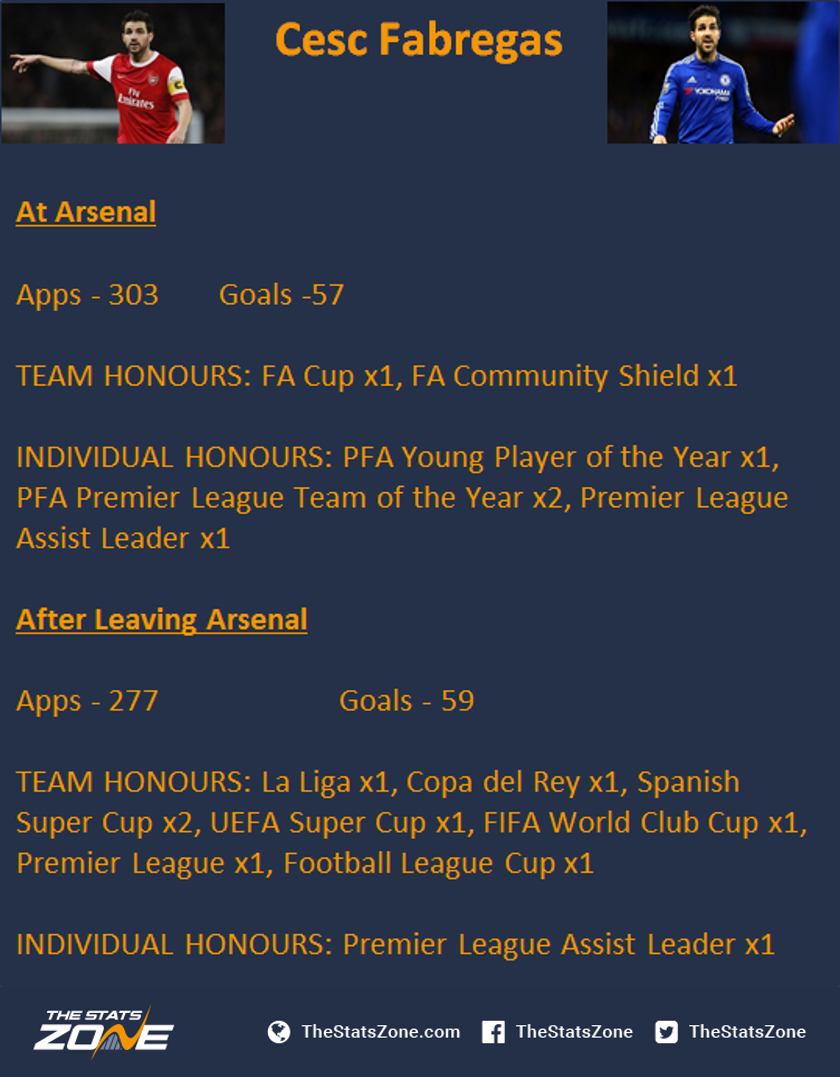 The midfielder was much loved by the Arsenal fans and was even labelled "Captain Fantastic" by many; however, he is yet another high profile player to leave the club in recent years. When Barcelona came calling it was too hard to resist a return to his boyhood club, but a part of him must have known he had a better chance of winning trophies if he left Arsenal.
During his time at the London club, Fabregas won just one FA Cup and one Community shield, whilst also being a runner up in the Champions League final back in 2006. Moving to Barcelona proved to be a wise move for the Spaniard from a trophy perspective, as he won the La Liga title, Copa Del Rey, Spanish Super Cup twice, the UEFA Super Cup and FIFA Club World Cup. Having said that, he was signed to be the long term successor to Xavi, which never quite materialised. Fabregas then returned to the Premier League when he signed for Arsenal's rivals Chelsea, where he has continued to win trophies, including the Premier League and the Football League Cup.
Verdict - After moving from Arsenal, the midfielder has enjoyed team success at both Barcelona and Chelsea. Although he will remember his time with Arsenal with fondness, he is unlikely to regret his decision to leave given all the trophies he has won since, with potentially more success coming this seaon. Correct decision to leave.
Moving from Arsenal to Manchester City
In recent times, there have been numerous players who have been disillusioned with life at Arsenal and have made the move to Manchester City.
Bacary Sagna
At Arsenal, the full-back was regarded as one of the best in the league but he only managed to win one major trophy, which was the FA Cup during his last game for the club. His time in Manchester has not seen him hit the heights of his Arsenal days, whilst he has also only won the Football League Cup.
Verdict - Has improved his salary but not seen a huge increase in his trophy cabinet and is not always a first-team regular.
Samir Nasri
The Frenchman moved to Manchester City from Arsenal for a reported £25 million after having won nothing at the London Club. Initially, the move up north seemed like a good one as he won the Premier League title twice as well as winning the Community Shield and Football League Cup. Nevertheless, following these early successes his impact dwindled and he has now been shipped off out on loan to Sevilla as he tries to get his career back on track.
Verdict - Managed to add to his trophy cabinet considerably with two Premier League titles so leaving has been a success in this respect. However, his individual stock has perhaps fallen since his Arsenal days.
Gael Clichy
The defender was breaking through at Arsenal right at the end of their successful period so he can register a Premier League title, an FA Cup and a Community Shield to his achievements when at London. However, upon departure to Manchester City the defender left stating he wanted to play for a club that would win more titles. Clichy's decision to move was justified as he has won two Premier League titles, two Football League Cups and a Community shield. The full-back has been one of the success stories of players leaving Arsenal to join Manchester City
Verdict - Has achieved the success that he craved. Correct decision to leave.
Kolo Toure
The centre-back was part of 'The Invincibles' and he enjoyed good success under Wenger, winning the Premier League once and the FA Cup twice. However, in 2009 he moved to Manchester City after a row at the club. His time in Manchester was a mix of fortunes, ranging from winning another Premier League title to being suspended for taking his wife's slimming pills and earning himself a ban. Toure became something of a cult figure at Liverpool but did not achieve any team success, although he has won trophies in the latter part of his career at Celtic.
Verdict - Mixed fortunes since leaving Arsenal. He won another Premier League title as well as enjoying success up in Scotland of late, despite being a bit part figure.
Emmanuel Adebayor
Last but not least is the Togolese striker, who earned himself a move to Manchester City after scoring 46 goals in all competitions in two seasons at Arsenal. Adebayor started life well up north, scoring on his debut and then four times in his first five games, including against Arsenal with that infamous celebration. However, the striker failed to kick on and won no trophies at the club. He has since played for a range of clubs including Tottenham, Crystal Palace and Real Madrid where he did win the Copa Del Rey.
Verdict - Despite his talent, has not been better off since leaving Arsenal.
In the past, Wenger has stated in the press that numerous players have regretted leaving Arsenal. Whilst there is some truth to this, it is more likely a tactic employed by the manager to convince his current players to stay at the club. Wenger could of course be referring to such players as Marc Overmars or Robert Pires, whose careers took a downward turn after seeking pastures new. In addition, Emmanuel Petit has come out and said that his decision to leave Arsenal for Barcelona in 2000 was one of the biggest mistakes in his career.
Over the next few months, both Mesut Ozil and Alexis Sanchez have big decisions to make over their future. Players such as Henry, Van Persie and Fabregas have shown that although the decision to leave may be tough, it can be a wise one should they make the correct choice of club. Of course, much may depend on the future of Wenger himself, so this summer could potentially be a turbulent period for Arsenal football club.