With Jose Mourinho preparing to begin his first season at Manchester United, we have decided to look at how Mourinho has fared when joining a new club, with particular emphasis on his performance in his first season after joining. In this regard, we intend to examine whether he is someone who brings instant success, or instead whether is he someone who requires time to implement his ideas and structures. To do this, we will look at league performance and trophies won in his first full season at a new club, and how his initial batch of signings have fared at each of the clubs he has managed for at least one full season (Porto, Chelsea, Inter Milan, Real Madrid, and Chelsea for the second time).

Jose Mourinho - First Season League Performance
We begin by looking at Mourinho's league performance in his first full season at his respective clubs.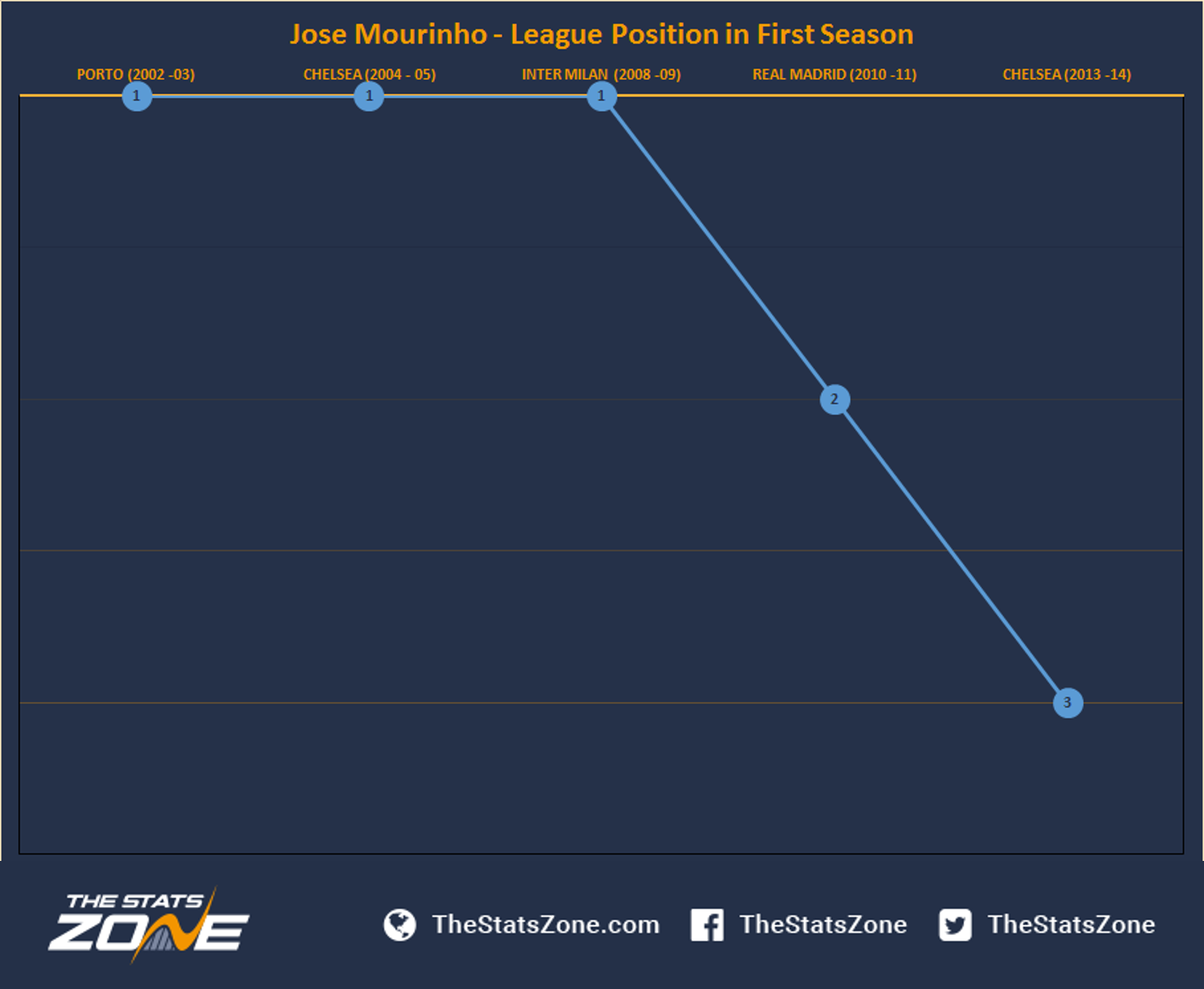 As can be seen from the graph, his record truly is formidable in this regard. He won the title in his first full season at Porto, Chelsea, and Inter Milan. His third place finish in his "second coming" at Stamford Bridge is the lowest finish he has achieved in his first full season at a new club.
How Does Mourinho's Win Percentage in the League Reflect this Success?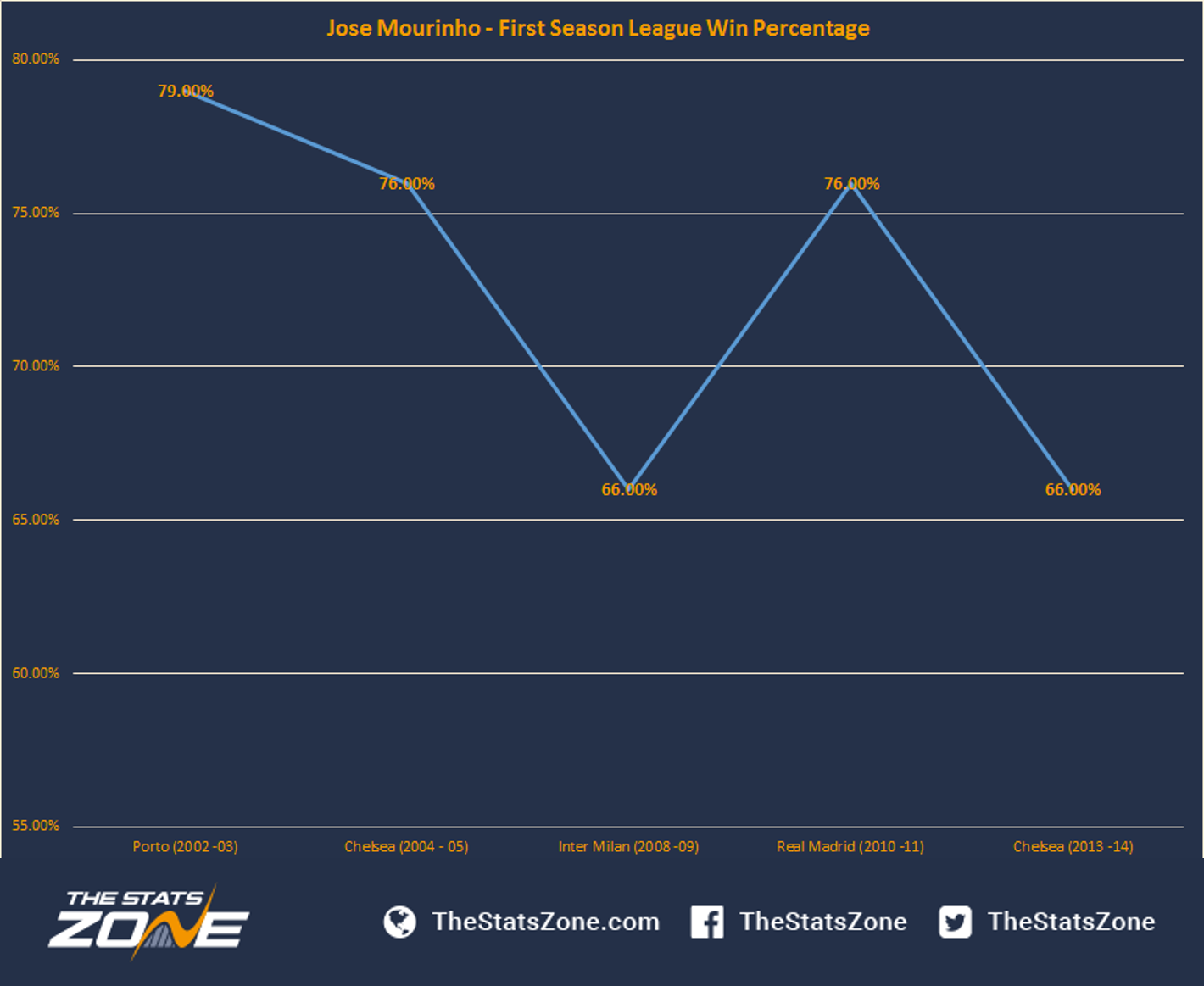 Again, the figures are incredible, with Mourinho never dipping below a 66% win rate in the league and topping 76% on three occasions. Indeed, in these five seasons with the four respective clubs (Chelsea of course counting in both 2004-05 & 2013-2014), he lost just 17 out of 186 league games, or just 9% of the league games he managed. If this record is to repeat itself, it seems Manchester United fans can look ahead to the forthcoming season with some optimism.
Trophies
As we have seen, Mourinho has enjoyed considerable success in the league in his first season at a new club. However, to what degree is this success replicated in the other competitions that his teams have entered?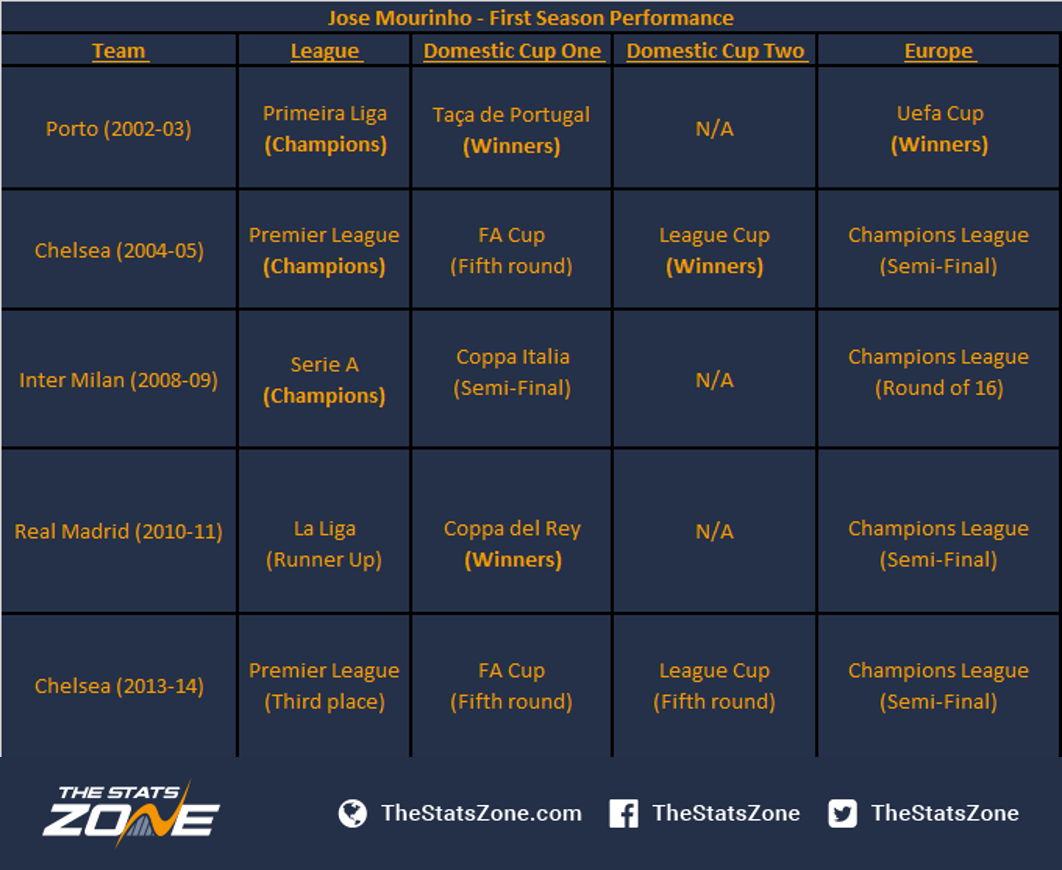 As the above table shows, Mourinho has not just been successful in the league but also has a highly impressive record in the other competitions his teams have entered. Indeed, he won the Uefa Cup and Taça de Portugal in his first full season at Porto, whilst picking up the League Cup in his first season at Chelsea, all in addition to the league titles he secured at these clubs. Indeed, his Copa del Rey triumph over Barcelona whilst managing Real Madrid in 2011 means his 2013-14 season with Chelsea is the only season he did not pick up a recognised piece of silverware. In addition, in three of the four seasons his club entered the Champions League, they reached the semi-final stage – another statistic which adds credence to the "Special One" title. Again, the omens look good for those of a Manchester United persuasion, although of course any European success will have to be achieved in the Europa League rather than the Champions League.
Jose Mourinho First Season Signings
With Manchester United seemingly on the verge of concluding the signing of Paul Pogba, and thus completing the final 25% piece of Mourinho's stated transfer jigsaw, we next look at how Mourinho's initial signings at his previous clubs have fared, and how these signings have fed into the undoubted success he has achieved when joining a new club.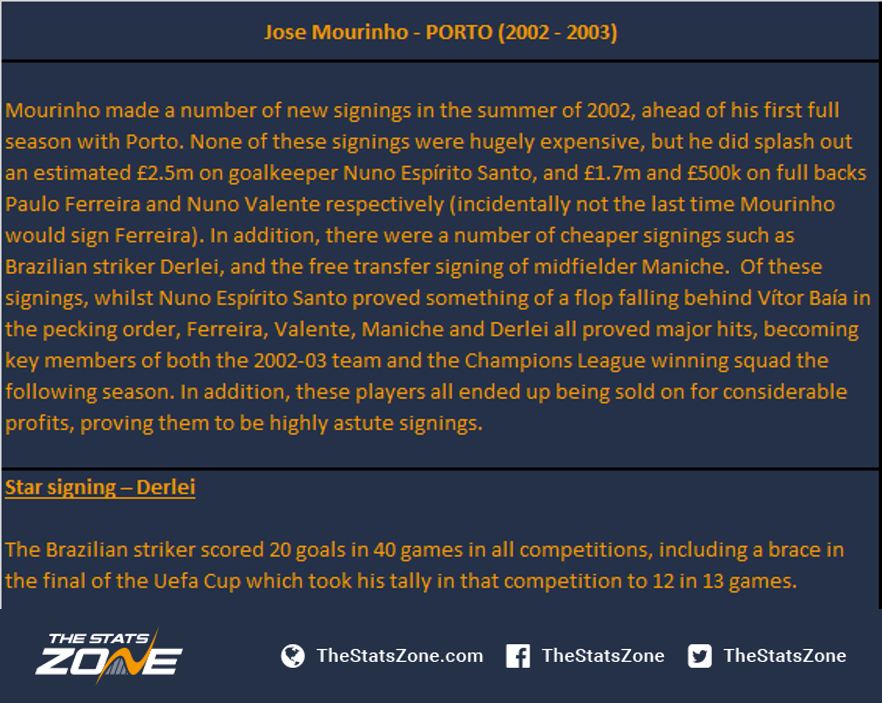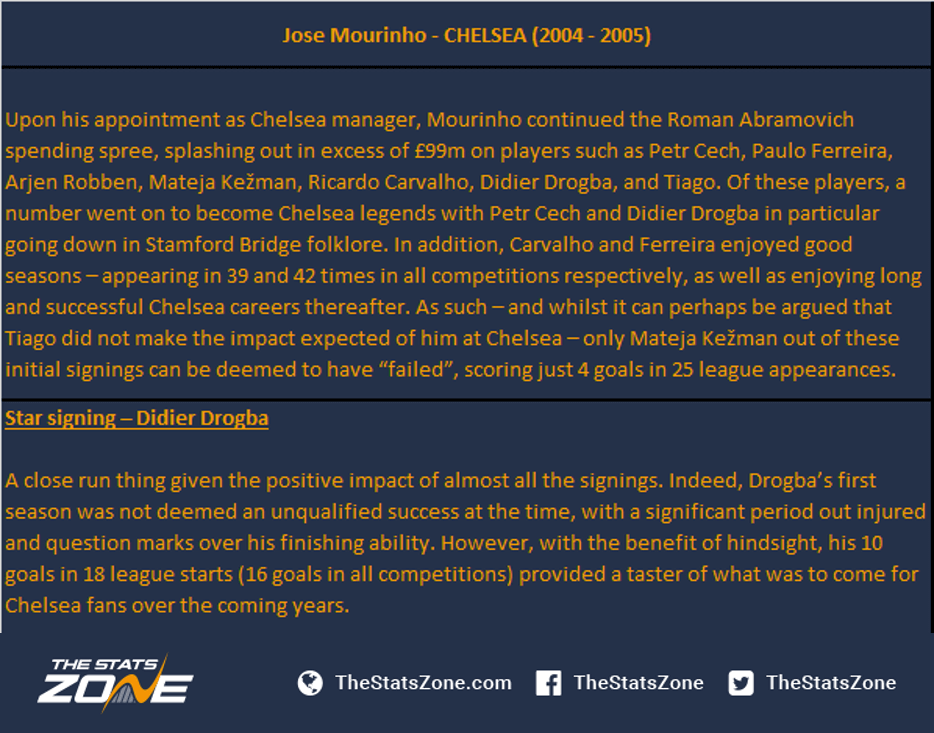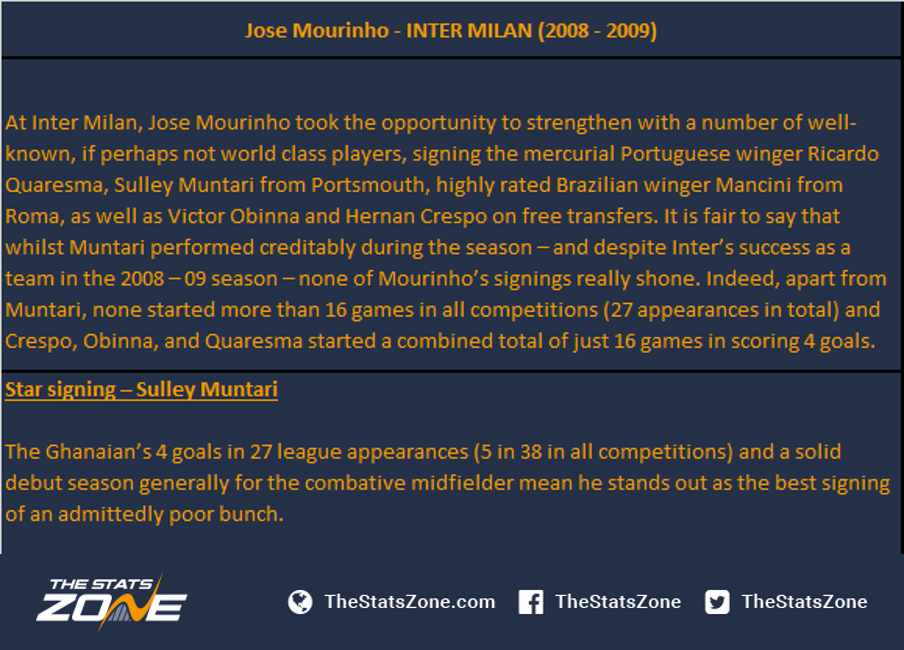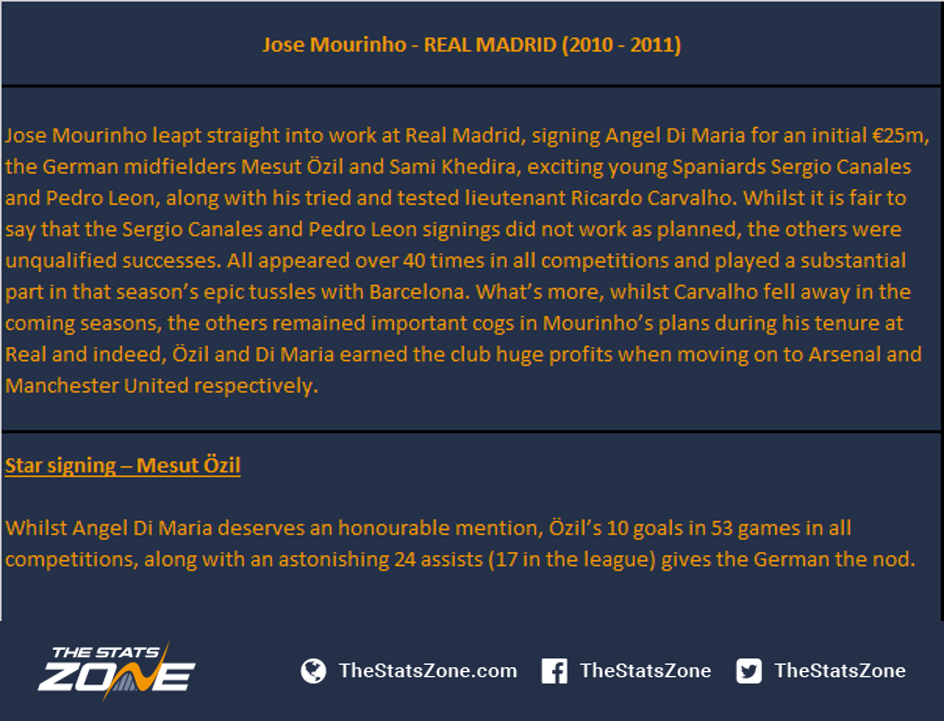 What is clear – in case anyone was in any doubt – is that in Jose Mourinho, Manchester United have got themselves a manager who delivers more often than not, and crucially, delivers this success quickly. His record upon joining clubs is incredible, and whilst it is true he has tended to join powerful and wealthy clubs, this record demands respect. It is also worth reinforcing that, whilst his managerial tenures sometimes seem to end in turmoil, it is only his most recent spell at Chelsea where this is actually reflected in results on the pitch, with his sacking in December 2015 coming with Chelsea in 16th position. It is also clear that – with the exception of his time at Inter Milan – the signings he makes upon joining a club have tended to play a big part in his subsequent success both in the forthcoming season, and the seasons to come. This was certainly the case at Porto, Chelsea in 2004-05, and Real Madrid. It could be said that during his second reign at Chelsea, his major signings were delivered in the second and third transfer windows (Nemanja Matic, Cesc Fabregas and Diego Costa) but this may have had more to do with the club's inability to get these targets earlier rather than Mourinho's judgment. Even then, a number of those Mourinho did sign in the first window did make valuable contributions.
So what does the above analysis suggest in terms of how Manchester United will perform in the forthcoming season? Firstly, based on history, it would be a surprise to see United finish any lower than third, and indeed Mourinho's assertion that he is going for the title might not be as far-fetched as it would appear to those who have followed United's struggles over the preceding three seasons. Finally, don't be surprised if one, or more of his big signings makes a huge contribution to this success, be that through Ibrahimovic's goals, Mkhitaryan's assists or maybe even – should he sign him – Paul Pogba's drive and power from midfield.