After a record 59 test matches in charge of England, Alastair Cook announced his resignation as test captain earlier this week, so what better time to take a look back at his reign.
His first game at the helm came in 2010, when he stepped in for former skipper Andrew Strauss for a two test series with Bangladesh, scoring centuries in both games. He was given the test captaincy full-time following Strauss' retirement in 2012. The appointment came at a tricky time with rumours of discontent in the England camp following the Kevin Pietersen text scandal, but Cook led brilliantly, winning his first series against India 2-1.
Cook relished his new role as full-time skipper and his performances with the bat where outstanding. He went on to set a new record, scoring centuries in each of his first five games in charge (including the two against Bangladesh), which silenced any doubters.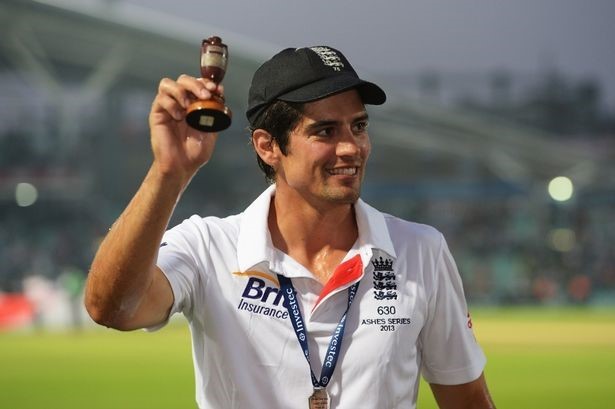 The following summer, Cook led England to the first of two Ashes series wins during his time in charge, a feat that not many of his predecessors managed to achieve.
2014 was a very difficult time for Cook; following the Ashes whitewash, England suffered embarrassing defeats to Sri Lanka at Headingley and India at Lords. He was out of form with the bat and faced stern criticism, being in the middle of an almost two-year spell without a century. He made a gutsy 95 against India in Southampton, helping England on their way to a 3-1 series triumph and just about saving his role as skipper.
In the 2015 season, Cook regained the Ashes with his second series win against Australia before securing a 2-1 series win in South Africa, who were the number one ranked test team at the time.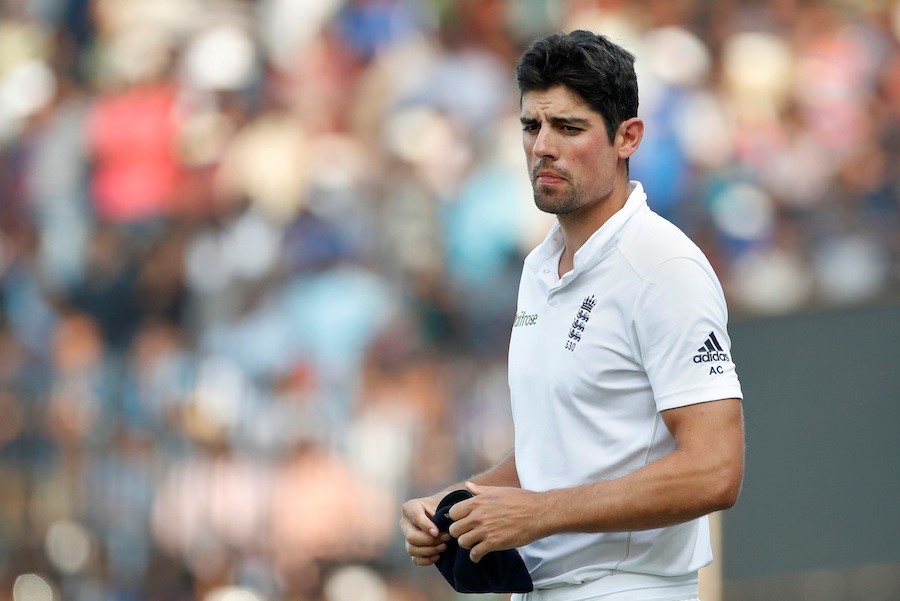 Towards the end of his captaincy, Cook's side found themselves in poor form. 2016 proved to be a tough year with the team losing 4-0 to India, drawing 1-1 in Bangladesh and 2-2 at home to Pakistan. Their only series win came at home against a fairly ordinary Sri Lanka side at the start of last summer. Cook's men looked dejected after their defeat in the fifth test against India – they were thrashed by an innings after the home side posted 759-7, the highest total ever made against England.
This defeat prompted harsh criticism from both fans and players over Cook's captaincy and on the 6th of February 2017, he announced his resignation as test captain.
Cook often led from the front, scoring 12 test hundreds as captain. England only lost two tests in which he managed to get to triple figures, showing that his individual scores often paved the way for the team's success.
The burden of captaincy tends to have an adverse effect on batsmen, and most players tend to score fewer runs after taking charge; Cook, however, was a rare exception to the rule: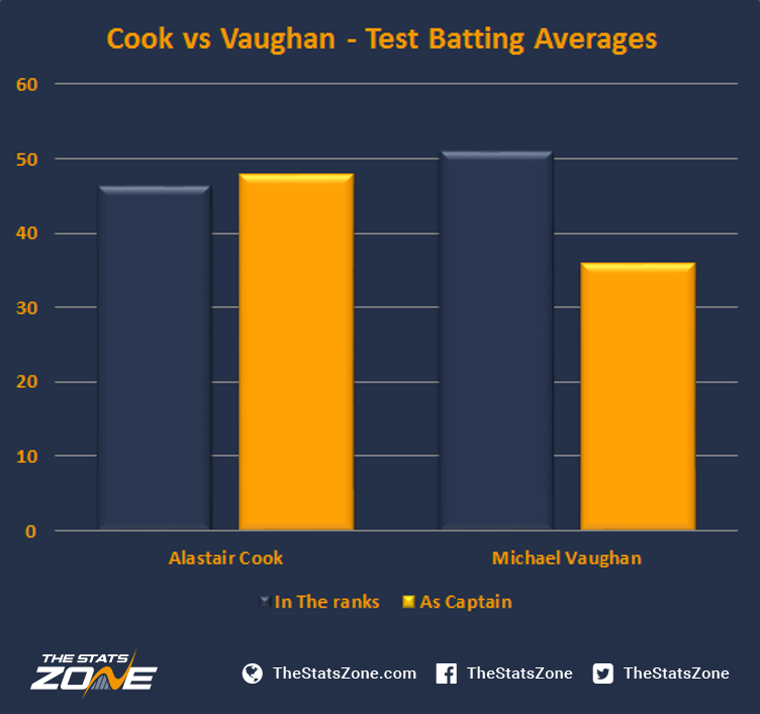 Before taking the reins, Cook averaged 46.36 runs with the bat, but remarkably this improved to 47.84 whilst he was leading the side. An interesting comparison is former England captain Michael Vaughan, who averaged an impressive 50.98 runs in tests before taking charge but only 36.02 runs as captain. Cook scored 4,844 runs as a test captain, and only five players have ever scored more - Graeme Smith, Allan Border, Ricky Ponting, Clive Lloyd and Stephen Fleming.
Cook is still England's all time highest run-scorer in test cricket with 11,057 runs and his 140 test appearances and 30 centuries are also England records.
In terms of overall success as test captain, Cook boasts an impressive CV. On the way to setting a record with 59 test in charge of England, he managed to equal his predecessor, Andrew Strauss, to 24 test wins as skipper and was just two wins shy of current record holder Vaughan.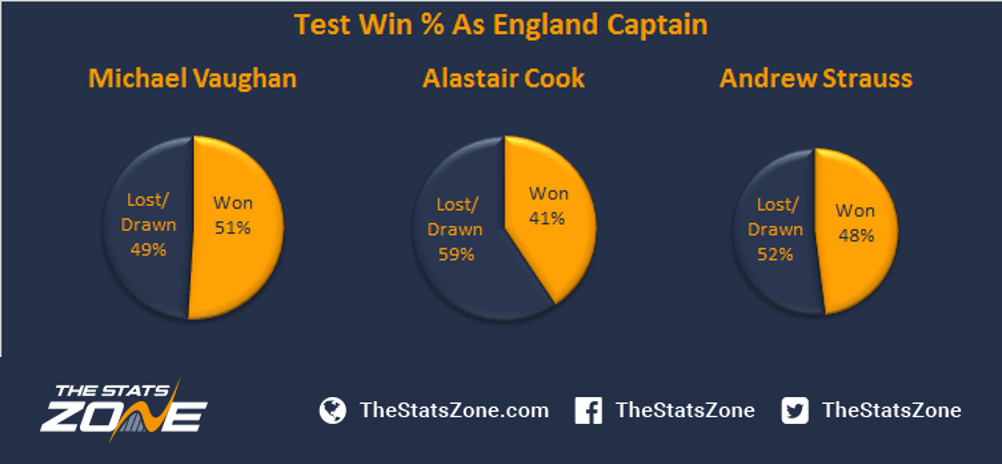 Despite the positives, Cook did lead England to a record high 22 test match defeats, and his win percentage of 41% falls short of Michael Vaughan and Andrew Strauss, who won 51% and 48% of their tests respectively.
England captains are often remembered for their Ashes success. Interestingly, only Mike Brearley (11) and W. G. Grace (8) have more wins as England captains against Australia. Despite being third in wins against England's greatest rival, Cook has a losing record of six wins to seven losses in test matches against Australia, largely thanks to the 5-0 whitewash in the 2013-14 series.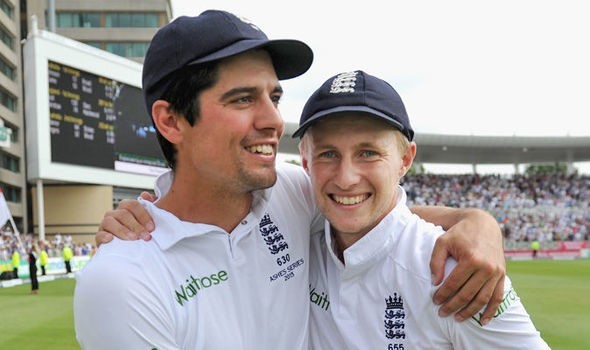 As England turn to the future, the current favourite to replace Cook is current vice-captain, Joe Root. Root himself backed Cook to stay on as captain, but following the resignation is one of the most senior players left in the side. He has a wealth of test experience with 53 caps under his belt since his debut against India in 2012. The Yorkshire man said "I've got a lot of experience in test cricket and it's one of those things that you can learn on the job". England's next test is at home to South Africa, followed by a series against the West Indies. The side head back down under this winter for the 2017-18 Ashes, hoping to avenge the 5-0 hammering from their last visit.
Let us know in the comments who you think should be leading the charge.