Andy Ruiz Jr vs Anthony Joshua 2 – Preview & Prediction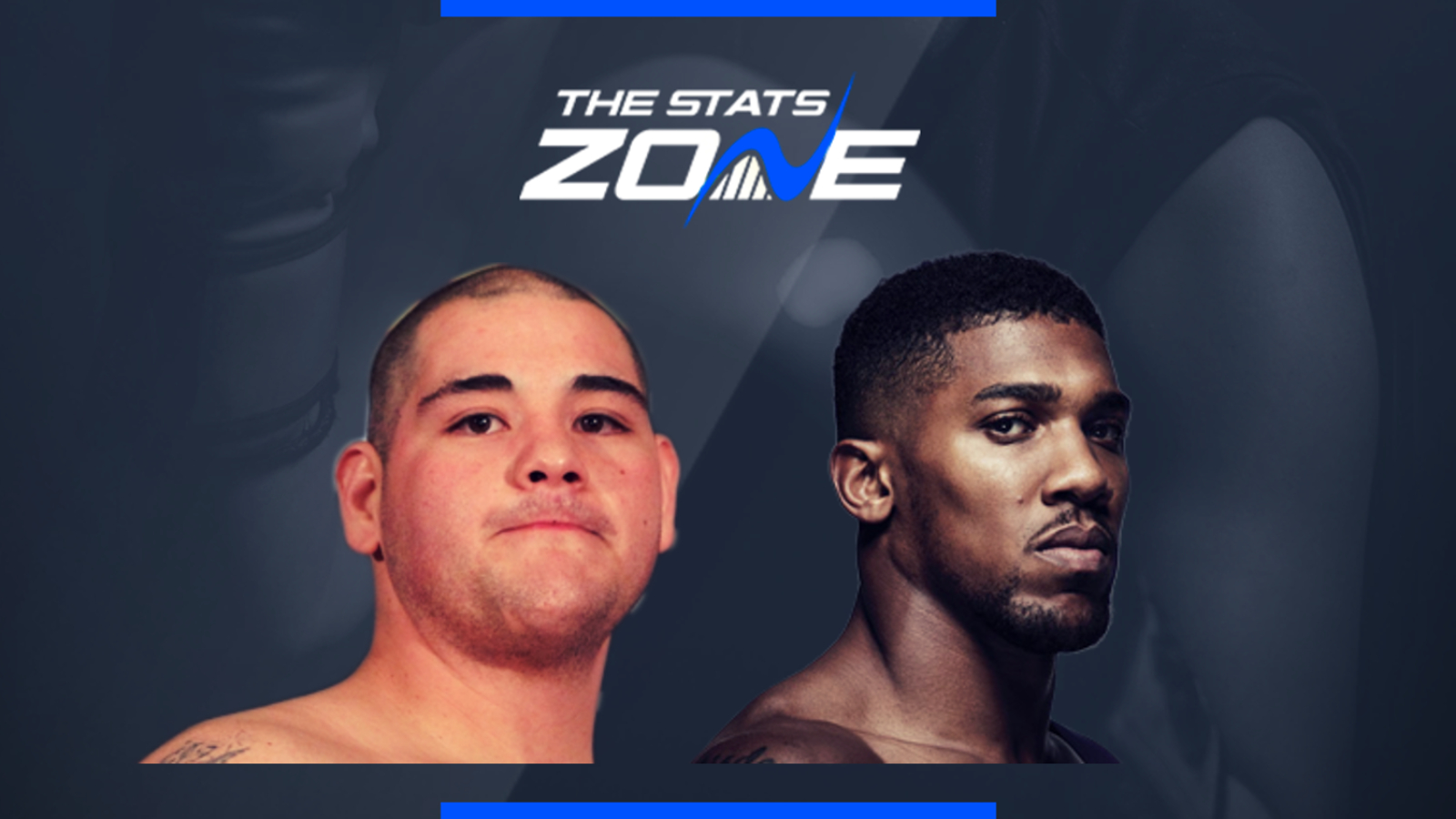 THE FACTS
When is Andy Ruiz Jr vs Anthony Joshua? Saturday 7th December, 2019 – 21:00 approx (UK)
Where is Andy Ruiz Jr vs Anthony Joshua? Diriyah Arena, Diriyah, Saudi Arabia
What channel is Andy Ruiz Jr vs Anthony Joshua? Sky Sports Box Office (£24.95)
Where can I stream Andy Ruiz Jr vs Anthony Joshua? Sky Sports subscribers can stream the fight via the Sky Sport website.
For viewers in the United States, the fight will be available to stream via the DAZN website and app.
Are tickets still available for Andy Ruiz Jr vs Anthony Joshua?
Tickets appear to be sold out for this event!
THE LOWDOWN
The biggest test of Anthony Joshua's career arrives on 7th December. No new opponent or title defence but a true test of character and ability to avenge the first loss and knockout of his career against Andy Ruiz Jr in 'The Clash on the Dunes'.
Their fight back in June at Madison Square Garden was expected to the first steppingstone in 'conquering America' for Joshua who was originally slated to fight Jarrell Miller. After failing a drugs test Andy Ruiz Jr filled in for Miller to make the numbers but he ended up pulling off one of the biggest upsets since Mike Tyson vs Buster Douglas or Lennox Lewis vs Hasim Rahman.
That loss has raised question after question about Anthony Joshua's mentality, preparation, coaching team and more but Joshua is only concerned about answering those questions in the ring. His time will come on neutral ground in Saudi Arabia to snatch all of his hard-earned belts back and prove he has not been found out and that he is the self-proclaimed 'soldier'.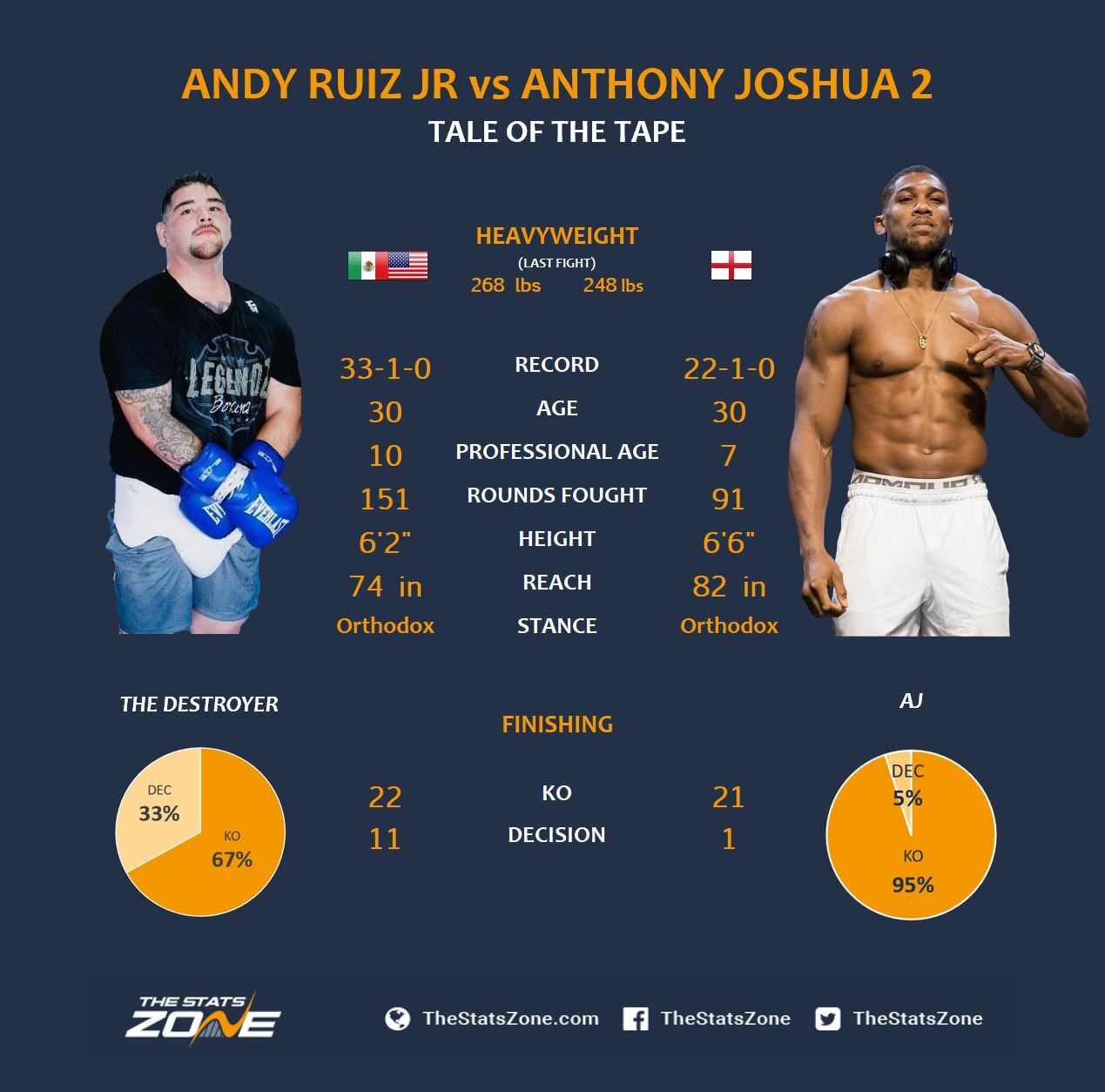 Ruiz is now defending the WBA, IBF, WBO and IBO belts after adding the biggest win to his impressive record and destroying Joshua's unbeaten run.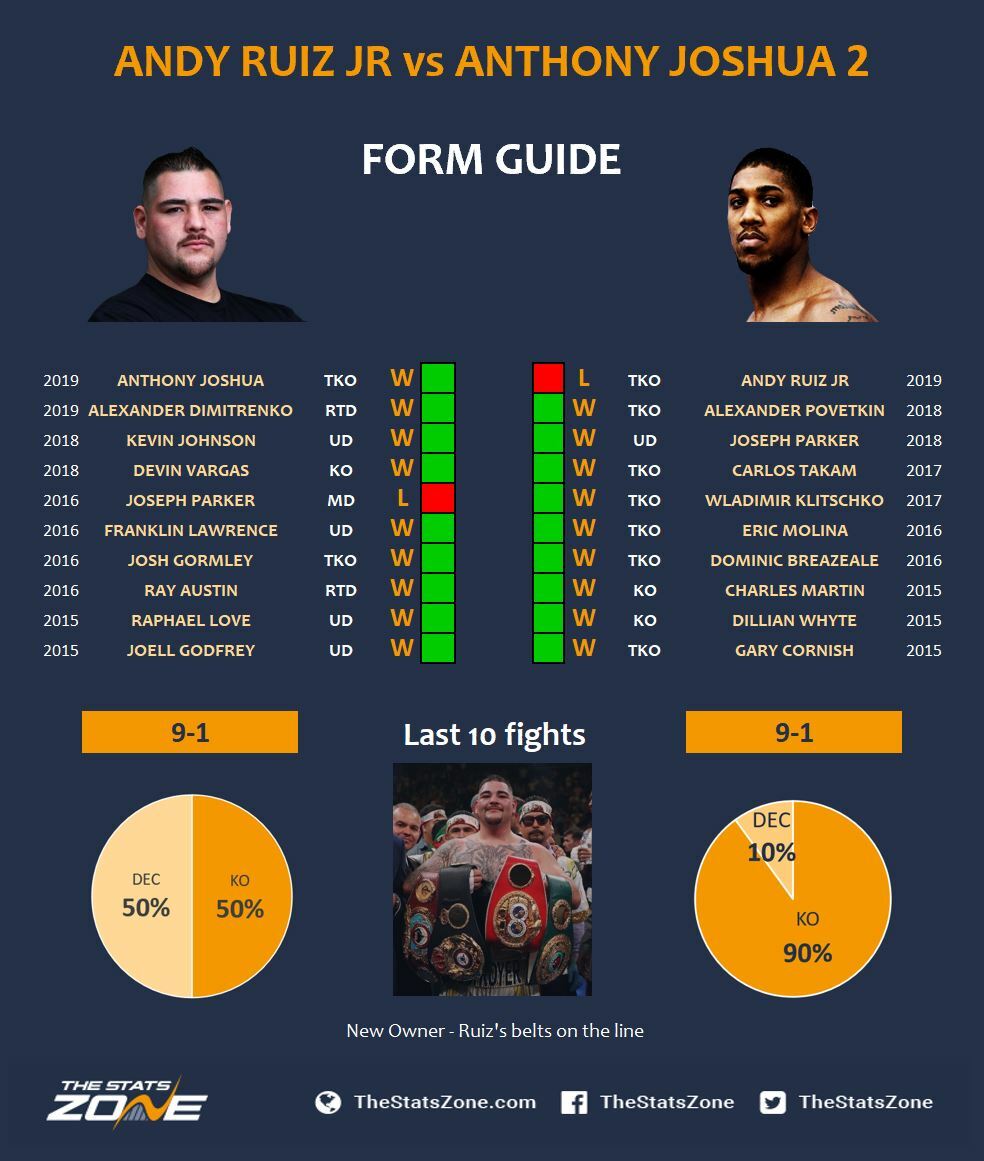 That big 'L' is not something we have associated with Joshua before and certainly wasn't expected to have Ruiz's name next to it. The Mexican proved his record is not inflated as he displayed all of his speed, power and durability to completely outperform Joshua on the night.
Let's take a closer look at the fight by analysing the punch stats: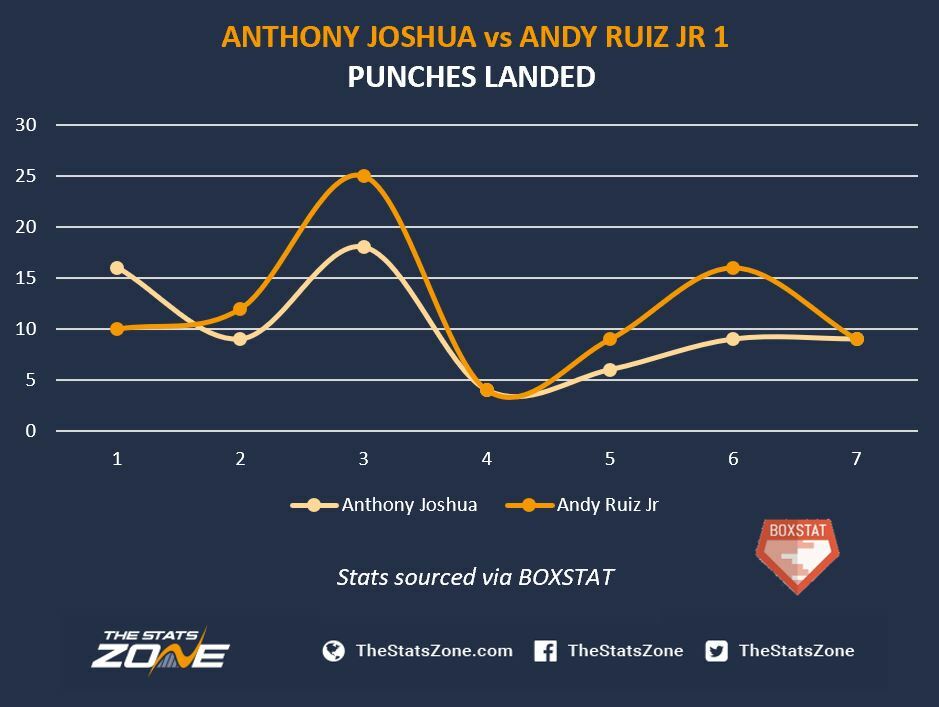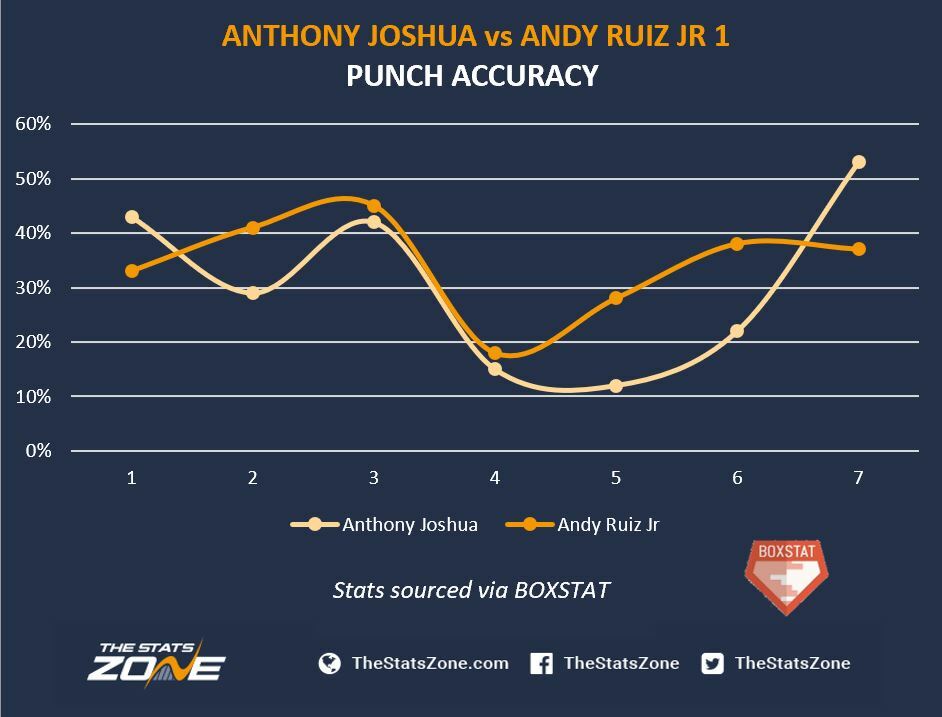 Ruiz got the better of Joshua after a crazy third round. Joshua floored Ruiz with a beautiful left hook but he picked himself up and showed real character to knock Joshua down twice sending him back to the corner on wobbly legs.
Joshua was visibly rocked physically and mentally. This made Ruiz' confidence soar at the start of the fourth round but he kept his composure, conserving his energy until the seventh. Joshua connected with another big left hook but this lit a fire under Ruiz who replied with another rapid attack of combinations to floor Joshua for the third time. Smelling blood, Ruiz landed the final combination to stun the world.
See below for the breakdown of their punch type and combinations: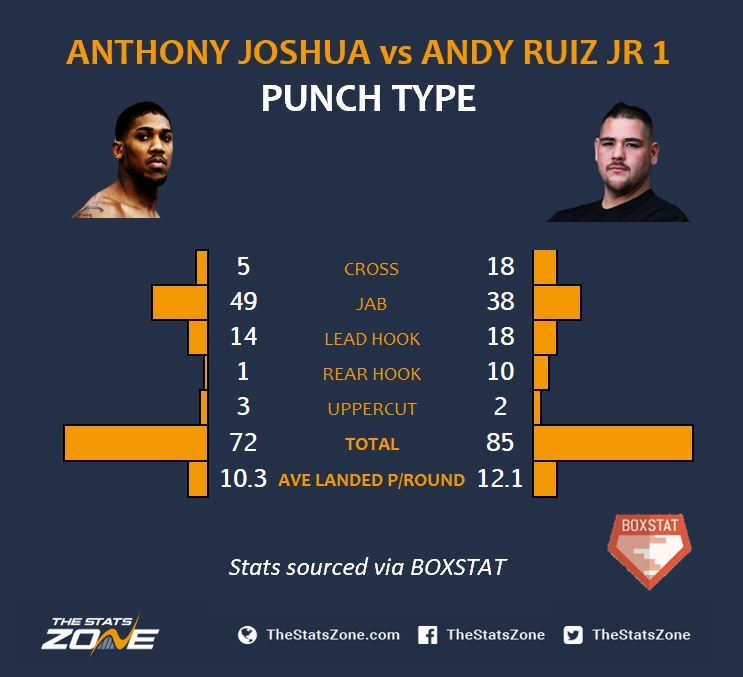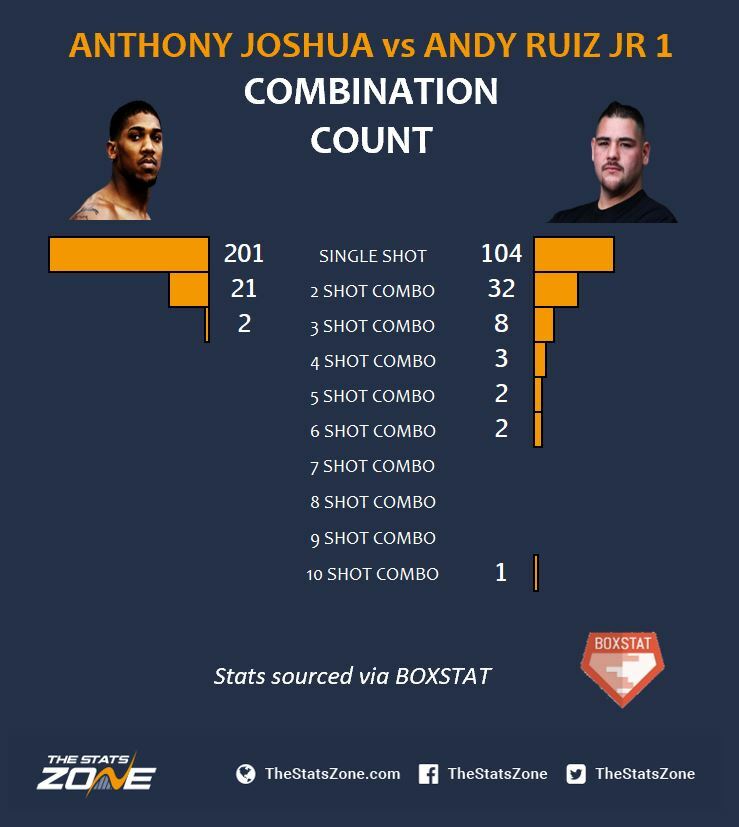 Punch stats supplied by Boxstat using video playback for increased accuracy https://boxstat.co/
Ruiz won the fight with his speed. Joshua had the power and after that left hook in the third round he thought he had done enough to earn the win as he only really threw a jab with the hook.
Ruiz on the other hand overwhelmed Joshua by stepping in the pocket and reeling off combinations. Overall, he landed more volume, more variety and was more accurate but ultimately it was his killer instinct and character to brush himself off after the first exchange.
THE PREDICTION
There were rumours and excuses thrown around as to why Joshua did not perform on the night such as getting knocked out in training and suffering a panic attack before the fight but they were all shut down by him and his team. However, he did claim he lost motivation before the fight claiming he had nothing to fight for and saying: "… you lose passion when you feel it is not as real as you thought it was' and '… there was nothing for me to gain in boxing anymore."
We are unsure just what he means but that is not the military mindset he preaches. He also claims: "If you put me and Ruiz into a computer, nine times out of 10, I win" and he got caught with "a lucky punch, sent from the Gods."
The truth is he got floored four times and lost his championship belts to somebody who was better and more prepared on the night. Ruiz shocked the world and more importantly shocked Joshua. The questions will always swarm after a loss like that but Joshua has to answer them to prove his class and save his legacy.
This has become a 50/50 fight now and everything has changed. Ruiz displayed the best version of himself, got a taste of fame, money and the high life carrying all those belts in his new cars and mansion. But will this make him less, or more motivated to keep his new lifestyle?
He is adamant that he is still hungry: "I am going to make history and win in the same fashion and the same way I did on June 1st and prove everybody wrong." Strong words and good to hear but Joshua is the one with everything to prove.
Joshua is expected to head to Saudi Arabia fully focused and the most motivated he has been in his career. He may step on the scales lighter to try and match the speed of Ruiz and up his output. His defence will always be a question mark but if he works on his footwork and head movement he can match the first 2.5 rounds in the first fight and go on to finish Ruiz in vintage Joshua fashion.
Winner: Joshua via KO/TKO