WBO Middleweight champion Billy Joe Saunders was due to face veteran and British fan favourite Martin Murray on the 14th of April at the O2 Arena only for the fight to be rescheduled at the same venue for the 23rd of June due to a hand injury sustained by Saunders in training.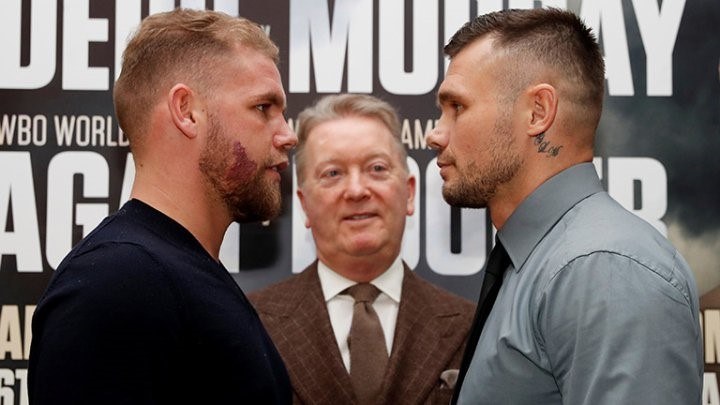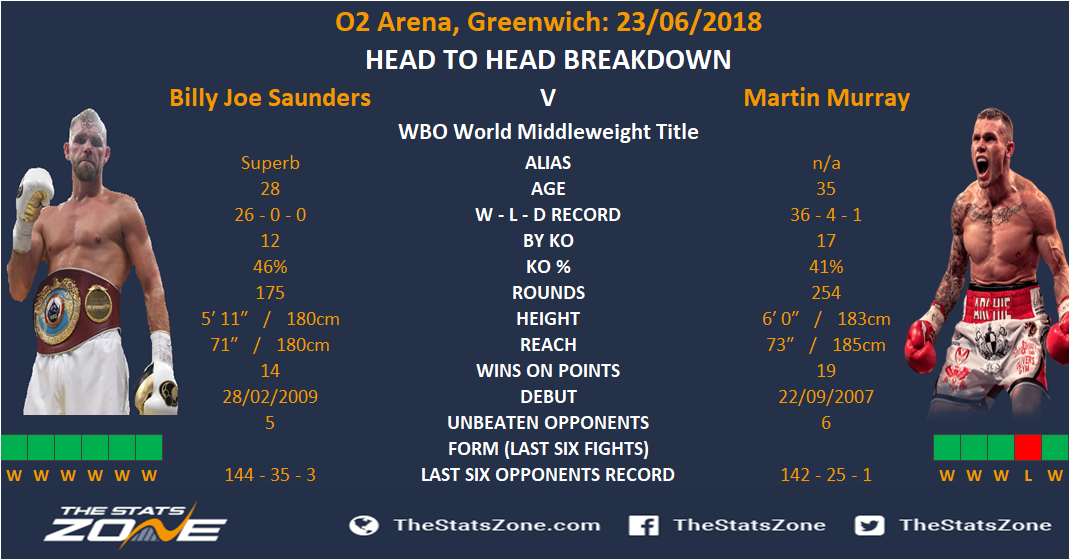 Defending champion Saunders is unbeaten in 26 professional fights with 12 KOs and 14 points victories to his name, whereas his opponent Murray – seven years his senior – has had 15 further fights during his career with a similar KO record (41% and 46% respectively).
Murray possesses the physical advantage, standing an inch taller and having two extra inches in reach, an area he may try and use to some advantage against the slick Saunders having fought at super-middleweight in the past.
Murray will be facing his seventh unbeaten opponent in Saunders, something he has good experience in dealing with throughout his career having only lost once to the great Gennady Golovkin.
Additionally, Murray has faced some high-calibre opponents in his last six contests, losing twice in the process. Nevertheless, a three-fight winning streak has put him has mandatory challenger for the WBO in what will be another must see all-British world title fight.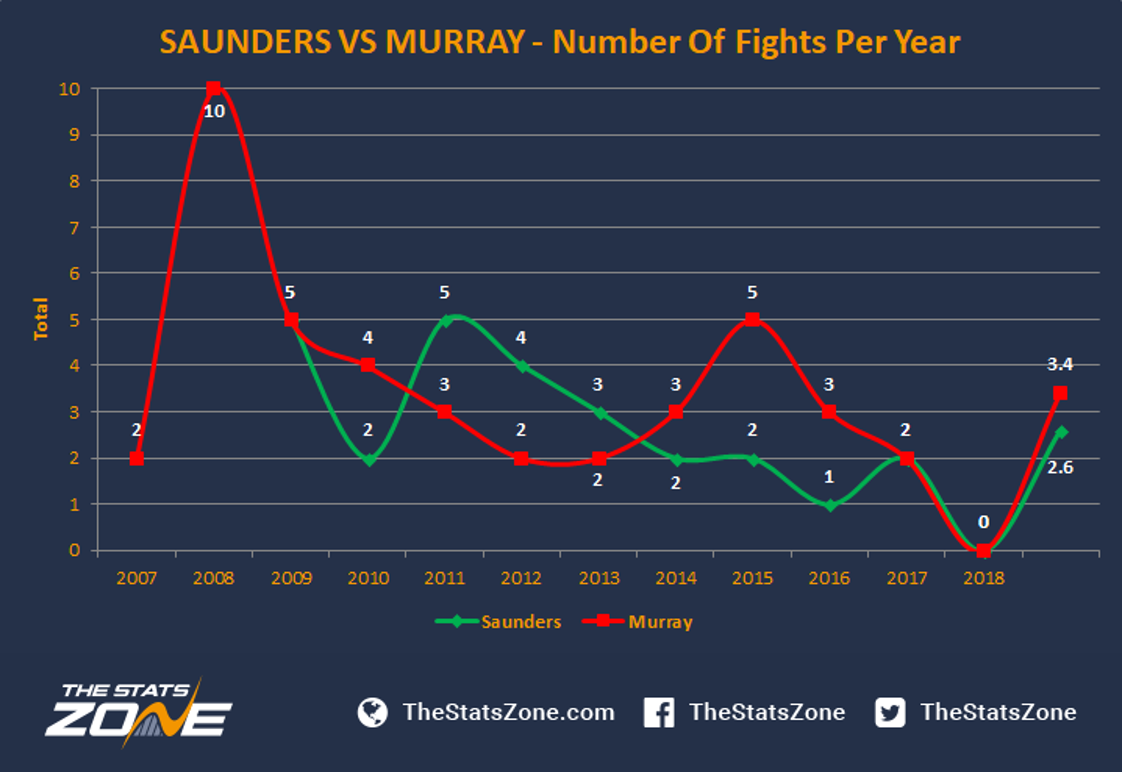 Murray made his debut on 22nd August 2007, just 18 months before Saunders (28th February 2009) and has on average been more active that his opponent, fighting 3.4 times per year compared to Saunders' 2.6.
It took Murray 26 fights to earn his first world title shot in 2013 whereas Saunders earnt his in just 22 fights. Murray has since gone on to fight 13 times compared to just three from Saunders with the added experience from Murray potentially playing a part.
Neither boxer has fought in 2018, so both should be in peak physical condition and at their very best.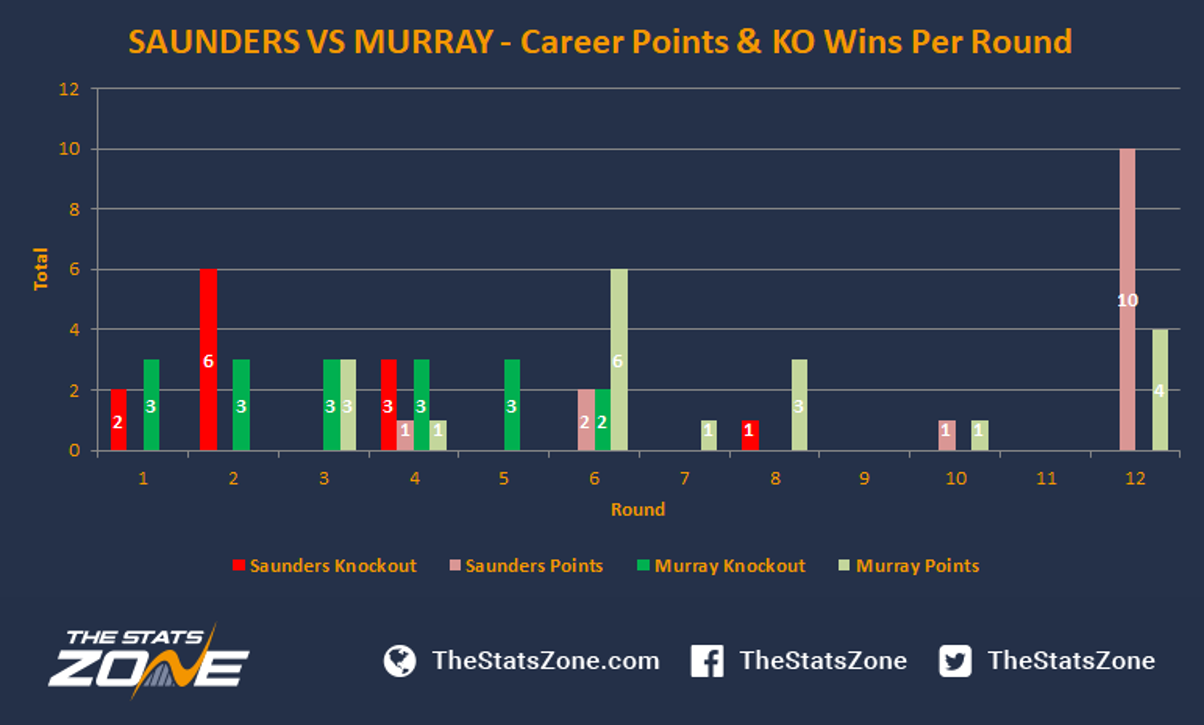 Saunders has amassed 10 points victories when going the full distance which have all come during his last 13 outings whereas he recorded nine of his 12 KOs during his first 12 contests - suggesting he has altered his style against higher calibre opponents and relies more on his boxing skills rather than power.
Murray on the other hand has summoned just four victories when going the distance but has amassed all 17 of his KOs inside the first six rounds, suggesting this is when he is at his most dangerous.
On paper at least, if Saunders uses his intelligence and keeps Murray at a distance during the early stages, his superior skills will make it very difficult for Murray to get near him.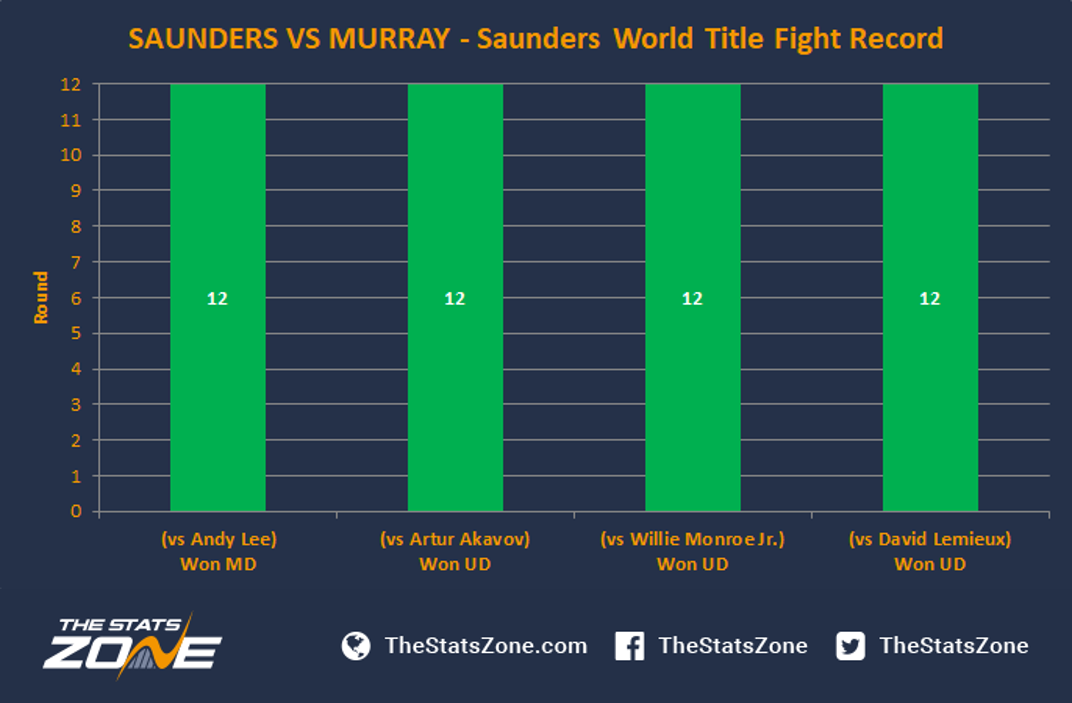 Saunders defends his title for the fourth time since claiming the belt in 2015 against Andy Lee in a majority decision and has since gone on to record three unanimous decision victories.
In 2017, he teamed up with legendary trainer Dominic Ingle and instantly got in the best shape of his career. During their second bout together – against David Lemieux – many described Saunders' victory as a boxing masterclass as he looked to have taken his performance up another level.
If the help of a new trainer and a better conditioning team has taken him to another level already as a world champion, Murray faces a much, much tougher opponent than if they had fought just 18 months pervious.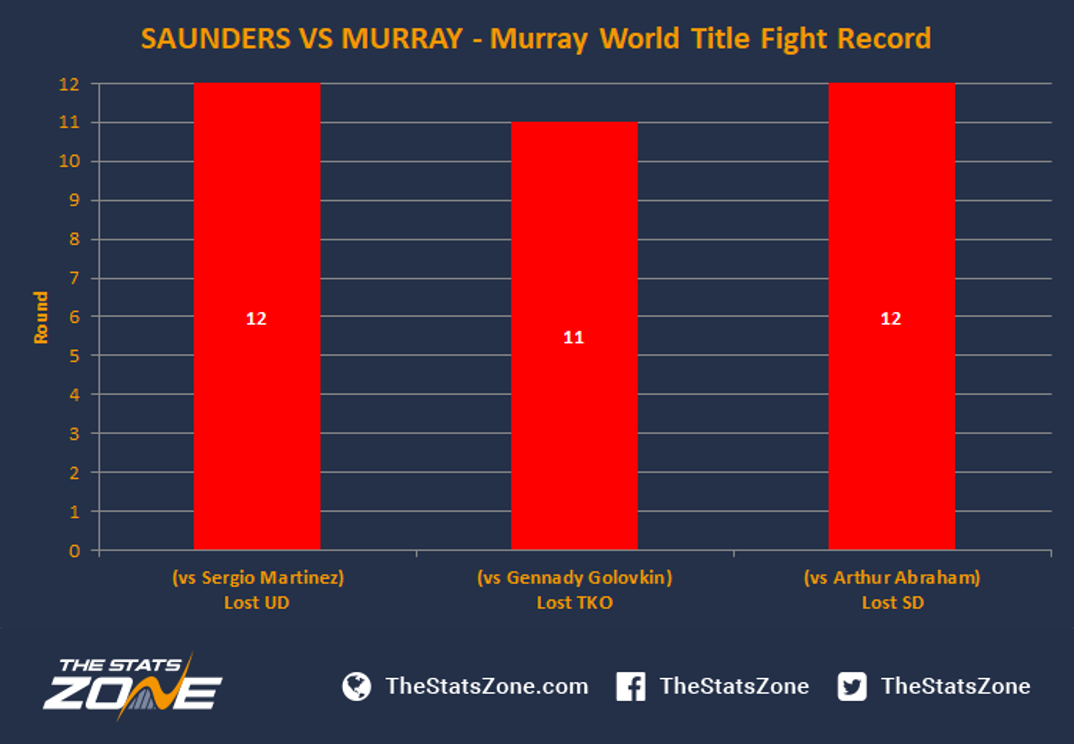 Murray is arguably Britain's most successful boxer never to have won a world title, losing all three attempts so far.
Other than his fair TKO loss to GGG – in which he took the Kazakh past 10 rounds for the first time in his career – the other two losses on points were deemed somewhat unfair, missing out on the judges' score cards on away soil.
His fourth loss – albeit not a world title fight – was against fellow Britain George Groves who went on to win his first world title just two fights later. Rarely has a boxer been so close on so many occasions to winning the elusive world title. This surely has to be his last chance which makes him a very dangerous opponent even during the twilight of his career.
Punch statistics were taken from Saunders' previous defence vs David Lemieux and Murray's second to last contest vs Gabriel Rosado for the vacant WBA Inter-Continental Middleweight title.
Saunders' jab throughout was masterful - never landing less than 28% and landing an impressive 36.9% of 279 jabs thrown.
Murray threw 72 fewer jabs and landed 15.2% less in the process, recording just 21.7% as a result, suggesting Saunders will be controlling the pace throughout.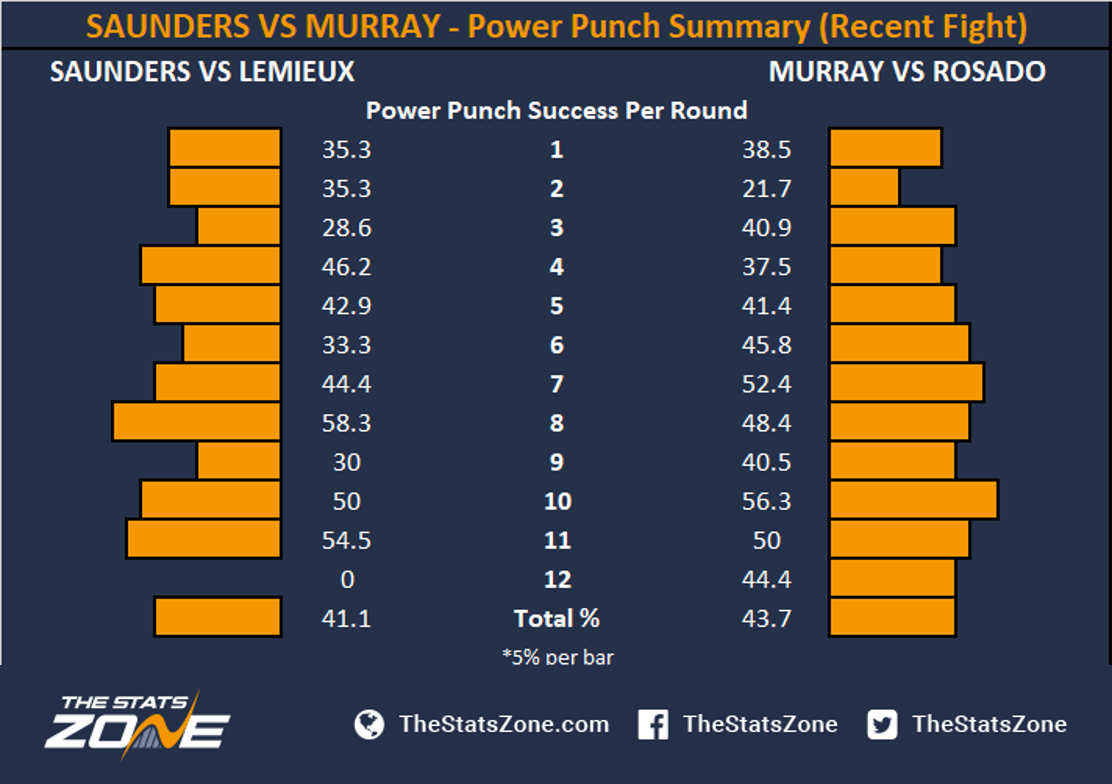 Murray just edges power punches landed with 43.7% compared to 41.1%. Both were consistent and accurate throughout with an impressive high of 58.3% from Saunders in the eight and 56.3% in the 10th from Murray.
Notably, Saunders threw just 151 power punches but his accuracy was down to his superior jab, setting up clearer openings whereas Murray threw over double the amount (311).
Markedly, Murray went the distance during this fight even with the high volume of power punches, suggesting further that Saunders' jab quality and power accuracy could prove too much for Murray.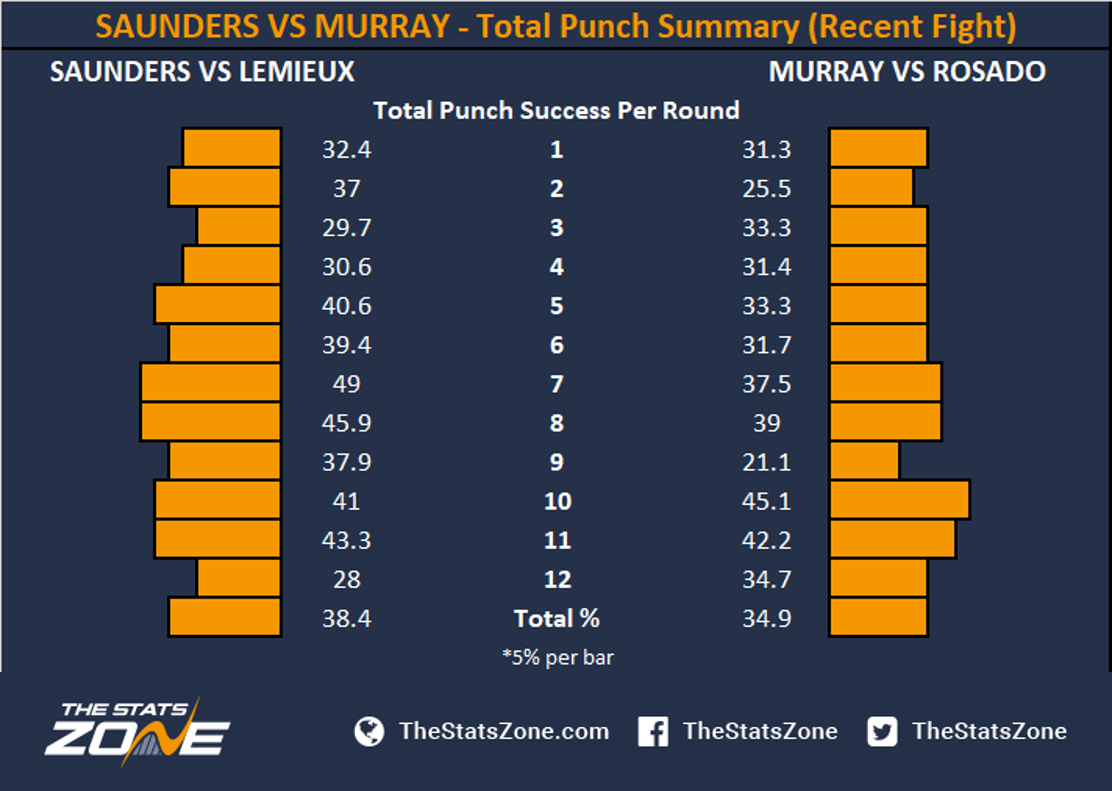 Overall, Murray threw 518 punches and landed 181 with a 34.9% conversion rate, compared to Saunders' 430 thrown and 165 landed equalling 38.4%.
Saunders' supreme efficiency means he will be a tough opponent to catch and will provide few openings for Murray to pounce on throughout the 12 rounds.
Murray noticeably possesses the engine and work-rate to always trouble opponents and with some more luck during his career, he would have been a world champion. However, at the age of 35, he is facing an opponent who is just starting to reach his peak and holds the boxing intelligence, speed and agility to make this another very frustrating and long evening for Murray. Saunders will have too strong a game plan and confidence to lose his title so expect another impressive points victory as a result.