UK Athletics (UKA) has proposed a new clean era as the integrity of Athletics continues to be challenged by further allegations of widespread doping and cover-ups. UKA's demands follow one of the biggest scandals the sport has seen, with allegations of state-sponsored doping leading to the possibility of Russia being banned from the Rio Olympics. With the recent revelation that these allegations were proven to be true, it is difficult to see how any Russian athlete will be able to compete in Brazil this summer.
Despite attempts to reform with heavy investment from governing bodies such as the International Association of Athletics Federations (IAAF), International Olympic Committee (IOC) and the World Anti-Doping Agency (WADA) to clean up the sport, scandals continue to be uncovered, casting doubt over every record that has been achieved in the history of Athletics.
So what are they proposing?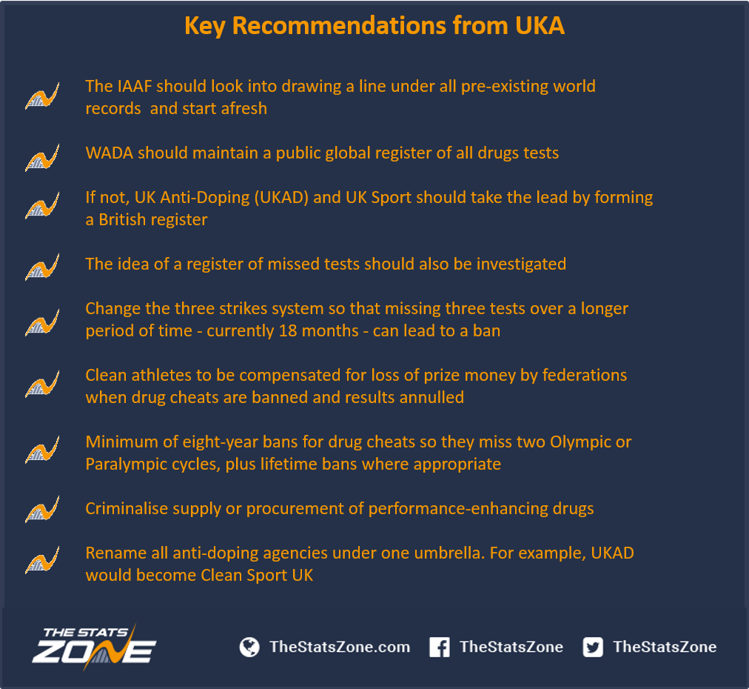 These are bold proposals and have sparked debate amongst the athletics world. So just how prominent has doping been across the globe?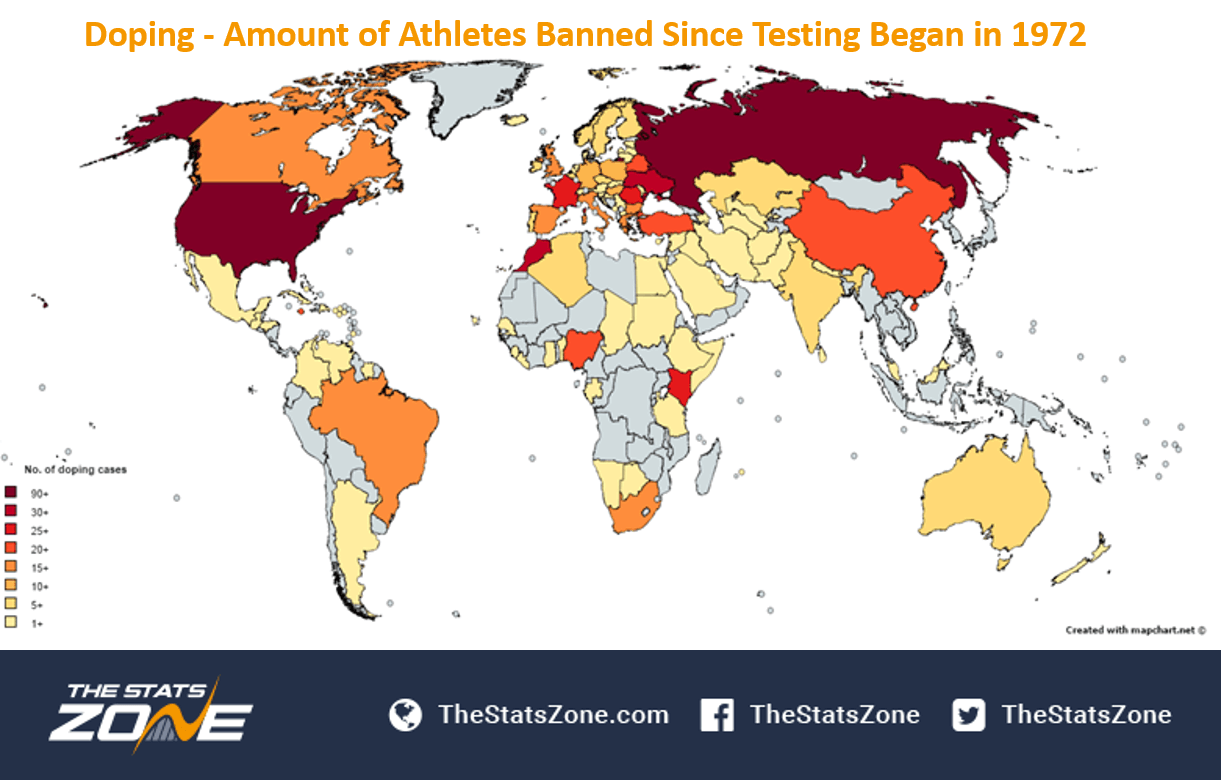 The map is for illustration purposes only and is not definitive. It does not take into account the dissolution of the Soviet Union or the unification of East and West Germany. Athletes banned while their country was known as part of Soviet Union have been placed in their newly formed country.
As you can see, Russia and USA have been by far the main perpetrators with 106 and 92 banned athletes respectively, considerably more than any other country. Ukraine (37 athletes) and Morocco (36 athletes) are the next highest perpetrators.
So doping among athletes has occurred all over the world, even in less developed countries. The first anabolic steroid was created in 1935, and by 1940 athletes were injecting forms of the substance to enhance performance, particularly athletes from the Soviet Union and East Germany who quickly started to dominate the sporting world. During the 1960's, several new steroids were being developed for human use and by the 1980's steroids were even available to buy in local medical stores.
How have governing bodies attempted to prevent doping?
It all started in 1967, when the IOC established a commission to tackle doping in sports and created a list of banned substances. The following year at the Olympics in Mexico City, they carried out their first doping control urine tests and disqualified their first athlete for alcohol use, Hans-Gunnar Liljenwall – a Swedish modern pentathlete. By the time the next Summer Olympics came around in West Germany (1972), the IOC had commenced full-scale testing and in 1976 they had started testing for anabolic steroids after adding them to the list of banned substances. Scientists had begun to develop their methods for effective testing, catching out numerous athletes by surprise and subsequently forcing other athletes to withdraw from the games. As testing increased and improved, more and more athletes were receiving long term bans and even being stripped of medals after being found to have consumed illegal drugs. However, this did not seem to prevent or even slow down substance abuse, so in 2000 WADA and the United States Anti-Doping Agency (USADA) commenced operations. New innovative tests continued to be implemented, along with new drugs being added to the banned list in attempts to prevent unfair competition.
What effect has this had on doping?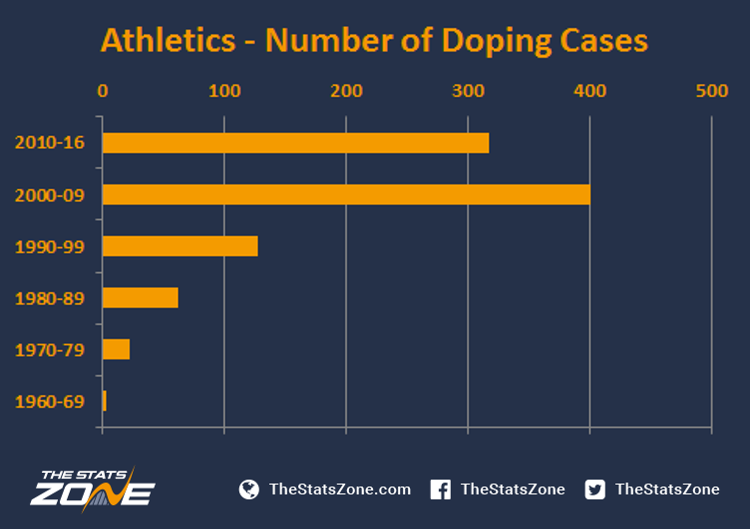 So it is clear to see that despite increased regulations and testing, steroid use is rising at an alarming rate and shows no signs of slowing down. Instead of discouraging athletes, it seems testing has simply highlighted the magnitude of the doping epidemic. Athletes are willing to risk it all to succeed in competition, never more so than in the Olympics.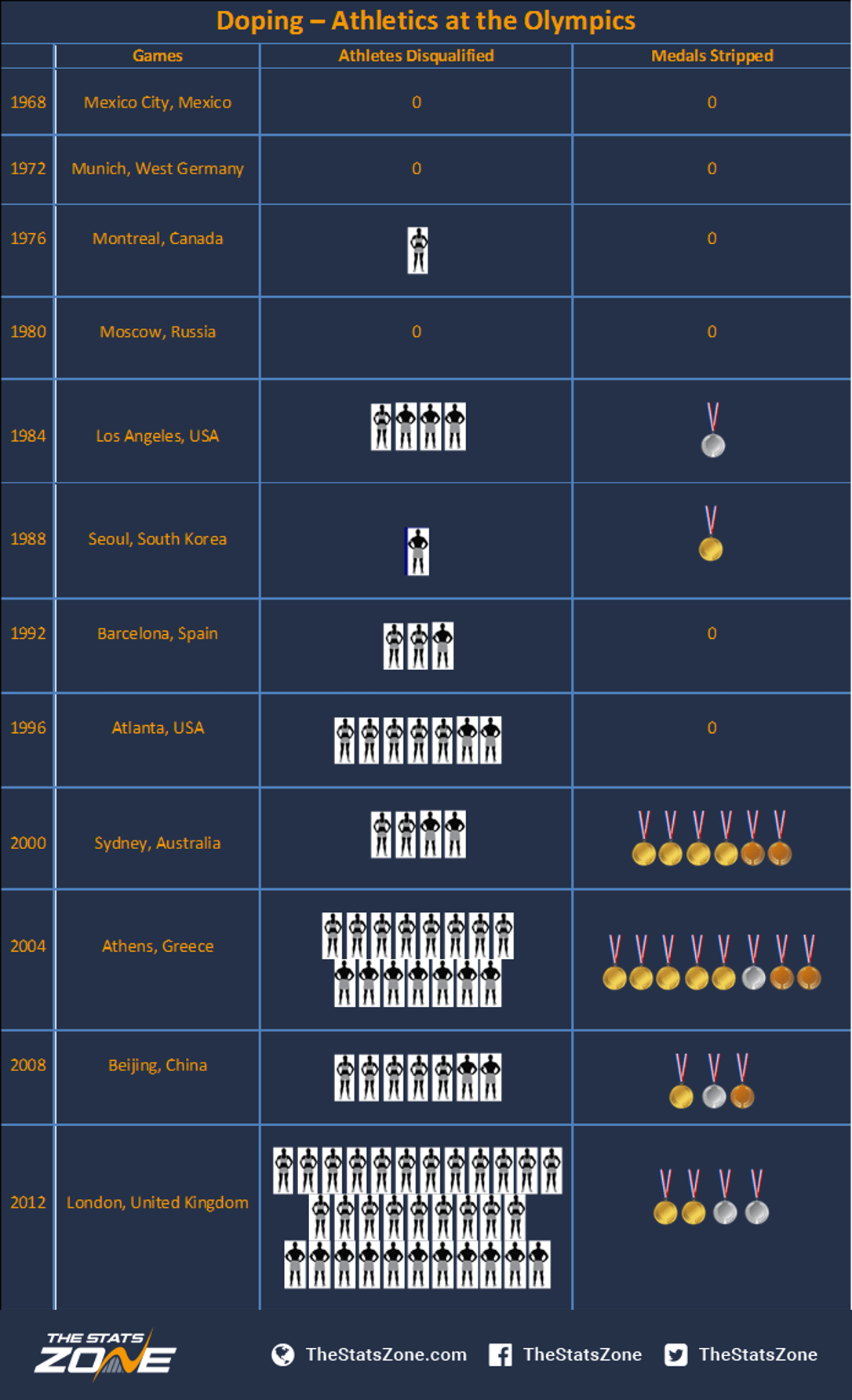 Following the trend of doping around the world, the Olympics has also seen an increase in the amount of athletes failing tests, getting disqualified and even having their medals stripped from them. The first medal to be stripped in athletics was that of long distance runner Martti Vainio from Finland, who had achieved a silver medal at the 1984 Summer Olympics in Los Angeles. One of the most notable doping cases in Olympic history involved Ben Johnson from Canada; at the games in Seoul in 1988, Johnson blitzed the 100m final, beating his own record and finishing in 9.79 seconds. Three days later, Johnson was disqualified after his blood and urine samples were found to have contained stanozolol. He subsequently lost his gold medal and the record was wiped out.
Up until the Los Angeles games in 1984, testing was rather limited and testosterone was not even on the list of banned substances. It was documented that test samples at the Moscow games in 1980 have been retested and a staggering 20% of those came back positive. In fact, 19 medal winners were found to have unusual levels of testosterone – 16 of these were gold medallists. So by today's standards, these athletes certainly would not have qualified and explains why so few athletes were caught during early Olympics compared to more recent games.
So we know that steroid use has been prominent since the 30's and that large efforts have been made by anti-doping agencies to promote fair competition – but is resetting the records really necessary and how can we assume that previous records were achieved with the aid of performance enhancing drugs? To analyse this, we have selected a handful of major athletic events and illustrated the progression of each world record.
When viewing these statistics, it is important to keep in mind these milestone events: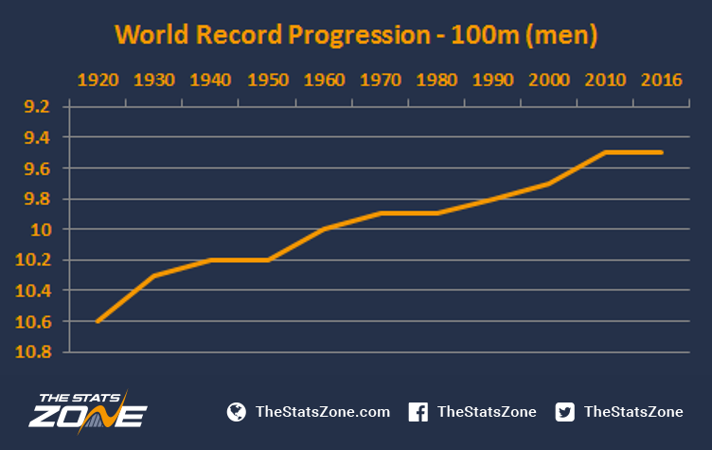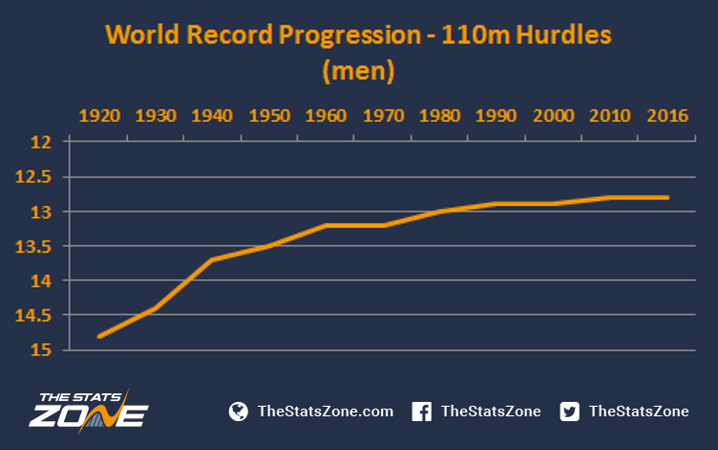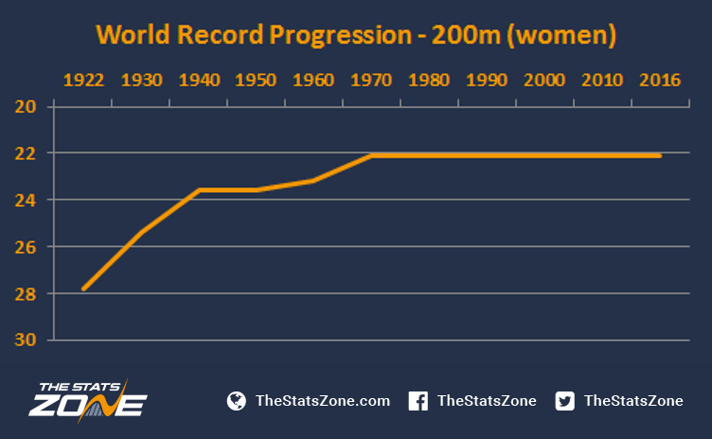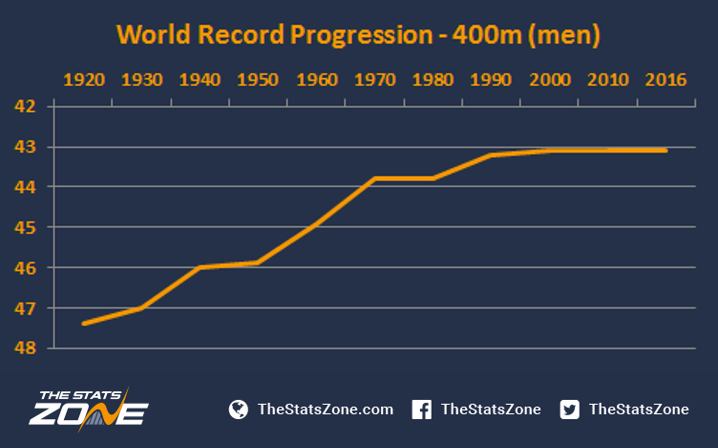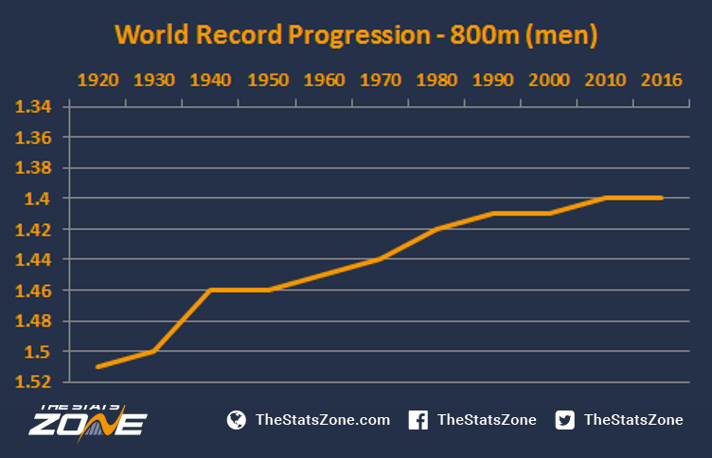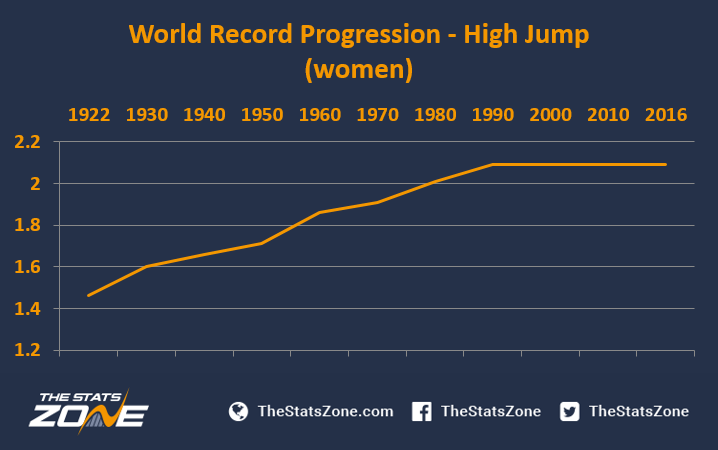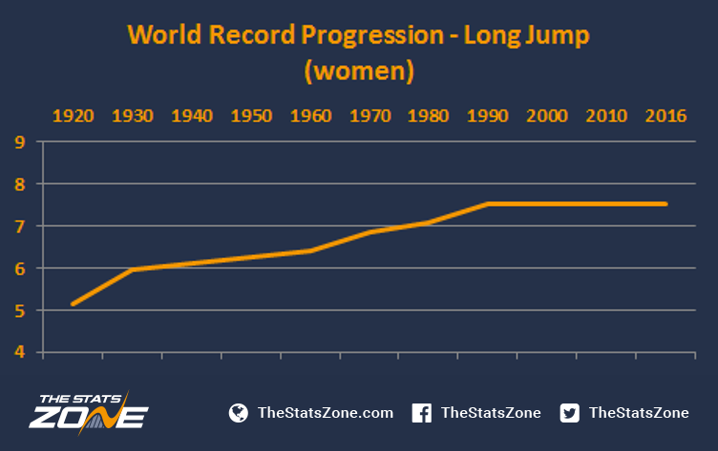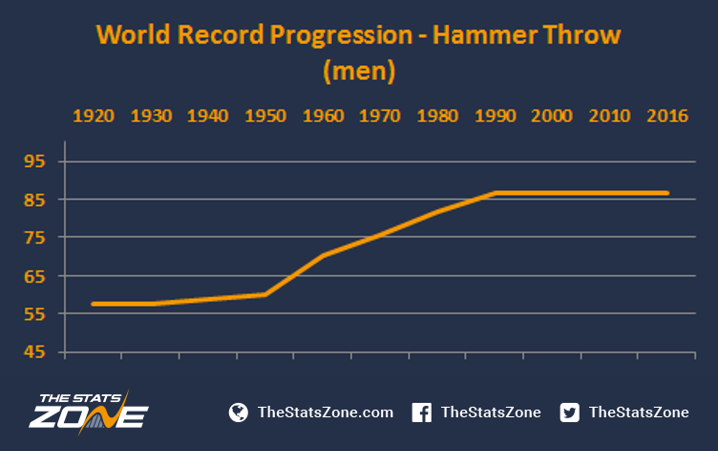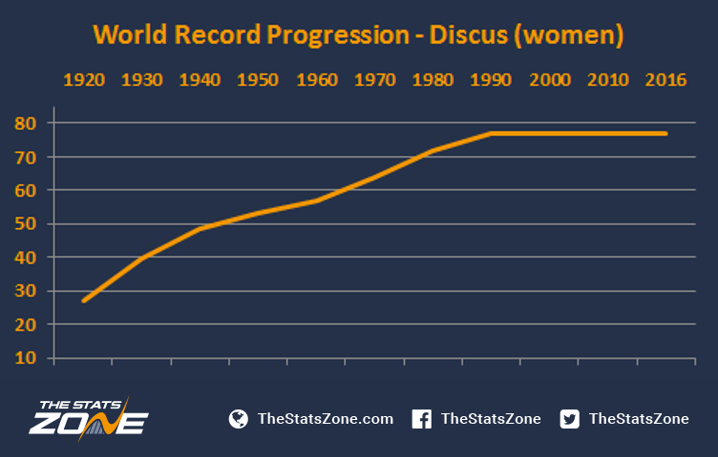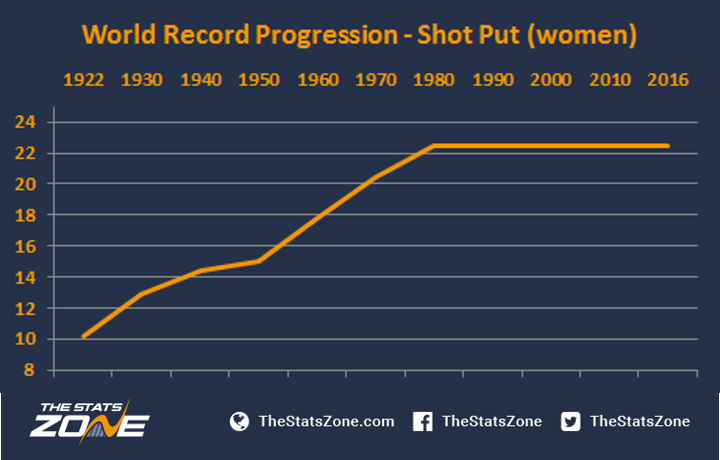 As you can see, up until the mid 1980's when drug testing improved and new anti-doping agencies were established, records tumbled year on year. However, since high quality testing and post competition investigations, the records began to plateau. Now, we cannot categorically say that the improvement in these events is all down to performance enhancing drugs. There are various factors that have helped athletes improve over the years, such as greater understanding of nutrition, studying of technique, more advanced training and training facilities and of course, the once in a generation freak athlete who comes along and shatters existing records. Take superstar Usain Bolt for example.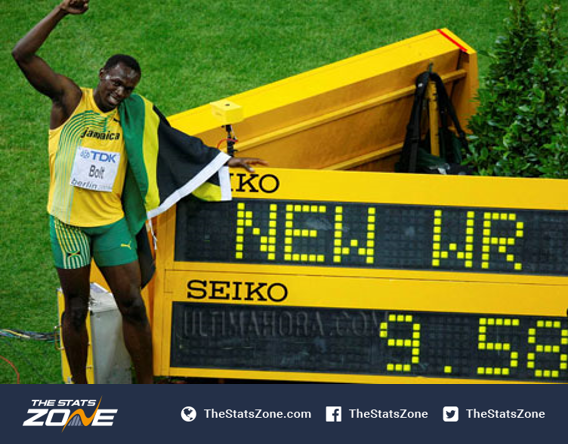 Usain Bolt after setting the 100m world record.
So, should the records be reset?
The state of athletics is in disarray and something needs to be done to salvage its reputation. This data has shown how prominent doping has been, indicating worrying signs for the future. There is mounting evidence to suggest existing records have been achieved with the aid of illegal performance enhancing drugs. For example, who can forget one of the biggest scandals in sport in which the BALCO investigation uncovered drug cheats such as Dwain Chambers and Marion Jones. Marion Jones proudly sat on five medals for seven years before the investigation found her guilty of steroid use (tests at the time could not detect certain substances, in this case, THG). There have also been recent revelations involving current multiple world record holder Wang Junxia, who has admitted being part of a Chinese state-sponsored doping regime where her and other Chinese athletes were forced to take large doses of steroids. This all begs the question – just how many records have been set with the aid of performance enhancing drugs?
Revelations and investigations like these have put other records under intense scrutiny, which is why the UKA believe resetting all previous records is necessary in order to restore the integrity of athletics. In cases, this would be justified. However, not every athlete has the same agenda and it would be tactless to pigeon hole all athletes in the same box. What about athletes who remained clean their entire career and relentlessly abided by all the rules and regulations? Is it right to take away the achievements they earned and worked so hard for? There are athletes who have dedicated their lives to compete and represent their country and have done so following all the rules. These are athletes who set an example and those who go on to star on the big stage and earn medals, becoming icons and role models for younger generations. These generations are inspired to follow in their footsteps and take part in the sport with the deepest tradition and extend its legacy. It would be tragic to 'reset' these honest achievements.
It is a great shame that disgraced parties have tainted the reputation of athletics, but it would arguably be a greater shame to tar clean athletes with the same brush. Anti-dopers have been one step behind the dopers for the duration of the sport, but now is the time to take the initiative and enforce stricter sanctions, consistent prohibitions and clearer legislation. Resetting the records may not be required but this proposal has been successful in sparking this debate and highlighting the need for change. A new clean era is crucial for athletics, but let's not forget the achievements of some of the world's greatest ever athletes. This sport is too precious to be dragged down by the cheats.