With Easter just around the corner, it signals a tough period for Super League sides. Whereas the NRL carry on about their business as usual, Super League teams are faced with two games in the space of a few days, generally playing on both Good Friday and Easter Monday.
The RFL have also planned a second 'Easter' style weekend at the end of May, with the majority of coaches voicing their concern at what too many games in such a short period could do to their players in what is an extremely physically demanding sport.
Some teams are deemed to have a slight advantage with their first set of games brought forward, with Huddersfield vs Catalans being played tonight (12th April) and Widnes facing Warrington tomorrow (13th April), ensuring that those teams will have extra rest over their opponents when it comes to their Easter Monday fixture. This has left us querying whether there is any correlation between teams winning games by having extra rest than their opponents.
We've looked back over the last two full seasons in both the Super League and the NRL, as well as observing the current season (although it is important to note that this is a much smaller sample size with Super League eight rounds in and the NRL only six rounds old at this stage). For the purpose of this investigation, we have calculated our findings by looking at when teams played league games in the previous week and compared the number of days between their games. For example, if one team played on the Friday and their next opponents played the following day on the Saturday, that would count as a one-day advantage. Here is what TSZ has found:
One-Day Advantage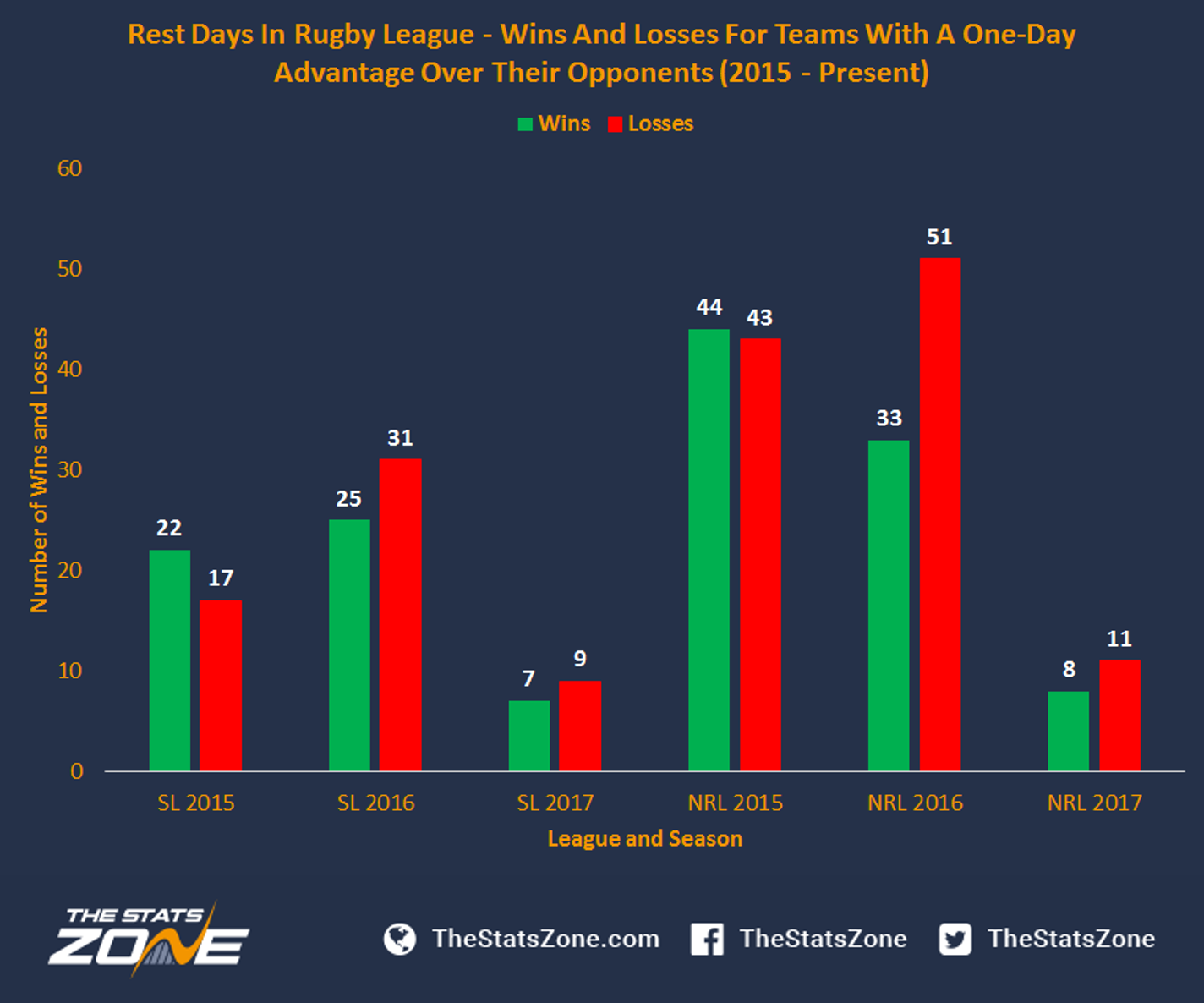 A one-day advantage doesn't seem to make a great difference in the outcome of results, with two of the four full seasons we have looked at showing more wins for the team with the day's rest advantage.
These both occurred in 2015, with Super League teams with a day advantage winning 22 games (56.4%) and 44 NRL teams (50.6%) winning their matches.
In the current season, more teams have lost when having a day advantage, with nine teams (56.3%) winning when facing an opponent with a day's extra rest and 11 teams (57.9%) managing the same in the NRL.
The numbers with a one-day advantage are quite consistent, with the largest difference coming in the NRL in 2016 with 60.7% of teams with a day less winning their games and only 39.3% winning when having a one-day advantage.
Two-Day Advantage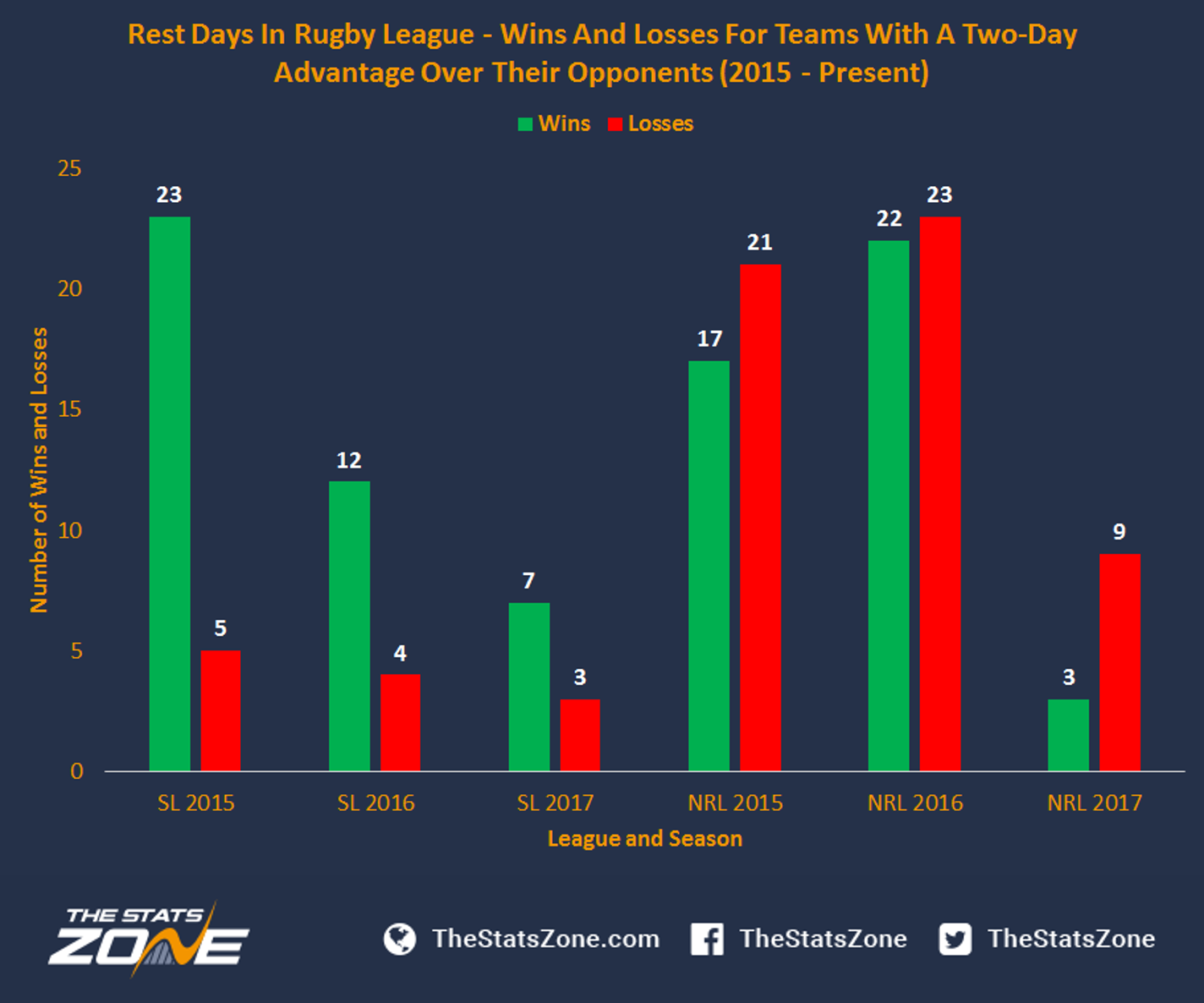 A two-day rest shows a huge difference between Super League and the NRL.
Super League teams across the three seasons show that a two-day advantage has resulted in 77.78% of sides winning their game whereas in the NRL, only 44.21% of teams won with this advantage.
All three Super League seasons show more wins for the side with the two-day advantage, whilst all three NRL seasons show the opposite, with more losses in each season for the side with the rest advantage.
In 2015, 23 Super League teams won with a two-day advantage (82.1%), which is the biggest percentage across either league in any of the full seasons we've looked at.
Three Or Four-Day Advantage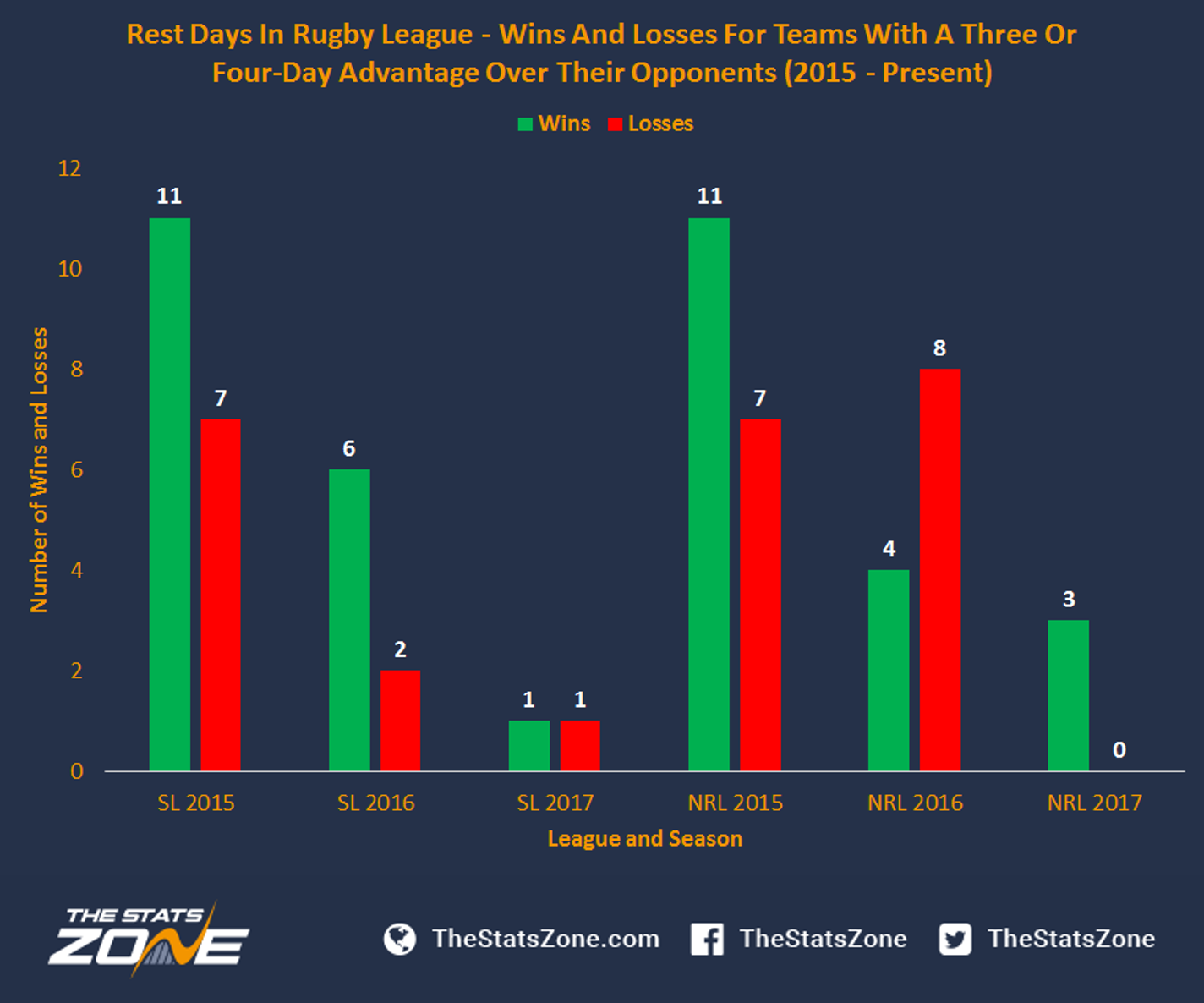 Teams with a three or four-day advantage in 2015 showed exactly the same outcome across both leagues.
There were 11 wins for sides with this advantage (61.1%) and seven defeats (38.9%) in both the Super League and the NRL.
There are contrasting numbers between Super League and NRL sides in the 2016 season.
Six Super League sides won their games with a three to four-day advantage (75%), with just four winning in the NRL (33.3%).
Five-Day + Advantage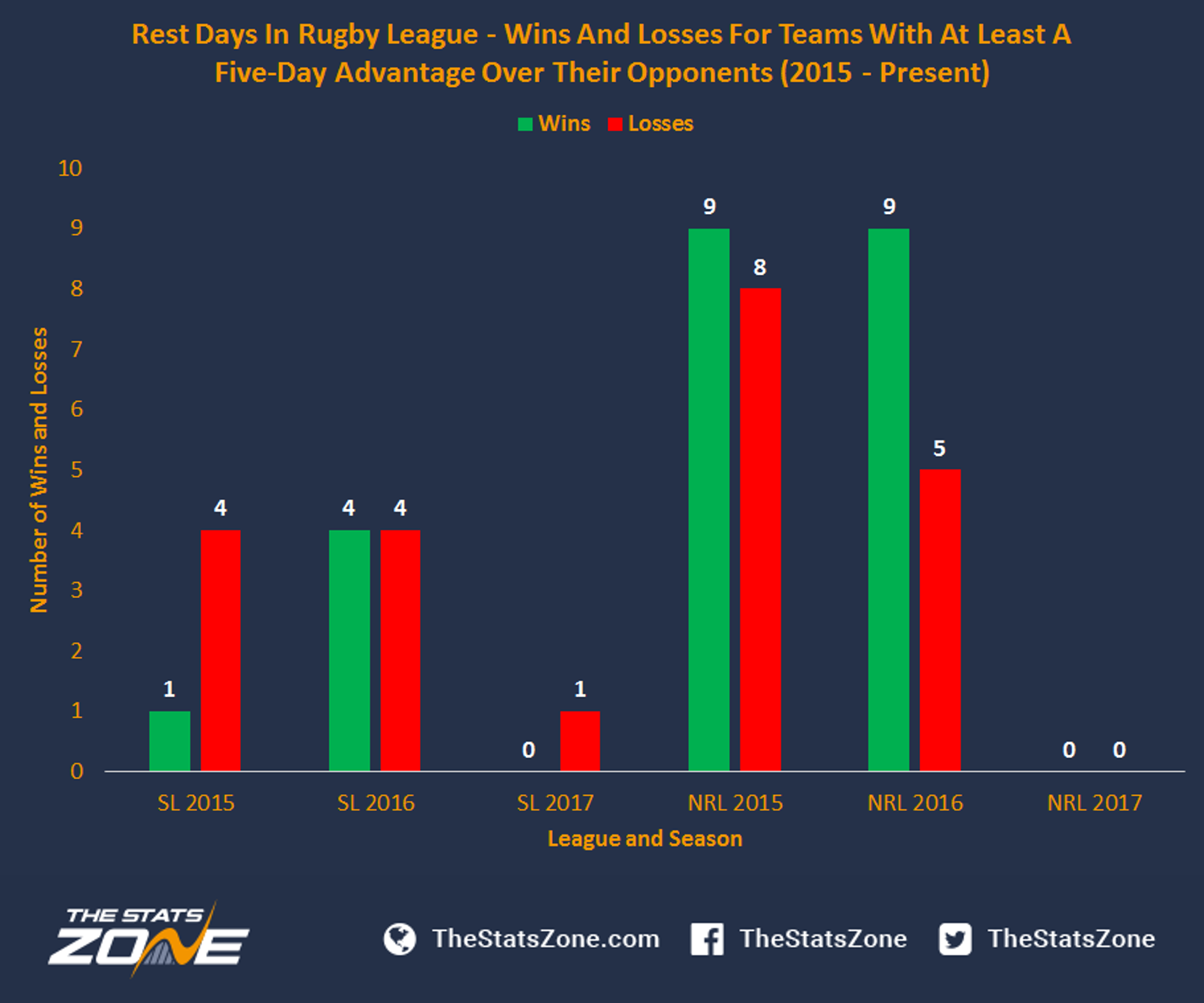 The sample size for a five-day + advantage is a small one but still worth looking at.
Teams in the NRL across both full seasons benefitted from five-day + advantage, with nine wins in both seasons. That yielded a percentage of 52.9% in 2015 and 64.3% in 2016.
Only one of five teams won a Super League game in 2015 when having a five-day + rest advantage (20%).
In 2016, it was a 50-50 split across eight games in Super League, with four teams winning when having a five-day + advantage and four teams winning when facing an opponent who had a five-day + advantage over them.
Combined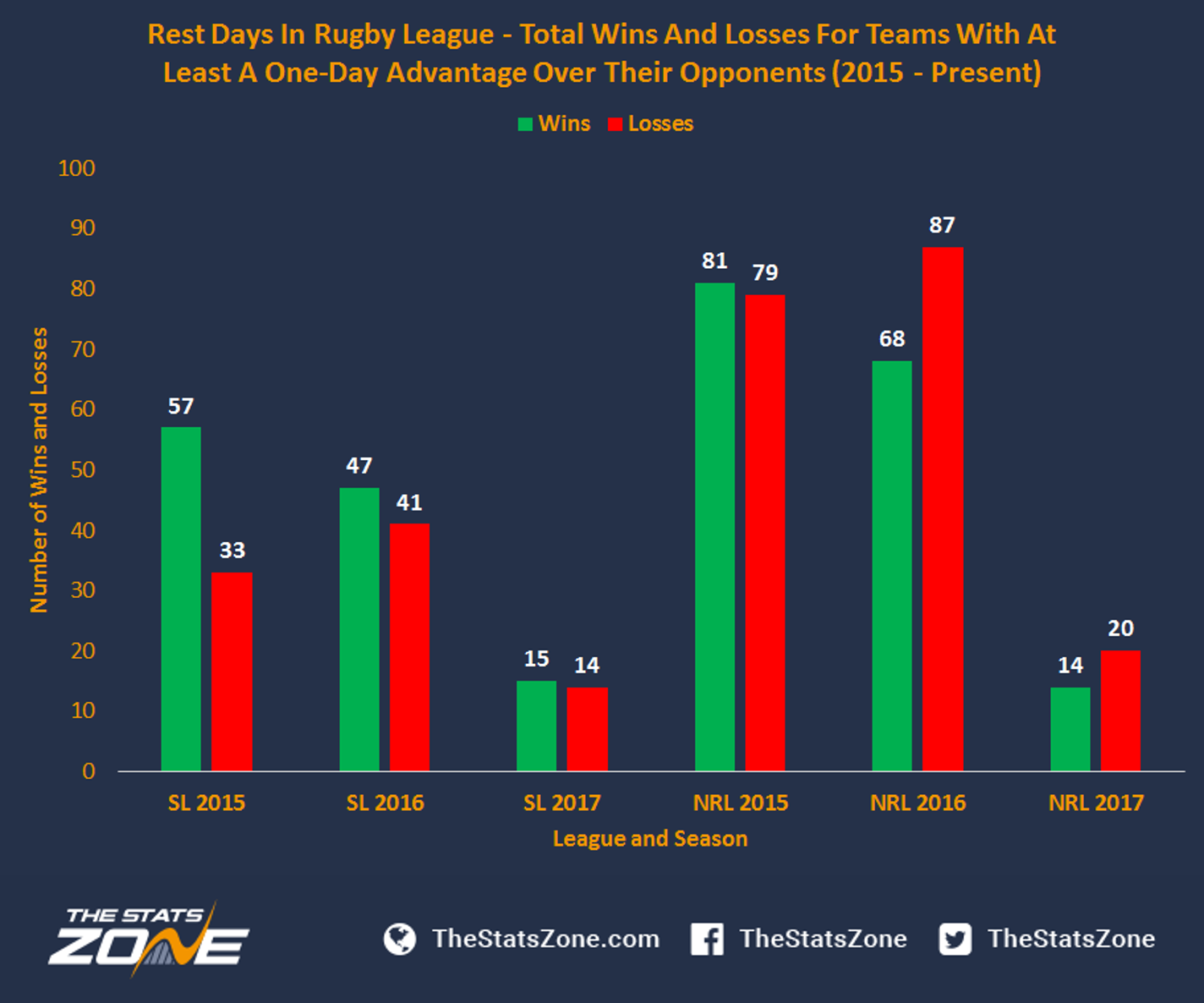 Across the four full seasons we looked at, teams in both leagues won more games when having any sort of advantage over their opponents in three of the four full seasons.
The only season that saw this reversed was the 2016 NRL season, when 87 teams overcame a deficit (56.1%).
The 2015 NRL season was also a close affair in terms of these numbers, with just two more sides winning games with any sort of advantage – 81 teams (50.6%) compared to 79 (49.4%).
In Super League, the numbers were larger. In 2015, 57 teams won with any sort of advantage (63.3%) and in 2016, 47 teams claimed the win with an advantage (53.4%).
There are some mitigating factors to consider with these results. In Super League, the inclusion of Challenge Cup games could have made a difference but a lot of teams opt to rest players in these games in the earlier rounds, especially if up against lower league opposition. It is also worth considering that the teams that compete in the World Club Series have an additional game to play early on in the season. In the NRL, games continue whilst State of Origin is played and this causes upheaval amongst those clubs who have players taking part in Origin. It's also worth considering the bye weeks in the NRL, which give teams a week off twice a season.
From the numbers we've gathered, it looks as though a one-day advantage doesn't make a great deal of difference to the outcome of results, with the figures inconsistent and all relatively close in terms of percentage. With a two-day gap, it makes a big difference in Super League but seems to have the opposite effect in the NRL.
Three days or greater doesn't provide us with great sample sizes, especially compared to an advantage of one or two days. However, it does appear that big gaps like that do play into the hands of those sides who have the extra rest days, with only a couple of occurrences bucking the trend.
All three Super League seasons show that teams with any sort of advantage in terms of rest come out on top. In the NRL, though, it seems to be trending the other way. It was very close in 2015 but in 2016 and the current season, teams with less rest than their opponents are coming out on top. It could be that NRL teams lose momentum by having big gaps between games and prefer to get out onto the field rather than having longer periods between games. In Super League, it looks as though extra days between games helps players to recover and doesn't affect their momentum.