The most anticipated heavyweight boxing bout this decade takes place at a 90,000 sell-out Wembley Stadium this Saturday, as Anthony Joshua defends his IBF world heavyweight belt against a legend in the division, Wladimir Klitschko. With the WBA super world heavyweight and vacant International Boxing Organization world heavyweight titles also up for grabs, will we be seeing the great Klitschko fight for the final time? And can the young Englishman continue his rise to the top of the division?
TSZ takes a look at the numbers behind the fight and where the headline contest could be won or lost, as well as examining the main undercard fights on the bill: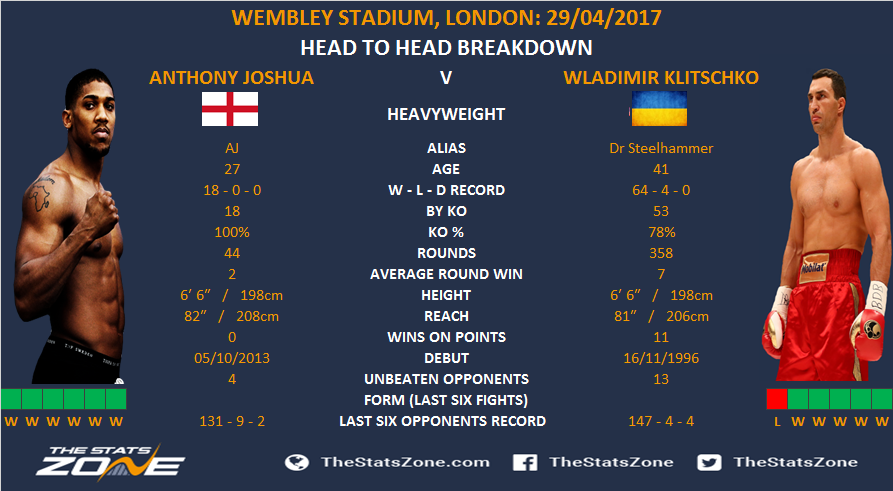 AJ is arguably the most exciting heavyweight since Mike Tyson due to his speed, furious power and all-out action style. After becoming world champion after just 16 fights, many are predicting he will rule the division for years to come.
With a 100% knockout record from 18 contests and never being taken past the seventh round, totalling just 44 rounds in the ring and destroying four of his last five opponents who possessed unbeaten records, it is hard to argue against AJ. However, these exact stats could also prove his downfall.
Joshua's superiority has meant he has yet to be truly tested as a professional – with the exception of a couple of bruising rounds against Dillian Whyte – and we do not yet know how he will respond if he is taken deep into the fight against a world class opponent such as Klitschko, who will test his boxing skills to the maximum.
In comparison, Dr. Steelhammer is one of the most experienced professionals across all weight divisions, and up until his shock loss against Fury in his last outing, he went unbeaten as world champion for an outstanding 11 years.
Klitschko has amassed 358 rounds in the ring during a 68 (won 64) fight career to date, with an impressive 78% knockout percentage and 11 wins on points. At 41 years of age, there arguably isn't a style he hasn't faced.
Although experience could be the key, age could also be a major factor, which is the reason why many are putting AJ as favourite. Klitschko's last outing against Fury will be almost 17 months to the day - the longest period of inactivity in his illustrious career, and at this stage perhaps too long. Will youth prevail over wisdom?
Let's take a look at Klitschko's punch stats in his loss to Fury: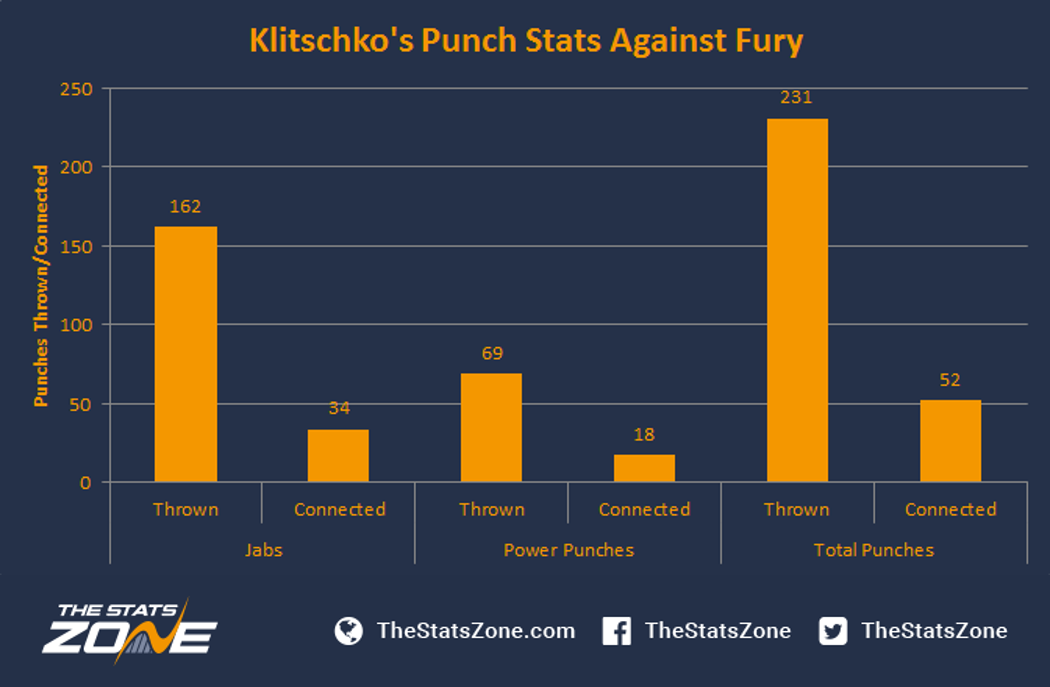 Klitschko's loss to Fury was perhaps the best thing to happen to the heavyweight division in years. It has allowed many of the 'young guns' to blossom at a much faster rate and without it, this fight with Joshua would almost certainly not be happening at this stage.
The outcome of the Fury fight shocked many, and although the Gypsy King out-boxed and out-witted his opponent to deservedly win, it was also evident that this was not the Klitschko that had dominated the division. As mentioned, many have put this down to age and desire, but judging by his words and actions in the build-up to this fight, they won't be the defining reasons this time around.
Against Fury, Klitschko landed just 23% of his total punches and threw 140 less than his opponent. Furthermore, he threw just 69 power punches compared to 202 from Fury. If he adopts this little activity over 12 rounds against AJ, the fight will likely result in a comfortable victory for the Brit.
However, a fighter of Klitschko's calibre will not make the same mistake twice and he will have an exact game plan scheduled. Remember, with a 78% knockout percentage from 64 wins, Dr. Steelhammer has the power to cause AJ some serious problems for the first time in his career.
AJ's speed and power will always be vital to his success, but if he is made to box for long periods of the fight - which Klitschko will try to enforce - he could taste defeat in the later rounds. Nonetheless, we simply do not know if Klitschko's previous fight was a one-off or the signs of the end, and if it is the latter, expect another AJ KO by the seventh.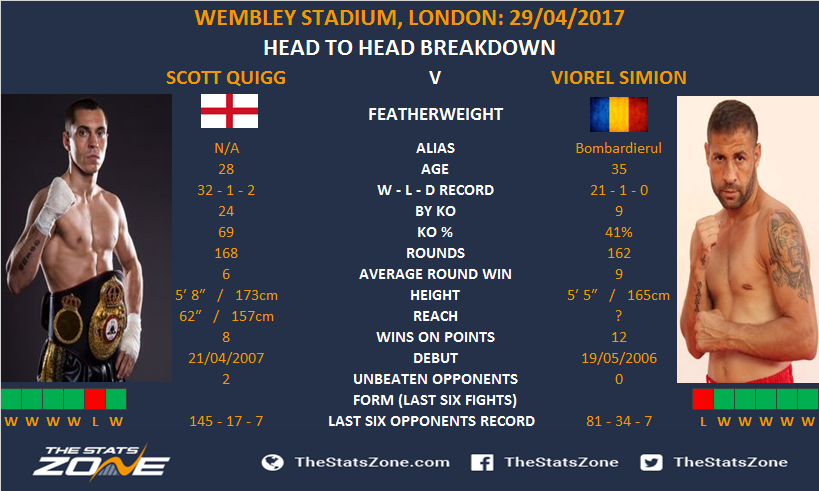 Scott Quigg makes his second appearance at featherweight since stepping up from super-bantamweight.
The fight against Viorel Simion has been upgraded to an eliminator for the IBF featherweight title, which will result in the winner facing current champion Lee Selby.
Quigg makes his first appearance since teaming up with legendary trainer Freddie Roach, which could be the critical factor in this match-up as on paper there is little to choose between the two.
Both have lost only one fight in their careers to date, which were both against world class opponents (Quigg – Frampton, Simion – Selby), although the Englishman has had 11 more fights.
Of their previous six fights, Quigg has undeniably faced the tougher fighters with significantly more overall wins and half the number of losses. Additionally, Quigg has knocked out 69% of his challengers compared to just 41% from Simion.
Although the Romanian's reach is not classified, he gives away three inches in height and will naturally lose distance in reach, and at the age of 35, unless he lands a knockout blow in the early rounds, this fight will possibly end in a late KO victory for Quigg or a unanimous decision on points. Either way, this is a great undercard contest.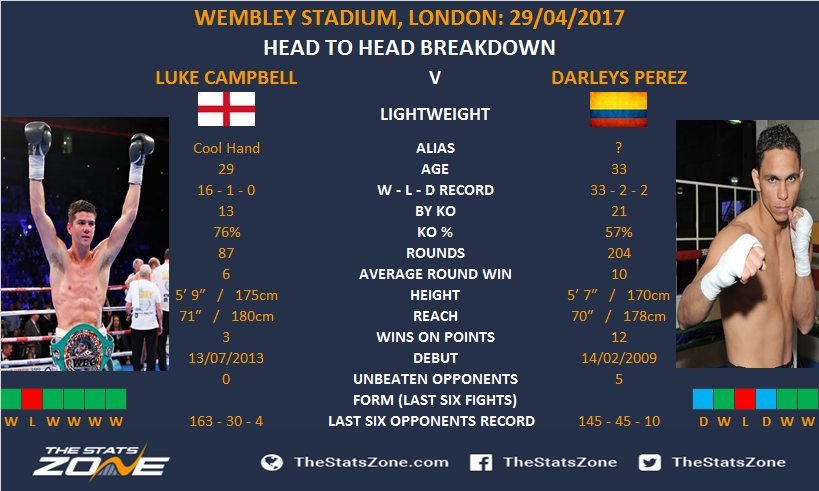 Another attention-grabbing undercard sees Luke Campbell take on the former world lightweight champion, Darleys Perez, to become the mandatory challenger for the WBA lightweight title against current pound-for-pound great, Jorge Linares.
Perez comes with all the experience you would expect from a former world champion, with far more fights and rounds under his belt. However, he has only managed to win one of his previous four fights, with two being against Englishman Anthony Crolla (one loss, one draw). Crolla was considerably out-boxed in his two bouts against Linares, meaning a Perez win here would likely see only one outcome if he were to face Linares.

Olympic Gold medallist Campbell has produced four straight victories since his somewhat surprise solo loss to Yvan Mendy, to put himself within reaching distance of a world title shot. During his 16 wins he has managed 13 knockouts (76%) which have come at different stages of the fight, showing he has the skills and power to win at any stage.
Although another close match-up on paper, the younger Englishman may just have the extra output to outwork Perez and win in the later rounds. However, this is Campbell's biggest fight to date by some margin, whereas Perez has contested in many bouts of this magnitude in which Campbell will really need to step up to prove he has what it takes to become the world champion that so many predicted when he turned professional.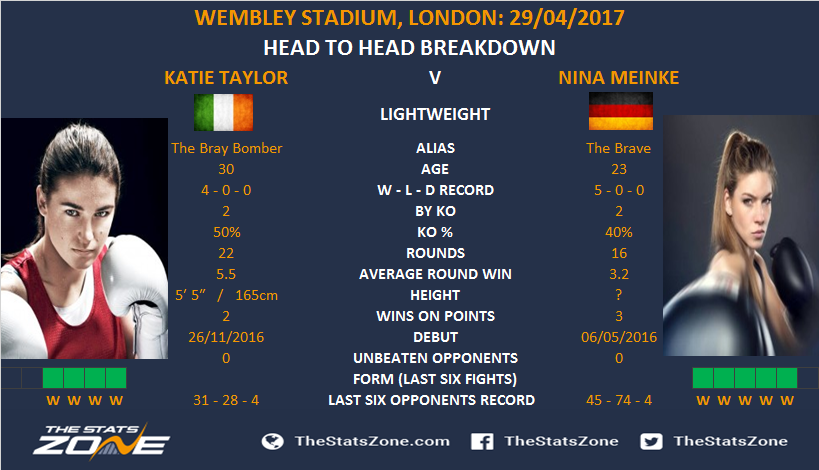 Katie Taylor is single-handedly putting women's boxing on the map with graceful boxing skills, speed and power. With the backing of Matchroom Boxing, fight fans across the globe are starting to witness the rise of the sport.
The Bray Bomber faces unbeaten German Nina Meinke for the WBA Inter-Continental title, which also acts as an eliminator for the WBA world lightweight title in just their fifth and sixth fights respectively.
Having only been a professional for five months, Taylor still has plenty of experience from her amateur days, which could prove pivotal in this fight. The Bray Bomber is seven years older and although they are evenly matched on record, the years of elite level amateur boxing will be a major factor.
Taylor has also faced a higher calibre of opponents in her four fights, with just 28 losses between them compared to 74 from Meinke's five previous opponents.
There is no denying this will be Taylor's toughest fight to date, but expect another convincing win in her favour. Furthermore, with this fight scheduled for 10 rounds, a knockout in the later stages is probable.