Anthony Joshua faces off against mandatory challenger Kubrat Pulev at Cardiff's Principality Stadium on October 28th, as he defends his IBF World Heavyweight title for the fourth time, plus his recently won WBA Super and IBO titles. With the rematch against the great Wladimir Klitschko never materialising due to his retirement, the Bulgarian gets his chance at taking down the number one ranked heavyweight in boxing.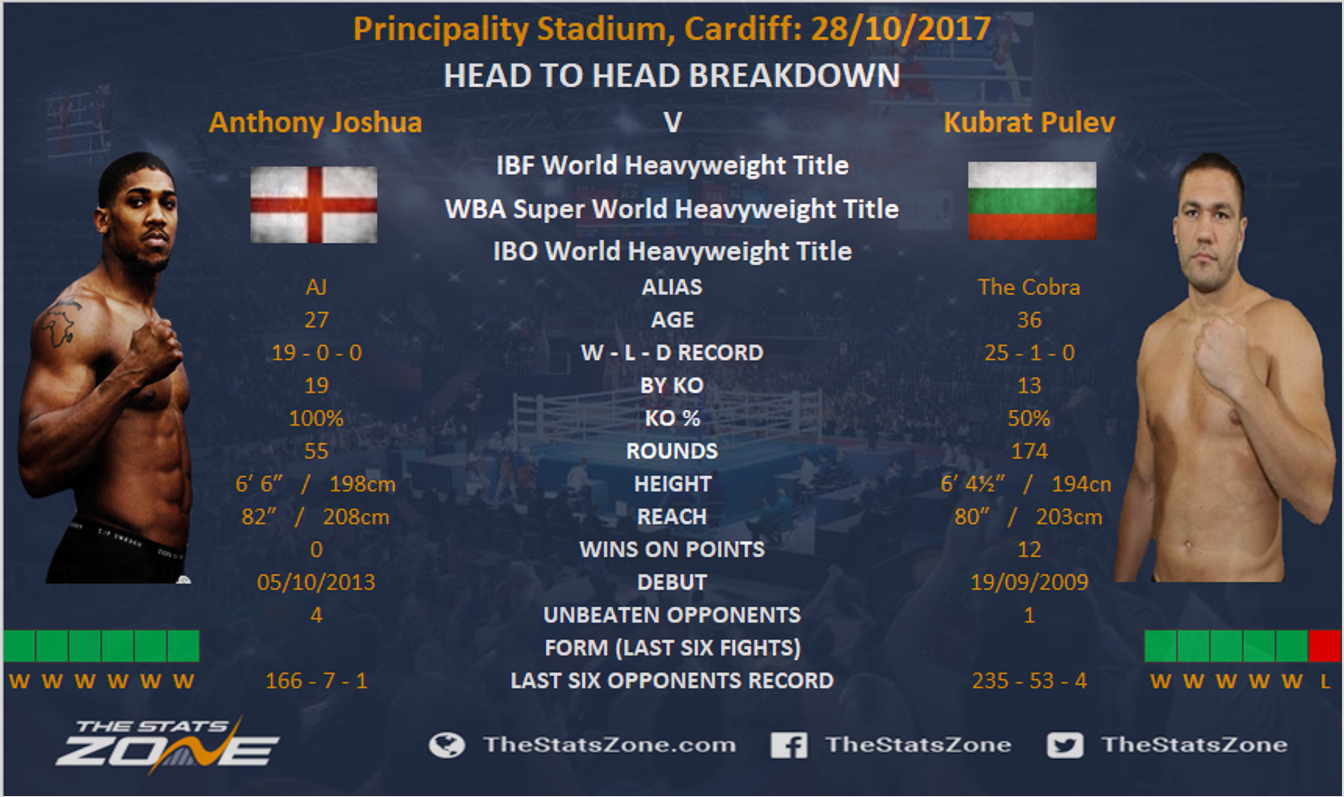 The Englishman's march through the division continues as he looks to extend his unbeaten record and continue to blow away his opponents by maintaining his 100% KO record. As a result of his undeniable power, Joshua has fought just 55 rounds in his professional career and as seen in his previous outing against Wladimir Klitschko, when forced to box for long periods, he does become more vulnerable.
Pulev could be the one heavyweight to expose AJ's inexperience, having fought 174 rounds from his 25 victories, winning 12 on points. Furthermore, The Cobra has a rich amateur pedigree and he will try to out-box, out-think and out-score Joshua on points.
Joshua – as is often the case – is taller (one and a half inches) and has the greater reach (two inches), which always plays in his favour due to his lightning hand speed and power.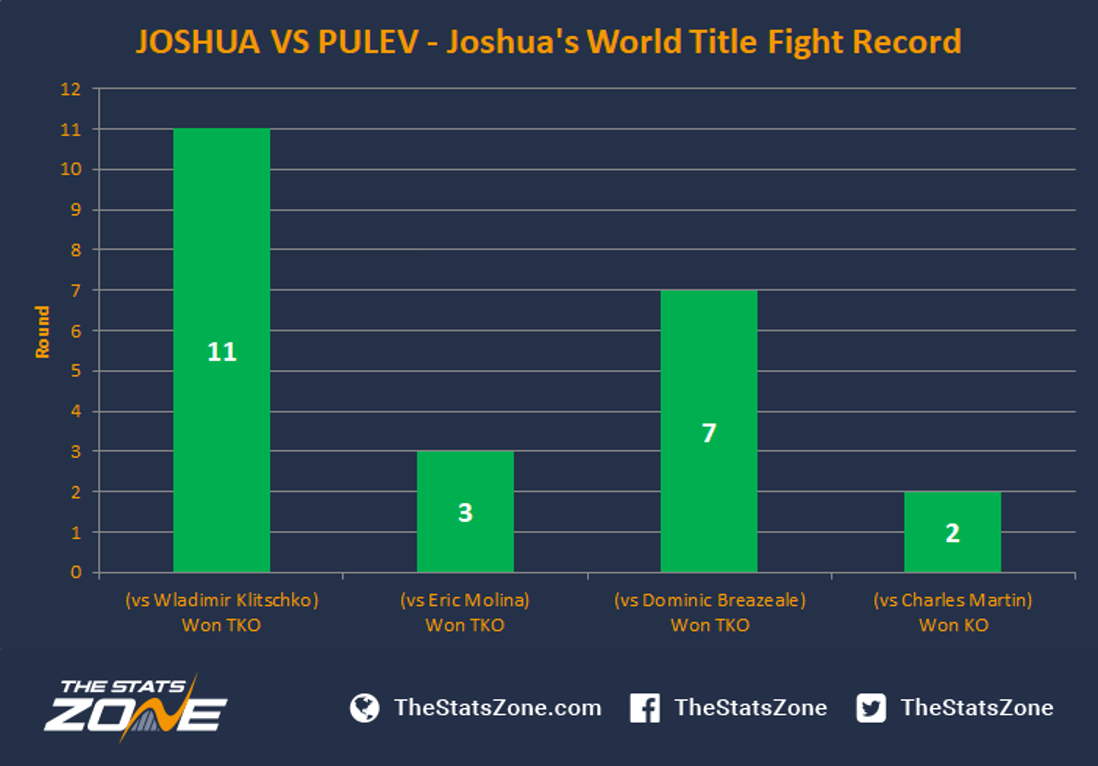 AJ will be defending a world title for the fourth time since he first won the IBF crown against Charles Martin just 18 months ago, with all his previous title fights resulting in KO's. His 11th round KO against Klitschko was the furthest any opponent had taken him in his career by four rounds.
Pulev's only world title fight to date came against Wladimir Klitschko in his only loss in 2014.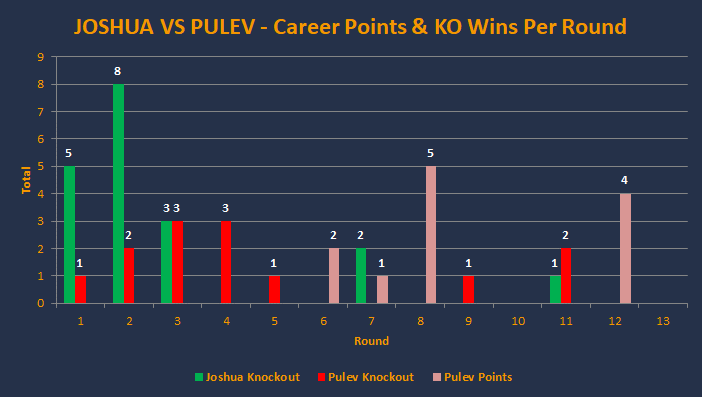 Perhaps most frightening for any of Joshua's future opponents is the 16 KO's he has recorded during the first three rounds, many of which were against high-quality opponents.
Pulev's record is more rounded, with knockouts recorded consistently throughout the rounds and the ability to win on points when taken the distance (four times).
Two very contrasting styles which could make for a great spectacle, but ultimately it depends on the approach Joshua takes. He has been touted as saying he wants to go the rounds and show he can out-box his opponent but this would be contrary to his natural style and a potentially dangerous tactic to adopt against the one heavyweight where out-thinking will be extremely challenging.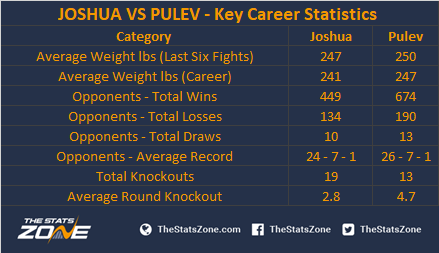 Both fighters have added weight (on average) during their previous six bouts compared to their overall average career weight. Although Pulev has stayed within three pounds, Joshua has increased by seven as he looks to find his ideal fight weight that allows him to maintain his speed and power while adding the momentum behind him.
On average, both men have faced very similar calibre of opponent, with the same losses and draws, but Pulev's challengers have recorded two more wins. 'The Cobra' has, however, had seven more bouts than AJ, turned professional four years earlier and is nine years his senior.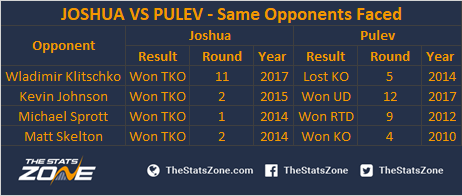 Both have fought four of the same opponents to date.
Against Johnson and Sprott, Pulev was taken deep into the later rounds whereas AJ took them out within the first two.
Significantly, Pulev's only loss was against Klitschko where he was knocked out in the fifth round against a great who was arguably in the prime of his career. Even though Joshua was victorious against Wladimir, he was very nearly knocked out himself.
Punch statistics for both fighters' bout against Klitschko were assessed up until the fifth round when Pulev was knocked out: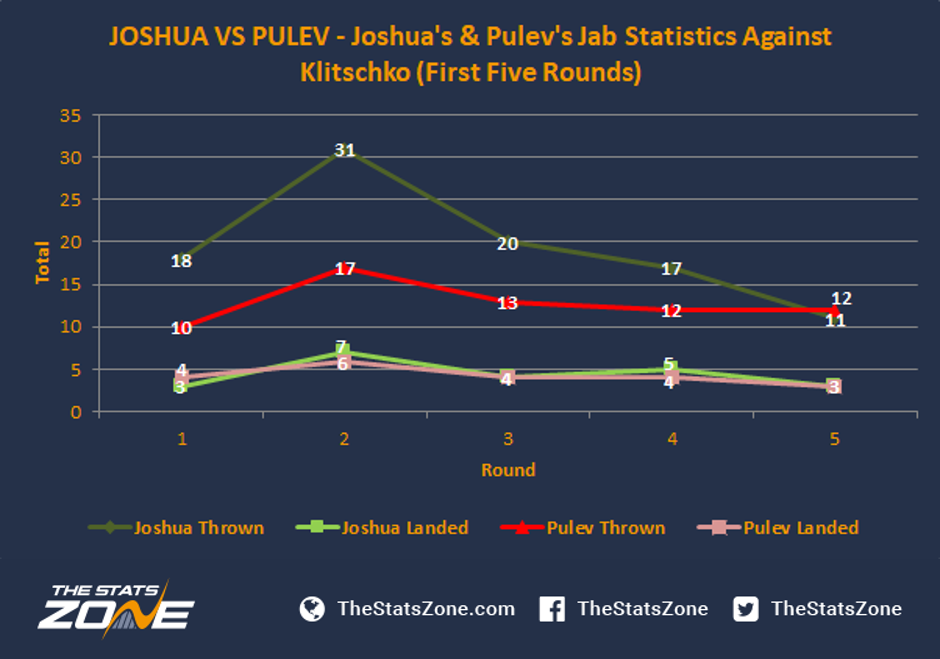 Joshua tried to put the pressure on early with a high volume of jabs during the early rounds, which very nearly resulted in a fifth round KO. However, Joshua's explosive start was nearly his failing as he used a lot of energy and Klitschko was able to get back into the fight and almost grasp the victory himself.
Pulev on the other hand was more calculated and threw on average four fewer jabs per round, but landed just 0.2 less, showing his boxing prowess.
Nevertheless, if both fighters adopt similar styles with the jab, Pulev could be heading towards the same fate as he did against Klitschko.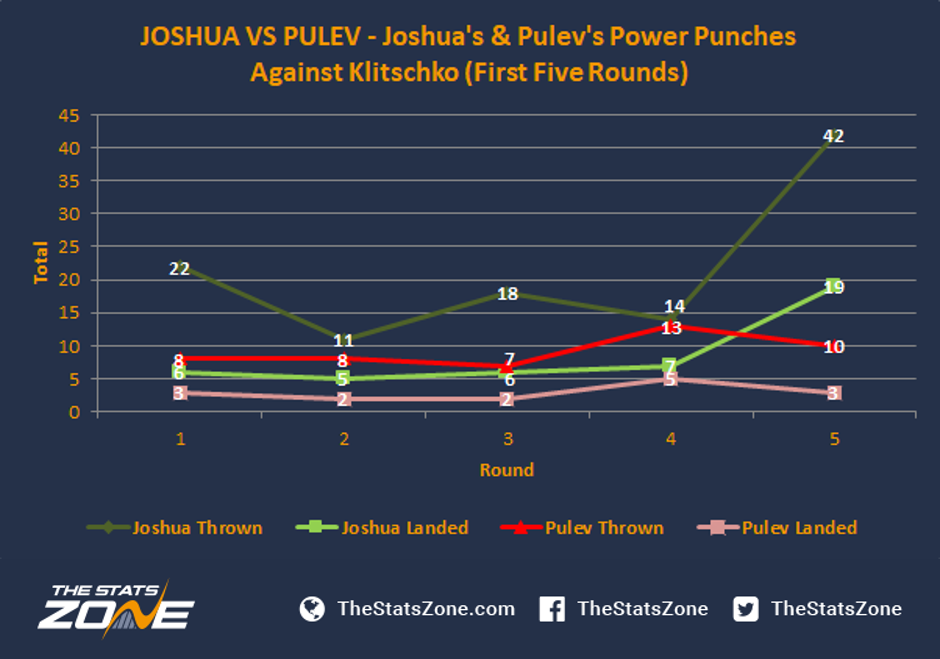 Power punches thrown also showed Joshua being the aggressor, trying to unsettle and take out his opponent from the get-go. On average, he threw 21.4 power punches per round and landed 8.6 – a high volume for any heavyweight to take from one of the most powerful punchers in the division. This further demonstrates AJ's speed as one of the very best defensive boxers was unable to cope.
Again, Pulev was more calculated and reserved with his power punches and although he caused Klitschko some trouble early on, ultimately the pressure and power did little to unsettle the great.
With AJ facing Klitschko during his last fight, his confidence will be as high as ever and his awareness of what he must do better is as clear as during any of his previous fights to date.
Pulev has had to rebuild and reassess some of his style, especially in the biggest of fights. The Bulgarian will know what he needs to do differently to succeed, but if Joshua gets his range and timing in early, it is only ending one way.
In conclusion, it is unlikely Pulev has the skills to KO Joshua, suggesting his only chance of victory is on points. However, the chances of taking him the distance is just as unlikely at this stage in his career with another KO most probable for AJ. If Joshua had faced Pulev before Klitschko, arguably this would be more of a 50/50 fight, however the experience AJ gained against the great will have prepared him better moving forward than any of his previous 18 bouts, making him even more dangerous a fighter than before.
If Joshua is victorious, it is likely he was be facing one of the other two world title holders in the division and aim to unify the belts by the end of 2018.
Punch stats obtained from CompuBox.