Anthony Joshua faces New Zealand's Joseph Parker in a bout that will see the winner claim three of the four major heavyweight titles, placing them just one fight away from having a chance at becoming the unified champion. After long negotiations, the contest was finally scheduled for 31st March at the Principality Stadium in Cardiff for AJ's second successive fight there. The two unbeaten champions will put it all on the line for what should be an explosive encounter.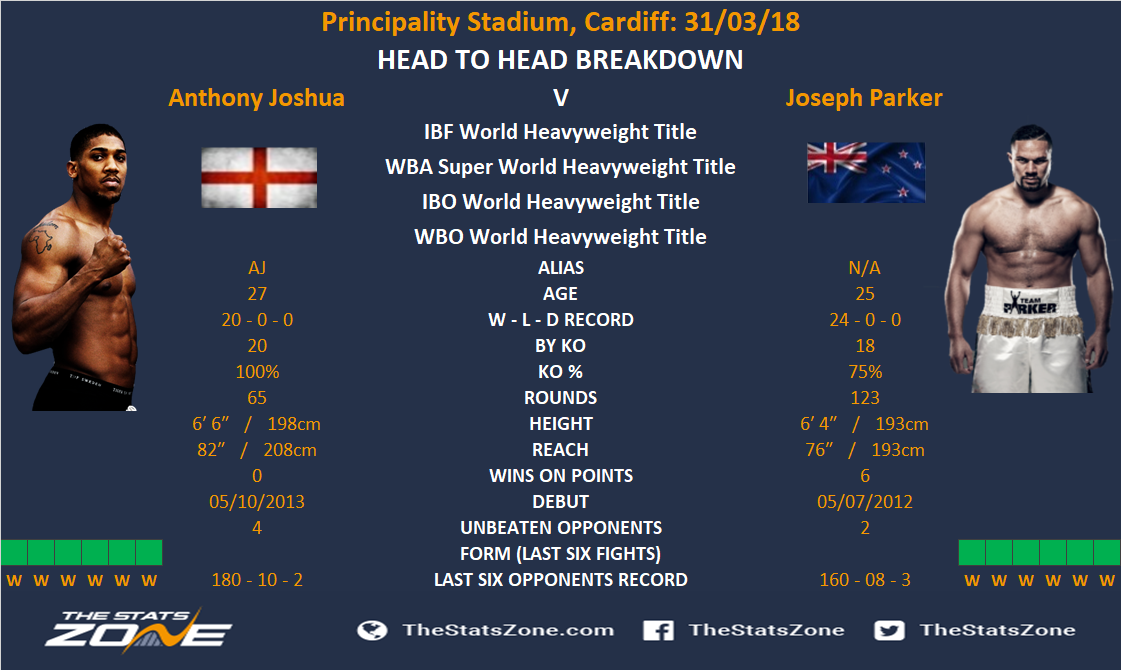 Parker has always been regarded as the weakest heavyweight world champion and the easiest chance of claiming one of the main belts. However, as the fight build-up progresses, many are predicting that the New Zealander will give Joshua his firmest test to date. Both are young, big and unbeaten fighters who are convinced they have one another's 'number' already.
Joshua possesses the physical edge with a two-inch height advantage and an immense six inches extra in reach – something that will make it difficult for Parker to be the aggressor but also an area that may suit his tactics as a result.
Parker has gone nearly double (123) the amount of rounds that AJ has and is more experienced in the later championship rounds having won on points six times. Nevertheless, this is mainly in part to Joshua's 100% KO record, identifying the difference in both fighters' qualities.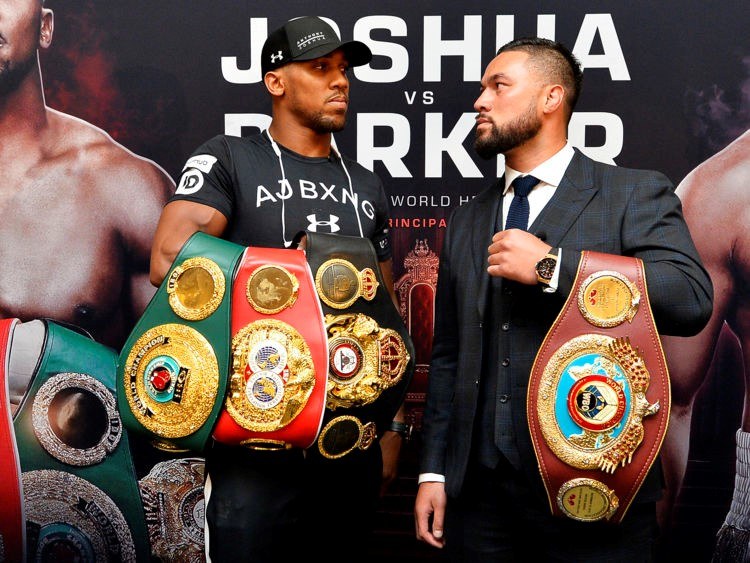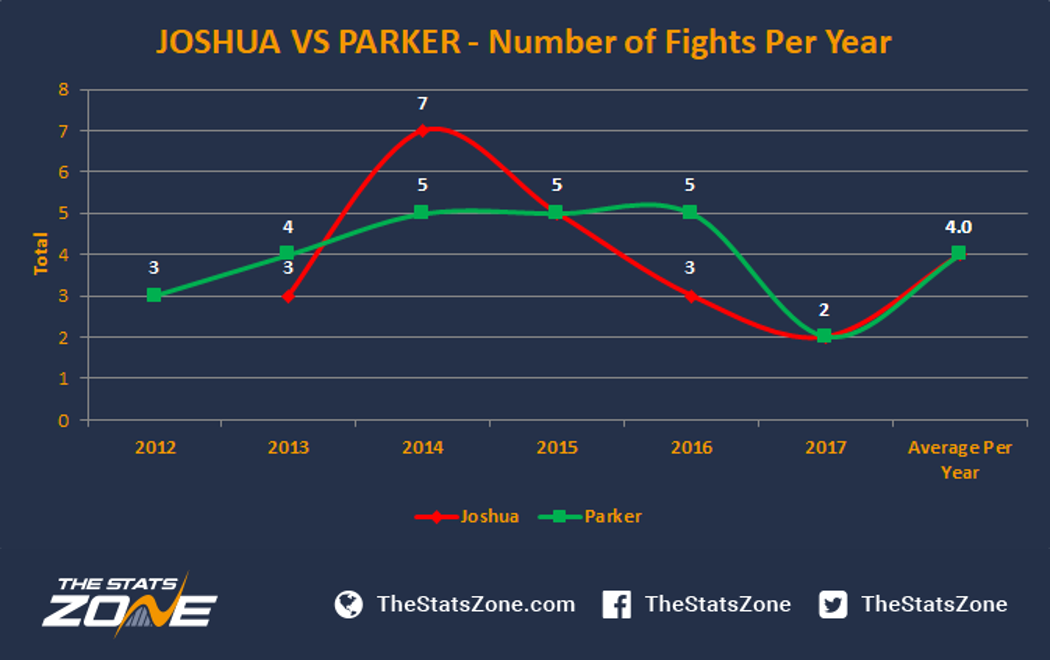 Parker turned professional just 15 months previous to AJ and on average they have both fought four times per year.
AJ's rise to the top was much quicker than Parker, thus tapering down to five bouts over the past two years compared to seven for the New Zealander.
Since making his debut, AJ has been relentless in reaching world level whereas Parker has consistently fought throughout the years – something that may result in Parker being the fresher of the two which could be an advantage if it does go to the later rounds.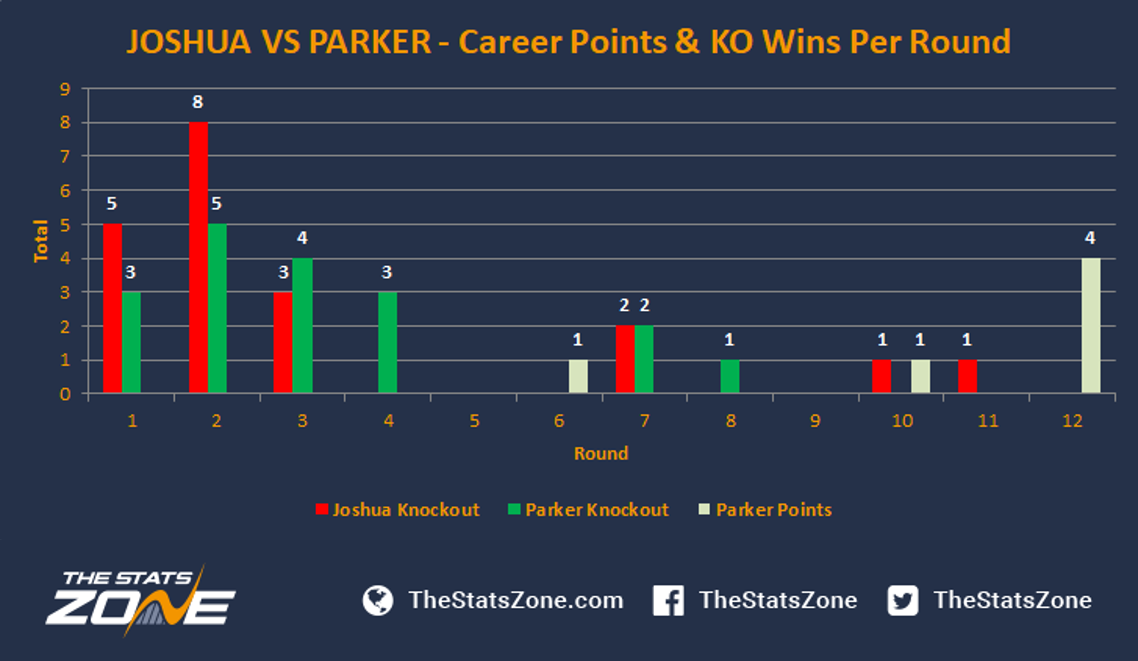 The two contrasting styles are evident in the rounds they record most of their victories. AJ has recorded 16 (80%) of his wins inside the first three rounds and only gone past the seventh twice, both in his previous two outings.
Conversely, Parker has recorded just 50% of his wins inside the first three rounds and has won on points on six occasions, four of them via 12 rounds.
There has been some talk that AJ has looked tiresome when taken into the second half of championship fights. However, he has still managed to KO his opponents suggesting he has the ability to recover well and possesses the power until the end.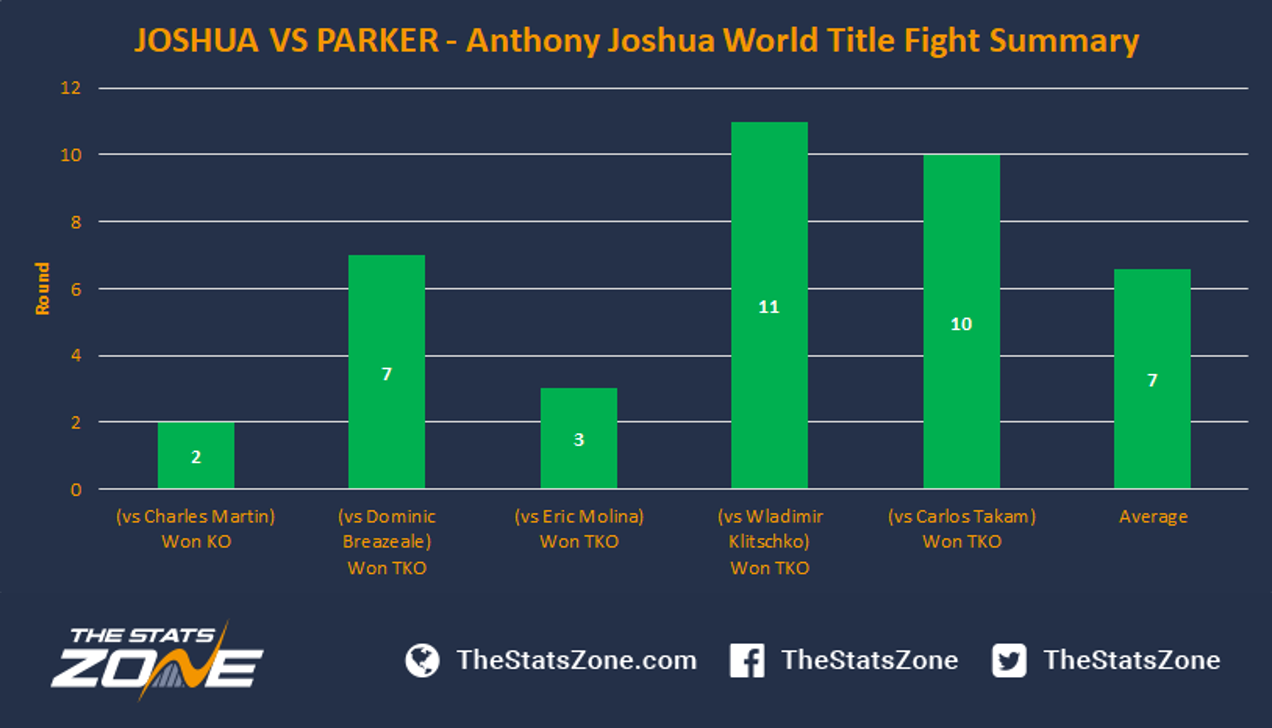 This will be the fifth time AJ has defended the IBF belt having averaged a KO in round six. Only the legendary Wladimir Klitschko has caused him any difficulties.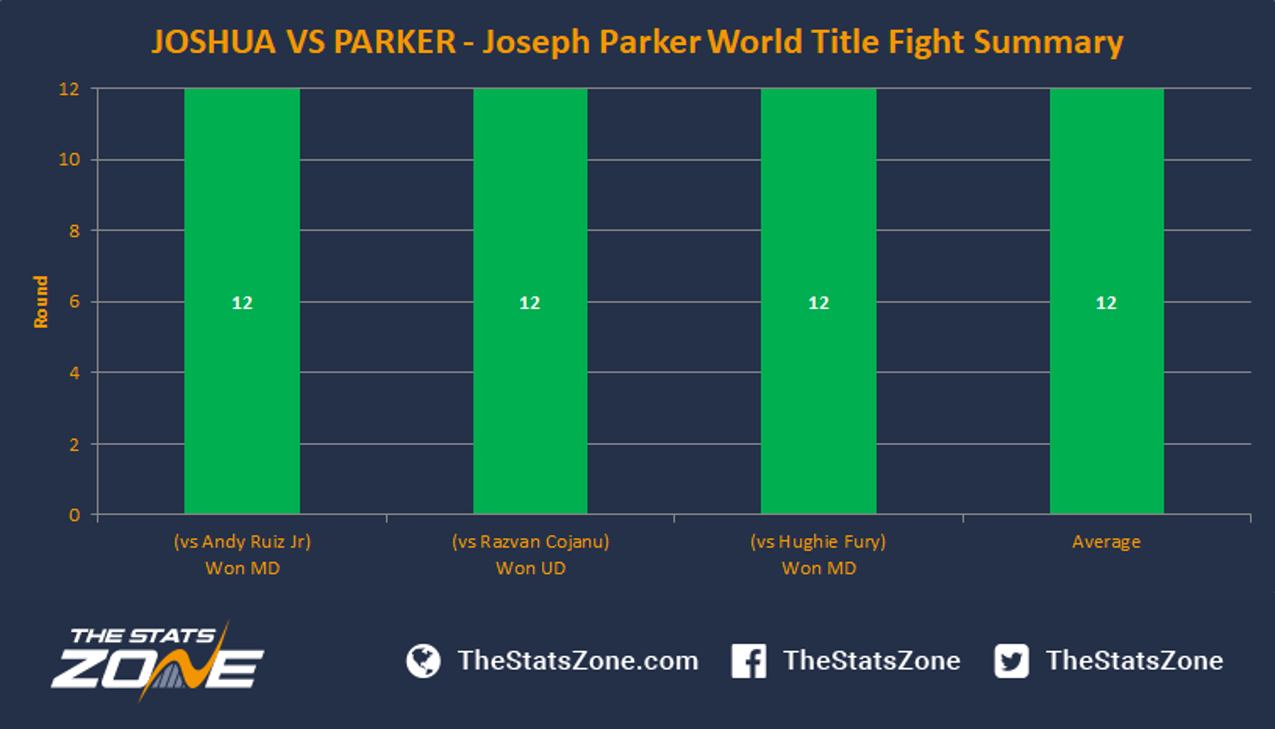 Parker on the other hand will be defending for the third time in which he has gone the distance on each occasion. Parker does not hold the speed and power to KO higher calibre opponents and will be relying on his durability and boxing skills to take AJ the distance.
Both fighters have taken on Carlos Takam in big fights. AJ defended his belts during his last bout with Takam being a late stand-in following an injury to Pulev while Parker outpointed him in a final IBF eliminator in 2016.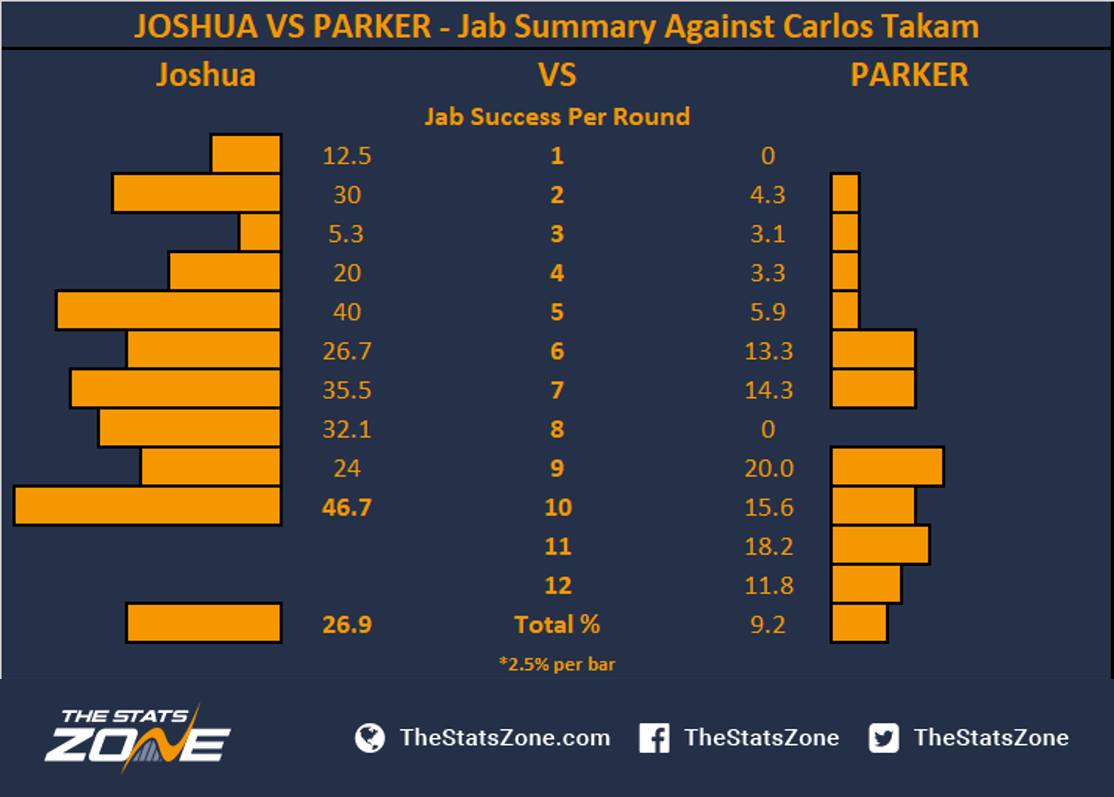 AJ's success with the jab outweighed Parker in every single round with a total success of 26.9% compared to 9.2%.
Overall, both fighters averaged the same amount of jabs thrown per round (22.7) but it was Joshua's superior accuracy and speed that set-up the KO with 46.7% landing during the 10th round.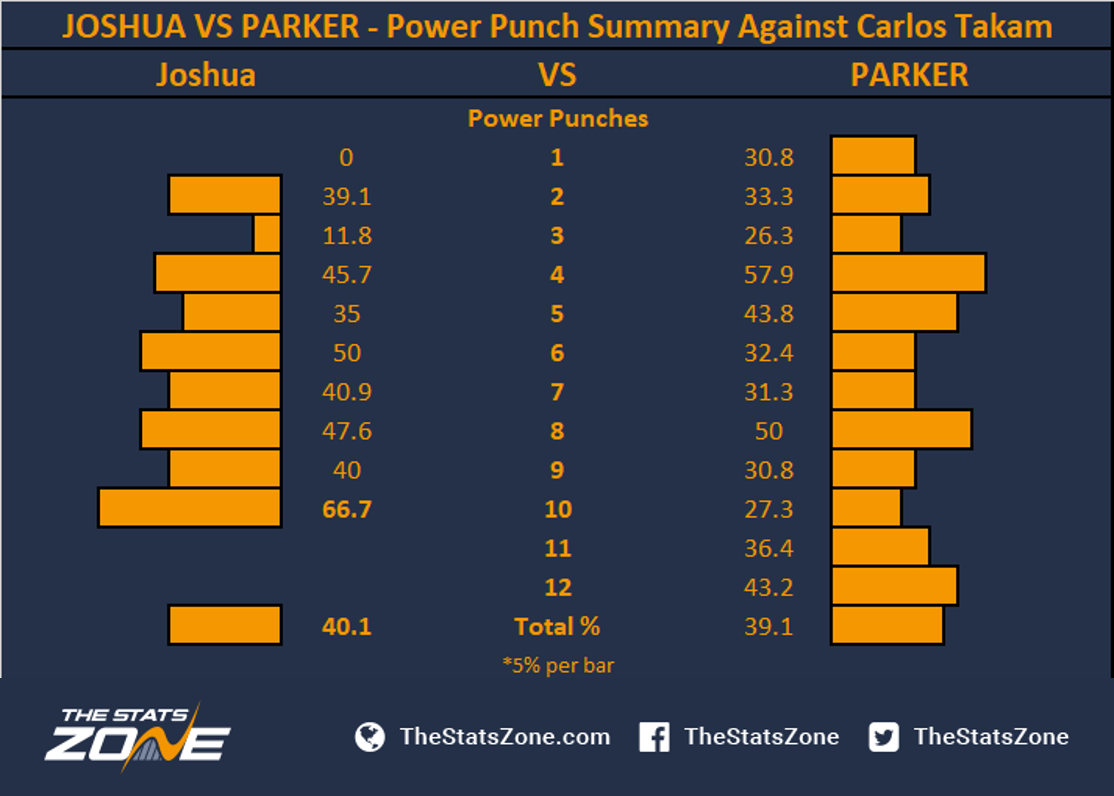 Both fighters landed virtually the same amount of power punches with AJ succeeding just 0.9% more and throwing on average one more per round.
Significantly, although Parker was throwing and landing power punches throughout, he was unable to KO Takam whereas AJ successfully did so and perhaps should and would have done earlier in the fight if it wasn't for a broken nose suffered during the early rounds.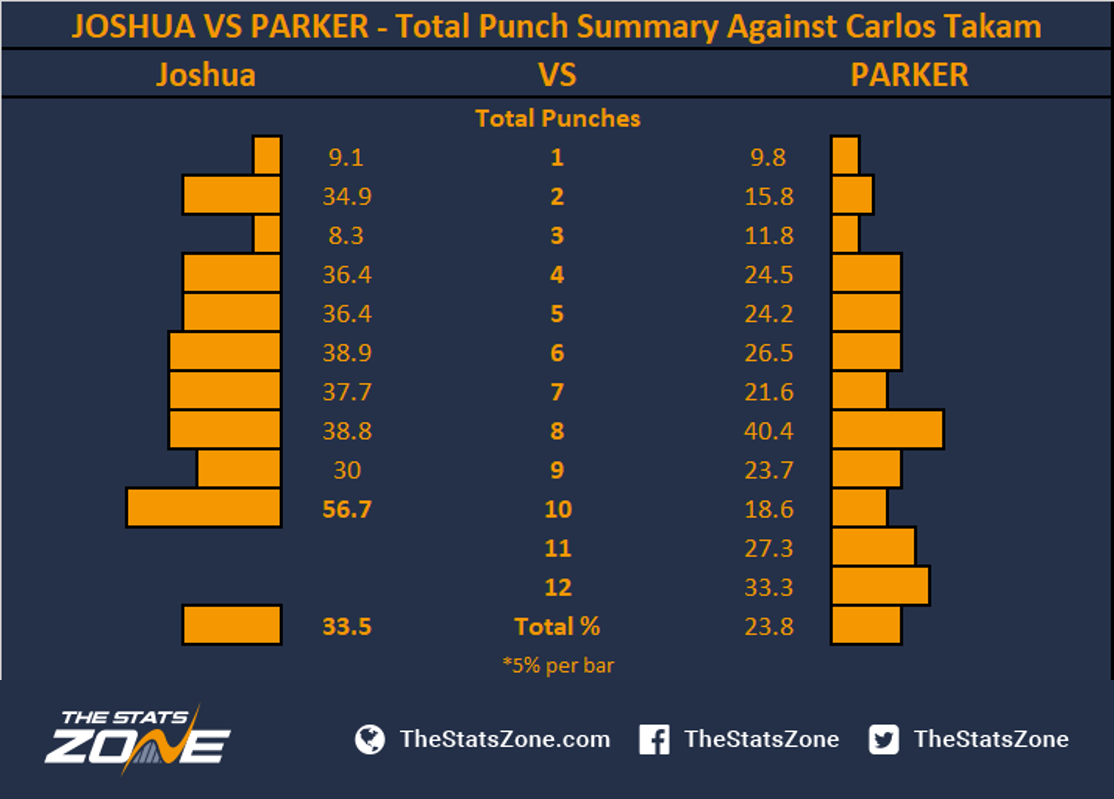 Against one of the most durable fighters in boxing, it was the success of the jab that did the damage to Takam from AJ and the poor accuracy from Parker that prevented him from winning more convincingly.
Overall, Joshua landed 33.5% of punches compared to just 23.8% from Parker, further highlighting AJ's superior speed.
In conclusion, this contest has been hyped up well – mainly from the Parker camp – but in all reality there is only likely one winner and that is for the Brit. His superior speed, power and experience against high calibre opponents mean Parker has it all to do and a game-plan of trying to take AJ to points will be just as difficult as a KO – expect a convincing knockout victory between rounds six and eight for Joshua.