THE FACTS
When is Anthony Joshua vs Jarrell Miller? Sunday 2nd June, 2019 - 03:00 start (UK)
Where is Anthony Joshua vs Jarrell Miller? Madison Square Garden, New York
What channel is Anthony Joshua vs Jarrell Miller? Sky Box Office (est £19.95)
Are tickets still available for Anthony Joshua vs Jarrell Miller?
http://www.garden-ny.org/perfo...
THE LOWDOWN
As Deontay Wilder and Tyson Fury have stolen the heavyweight spotlight, Anthony Joshua and his team have settled on scheduling a showdown with the Brooklyn-based Jarrell Miller. Not quite the star power of Wilder or Fury, or even Dillian Whyte for that matter, but a smart marketing strategy of 'conquering America' will be sure to reign in the numbers.
Eddie Hearn will be kicking himself that he did not secure the fight with Wilder before his epic battle with Fury. In the process of putting on one of the best heavyweight fights in recent history, they confirmed they are the best in the world alongside Joshua. Wilder and Fury are now trying to arrange a rematch after the draw, which has left Hearn squirming for a high-profile fight.
After Whyte turned down the chance to rematch Joshua, claiming the offer was 'utterly ridiculous' and less than what he made in his latest fight with Derek Chisora, Hearn has been forced to look elsewhere.
This must be frustrating for Joshua who just wants to fight but they have conjured the best alternative and that is to travel to New York and duke it out with a fellow unbeaten juggernaut who will offer his fair share of promotion to build up the fight.
Miller is 23-0-1 and provides a real threat to Joshua's titles on paper, but let's delve into their stats and analyse both of their records to offer a prediction: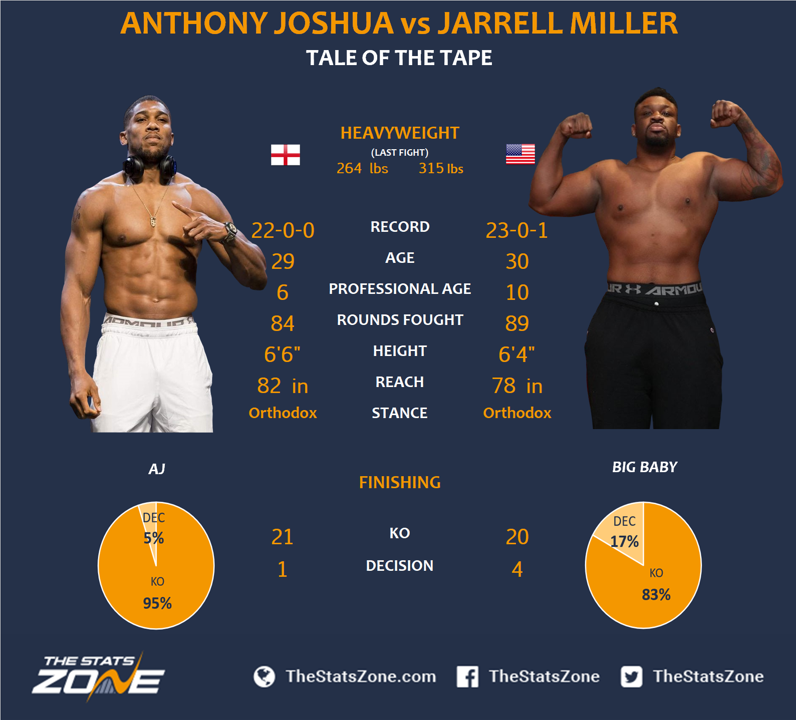 The tape suggests they match up very similarly. Miller - the ex-bodybuilder - is a mighty lump who may not be as chiselled as Joshua but carries similar ferocious power in both hands, portrayed by the 20 knockouts from his 23 wins.
The difference in these two sluggers comes down to their opponents. Firstly, let's take a look at their form guide (last ten fights):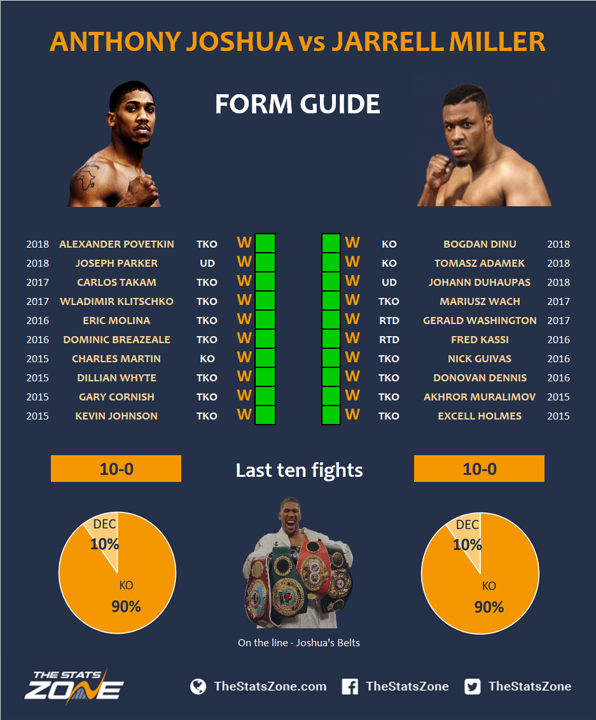 Miller has had lower-profile fights but his recent opponents still have pedigree. He met Bogdan Dinu in his most recent bout and the Romanian arrived with a perfect record. However, Miller pierced the guard and pummelled the body for four rounds before flooring him twice to finish the fight. His three fights prior were also very impressive performances, shutting out very experienced fighters which has given him the confidence to dish out a lot of trash talk and bold statements.
As we are well aware, Joshua has enjoyed the same success but against high-calibre opponents and top ranked contenders. But how do the records of their opponents compare?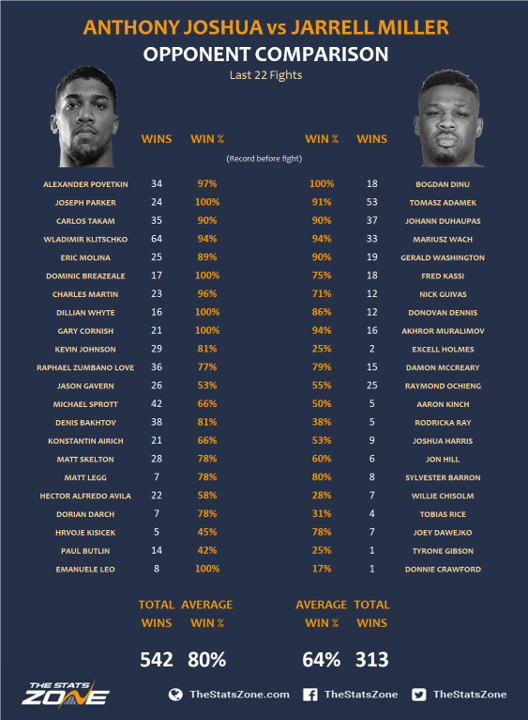 This graphic illustrates the difference in standard of their opponents. These are all of Joshua's opponents and Miller's last 22 for fairness but as you can see - Joshua's opponents collectively have 229 more wins than the opponents of Miller. His opponents have more wins, more experience and most importantly, they have earned more success in the ring. Before fighting Joshua, they collectively had an average win percentage of 80% compared to Miller's 64%.
Particularly in their recent fights, Joshua has fought opponents with exceptional records. In the early stages of their careers it was clearly difficult to find quality fighters with similar experience so it is inevitable the start of their records will be padded out with a few tomato cans, but nonetheless they have proved to be top-of-the-food-chain boxers but Joshua's opponents stand out and is why he proudly wears four belts.
THE PREDICTION
Joshua is going to be the favourite as he makes his debut on US soil. He has the experience as well as the technical advantage. Miller is clearly a talent and when there is this amount of power on show, an upset is never out of the question, but is an early finish likely?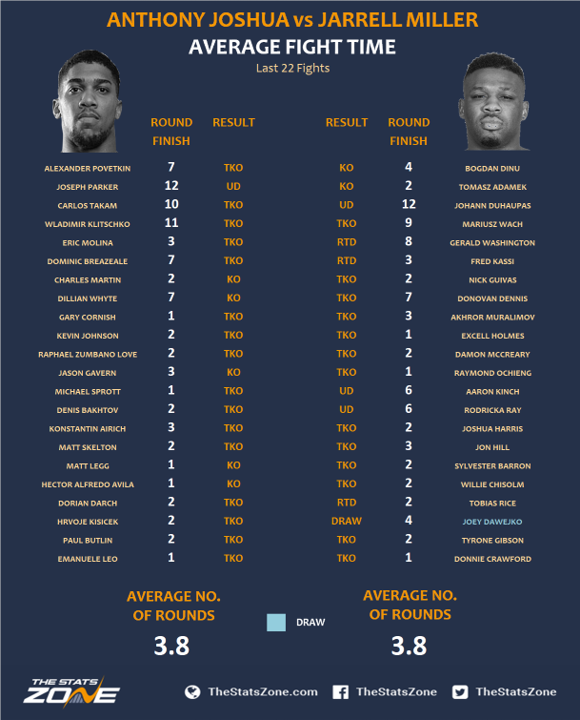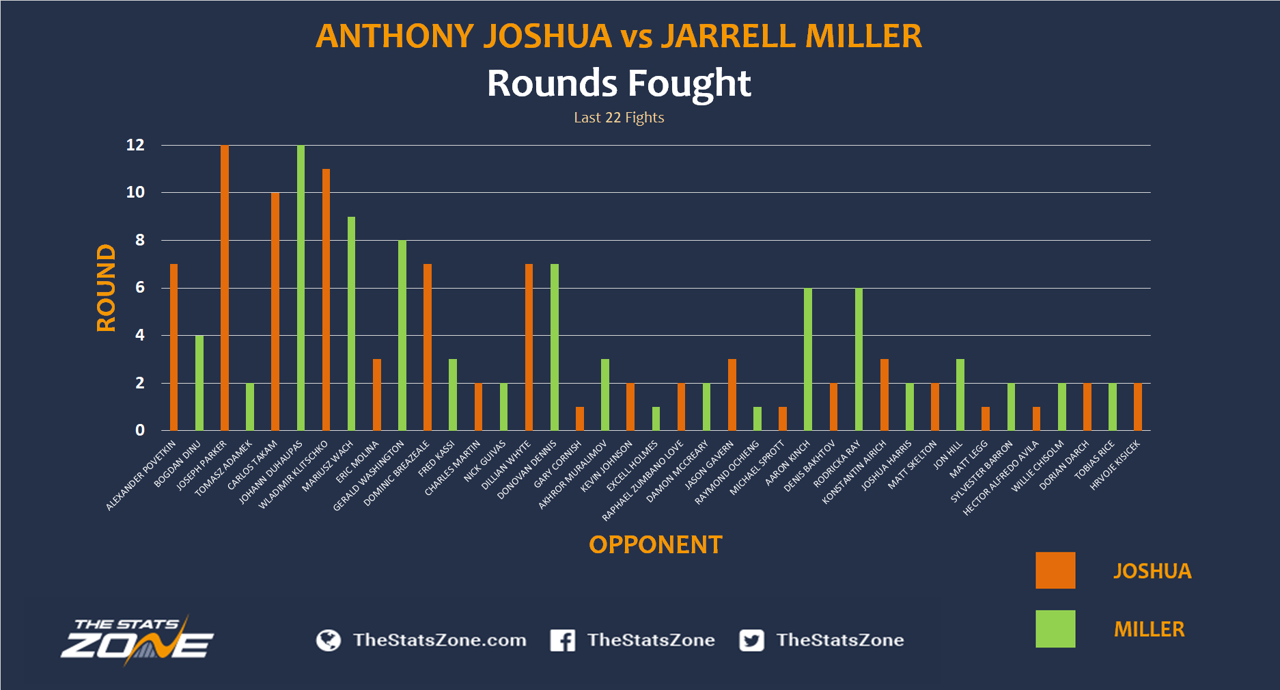 Revisiting their past fights, they have both made a name for themselves with early knockouts. They both have exactly the same average fight time based on their last 22 fights. Joshua was more abrupt until his recent fights where he has displayed another element to his game with patience and endurance which was a big question mark next to his name.
However, Miller also has exceptional cardio. He has only really had to call upon the reserves once and that was his 12 rounder with Johann Duhaupas and this could be his strategy against Joshua. He may try to take Joshua into deep waters to test his engine and wear him down with body shots throughout the fight.
Miller has also taken less damage in his career but this may work against him. He has never been hit clean and it will take one shot from Joshua to completely change the course of the fight. Joshua has too much experience at the top level and a knockout finish is not a surprising prediction but it may come in the later rounds.
Prediction: Joshua via KO/TKO