AT A GLANCE

When is Anthony Joshua vs Alexander Povetkin? Saturday 22nd September, 2018
Where is Anthony Joshua vs Alexander Povetkin? Wembley Stadium, London, England
What channel is Anthony Joshua vs Alexander Povetkin on? Sky Box Office (£19.95)
Are tickets still available for Anthony Joshua vs Alexander Povetkin? https://www.stubhub.co.uk/ticket-option-ajap?gcid=chPRT-_-geoUK-_-genSpo-_-dt180723-_-cmpAJvPOVLP1+-_-partMATCHROOMBXING
THE BREAKDOWN
Anthony Joshua is competing in his seventh straight world title fight and will defend his four titles against the dangerous Alexander Povetkin. Joshua's rise to becoming the undisputed heavyweight champion could be in real jeopardy against an experienced and often avoided opponent. Let's take a look at the tale of the tape: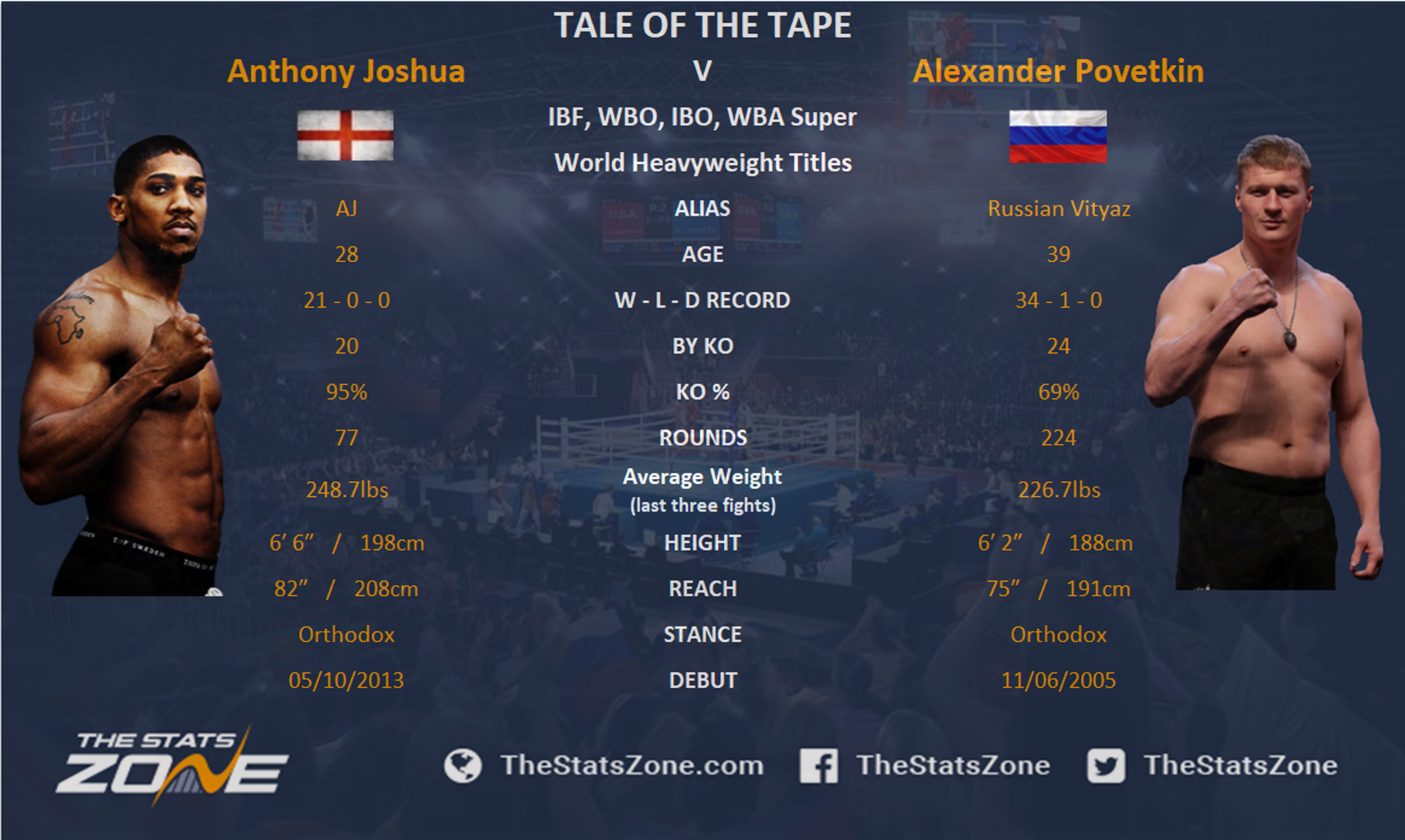 With 11 years difference in age, 14 more fights and eight further years in the paid ranks, the Russian certainly brings experience into arguably the biggest fight of his life, and with just one loss on his record, has a real chance of being the Englishman's biggest test to date.
AJ – as has been the case against so many of his opponents before – possesses the physical advantages, but even more so than is typically experienced in the modern heavyweight division. Povetkin stands four inches shorter and has a reach disadvantage of a substantial seven inches. As a much smaller heavyweight though, he has fought bigger men than him for 13 years and knows exactly what is required to take them down.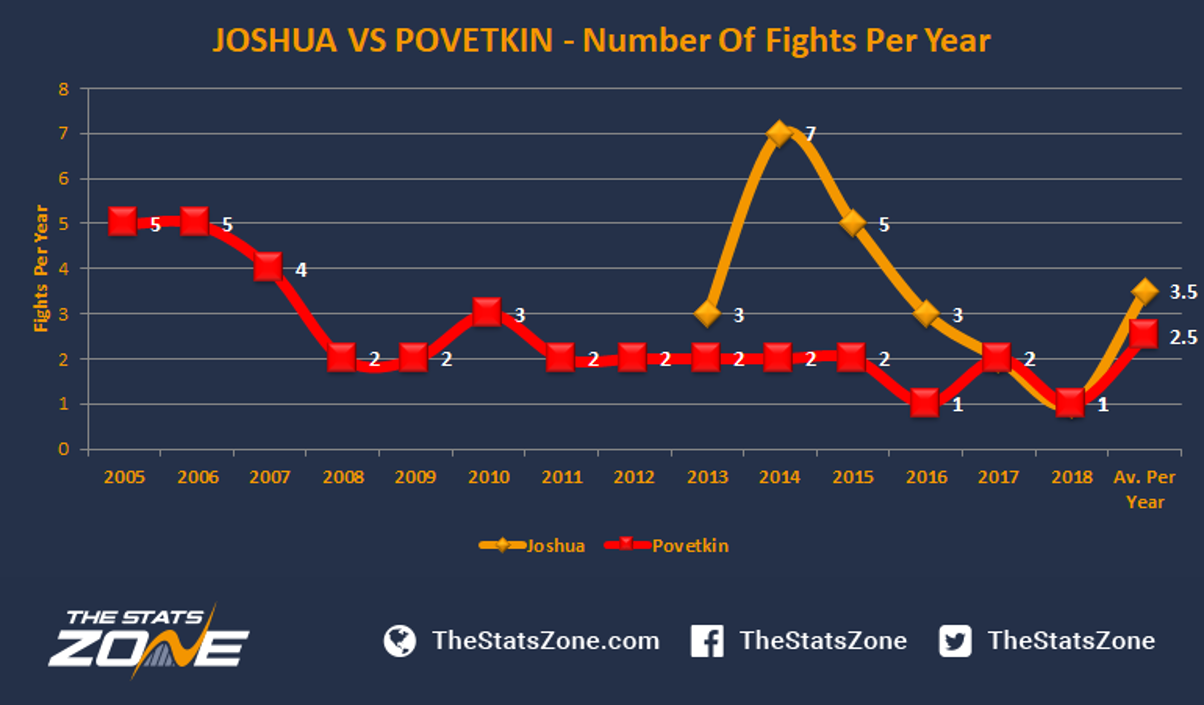 With nearly triple the amount of rounds fought and over double the years as a professional, Povetkin has never reached the level that Joshua has achieved in his short career thus far. Having averaged just two bouts per year since AJ turned professional with only one world title fight during that time – which was coincidently the same day that Joshua made his debut – the Russian has been chasing a fight of this level for five years.
Povetkin's only loss to date came against the great Wladimir Klitschko when he put his WBA title on the line to try and claim all the belts. However, he came up against a boxer at the peak of his powers who used his notable reach and height advantage – similar to AJ's – and was easily outpointed, including four knockdowns in the process. The Russian has been trying to rebuild ever since.
Joshua's perfect KO record was ruined when he was taken the distance in his last outing against Joseph Parker in a fight that had none of the thrills that we have been accustomed to with the Englishman.
Punch statistics from both fighters' bouts against Wladimir Klitschko were assessed whereby Povetkin suffered a unanimous defeat whereas Joshua had to claw his way back to victory after looking like facing defeat during the middle of the fight: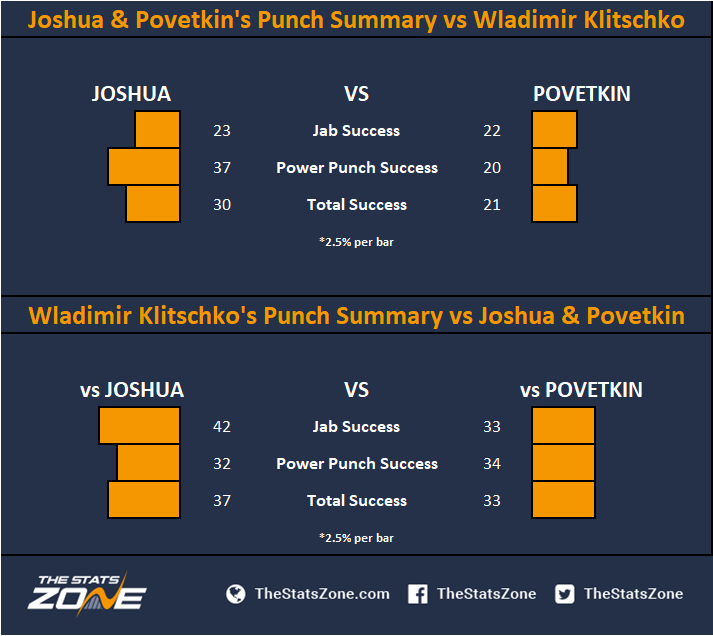 Both succeeded respectively with their jab - landing over one in five - but power punches is where there was a significant difference. AJ landed 37% compared to just 20% from Povetkin, suggesting the Russian's smaller size did not allow him to get within range to land, which is likely to be a determining factor against AJ.
However, Klitschko's response may also identify where Povetkin has a real chance. Wladimir landed 33% of his jabs on Povetkin but managed a staggering 42% on Joshua. This is an area the Russian must look to use with his smaller frame and faster feet in order to try and get an opening on AJ to land the all-important power shots.
Nevertheless, Klitschko still landed more power punches on Povetkin than he did Joshua – and taking into account the differences in these two fights – Povetkin is going to have to be at his all-time best and perhaps still rely on the Englishman being below average to have a chance of beating AJ either via KO or on points.
THE PREDICTION
Povetkin has earnt his chance at another world title shot and is arguably one of the most dangerous heavyweights around, and at the age of 39, this will realistically be his last chance. AJ however cannot afford to slip-up as he continues to focus on gaining that final belt from Deontay Wilder - which has to be next in line - as the longer the fight isn't made, the higher probability that one of them will lose against the many young, hungry and talented challengers.
Prediction: Joshua via knockout