October 7th sees an all-British lightweight clash at Manchester Arena between Anthony Crolla and Ricky Burns, in a must-win contest for two former world champions in order to keep their hopes alive of challenging for another world title. The loser, however, will be in the unfortunate position of having to further rebuild their careers from the bottom, or may even consider leaving the game for good.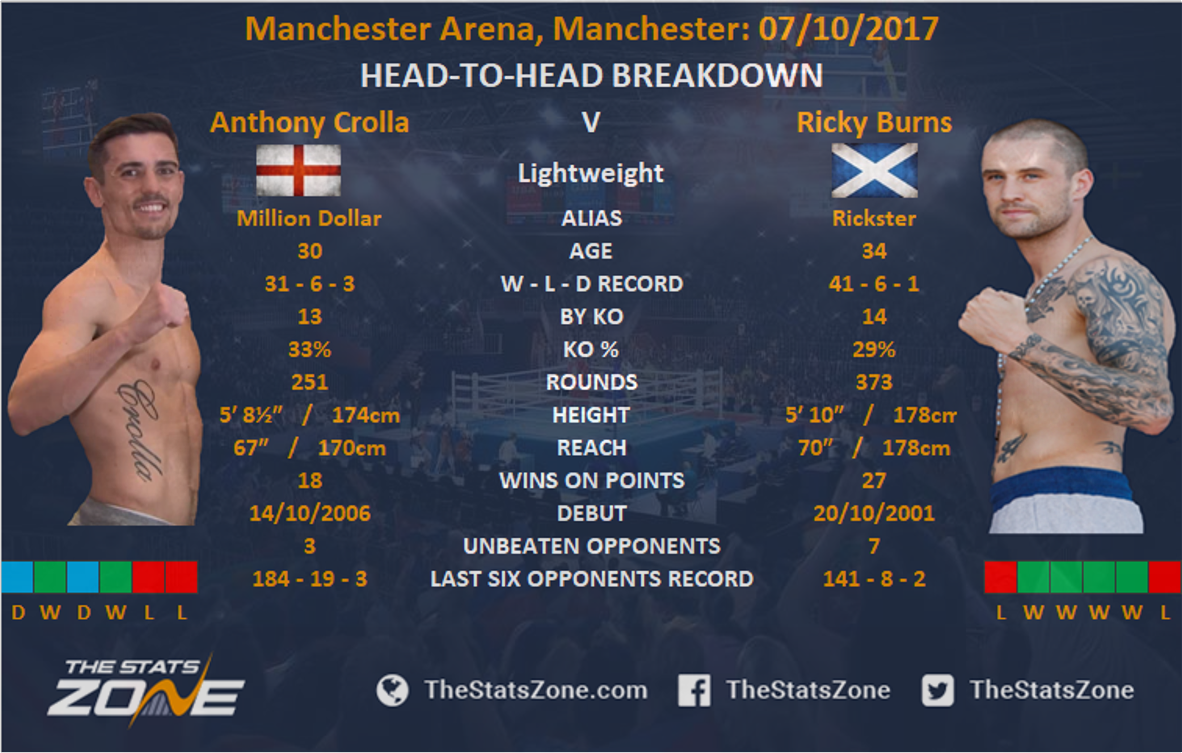 Crolla and Burns have lost six fights apiece, with both fighters being defeated twice in their last six bouts.
Crolla has amassed 31 victories from a 40-bout career, with 18 via points and 13 KO's. Burns however has collected 41 victories from 48 bouts, with 27 on points but just one more KO (14). Burns is undeniably the most experienced of the two and as a three-weight world champion has been in the bigger contests throughout his career.
Burns also holds the physical advantage, with an additional two and a half inches in height and a mammoth three inches in reach.
At first glance, it appears that Burns edges it on longevity and experience; nevertheless, expect a close contest that goes the full distance.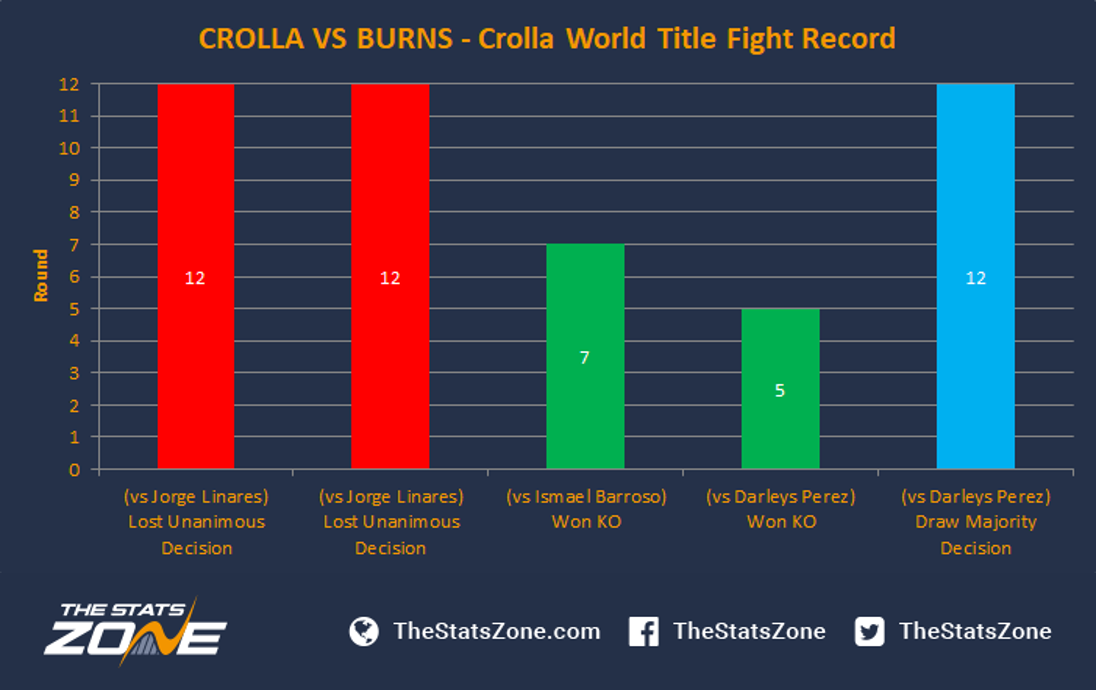 Crolla won his first and only world title, the WBA Lightweight, with a knock-out victory in the fifth round against Darleys Perez after their first clash ended in a draw.
'Million Dollar' went on to defend against Ismael Barroso with a convincing seventh round KO but then lost twice via unanimous decision against P4P great Jorge Linares after initially defending his title and again trying to regain it.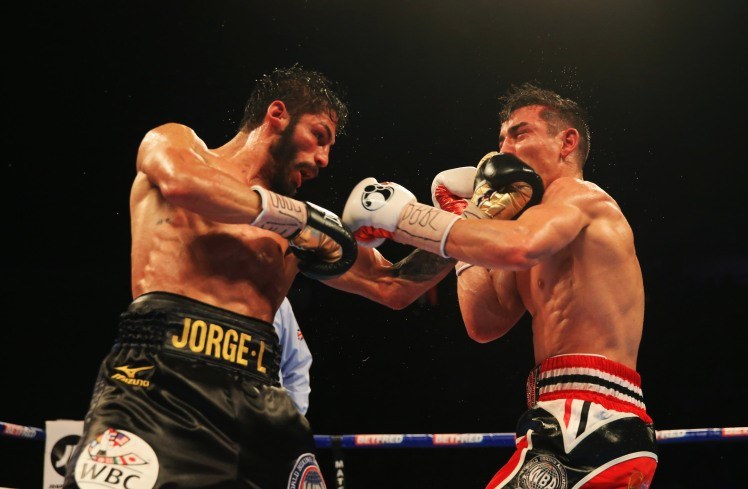 A brave performance by Crolla in his rematch against Linares.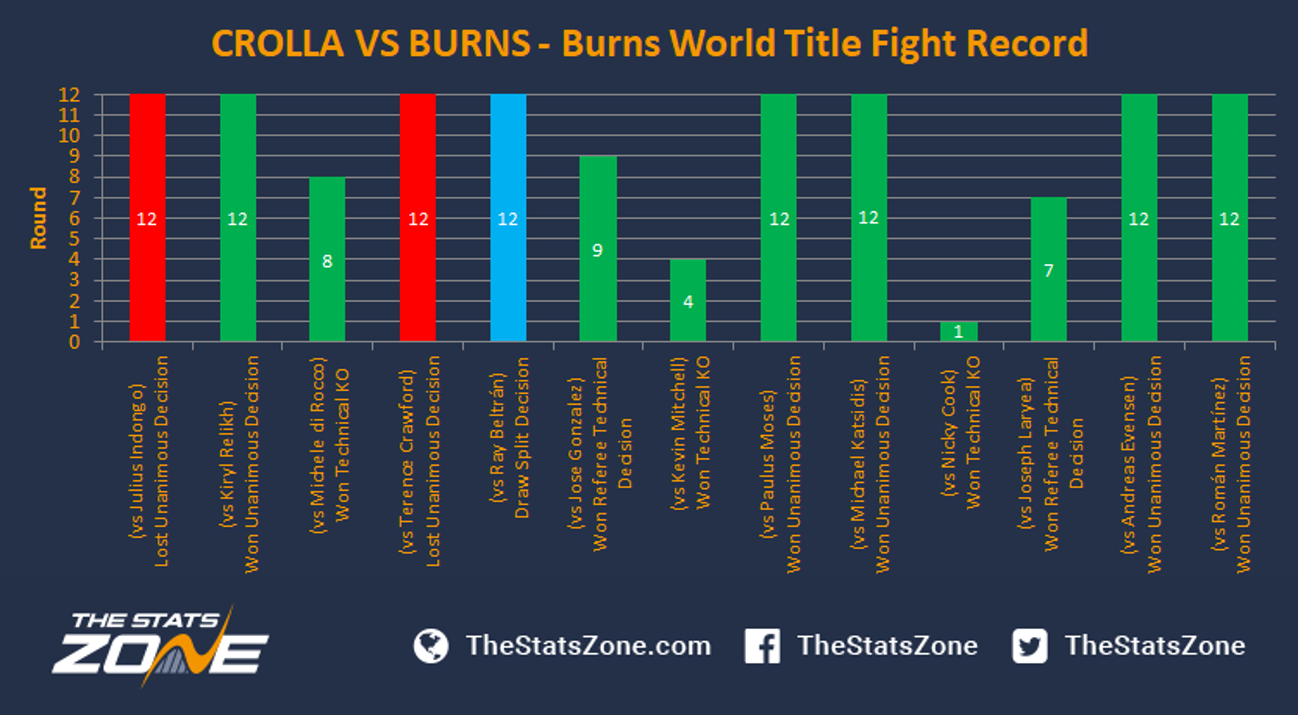 As one of the finest British boxers of his generation, the Scot has challenged for or defended a world title in 13 separate fights, winning an impressive nine of them.
Burns moved up to the lightweight division in 2011, winning the interim WBO title in his first outing, and then went on to win the full WBO world title four months later. He defended his belt for the next four fights, before losing by UD against Terence Crawford in his home city of Glasgow.
Burns then moved down to super-lightweight and won the WBA world title, becoming Scotland's first ever three-weight world champion in the process. He was defeated during his second defence against Julius Indongo in his last outing, again in his home city.
Burns losing his WBA super-lightweight world title against the impressive Indongo.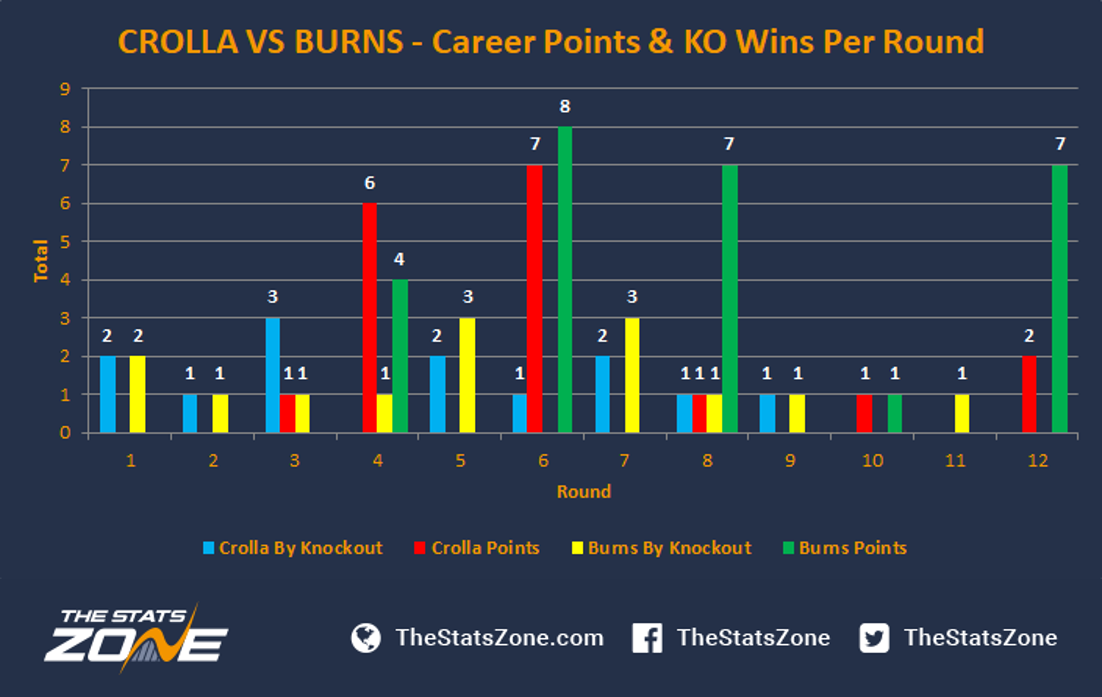 Both fighters have similar records throughout the rounds with points and KO victories.
However, the major difference between the two fighters is the championship round (12th). Burns has amassed seven victories when going the full distance compared to just two from Crolla. The Scot has also recorded an 11th round stoppage, further demonstrating his experience and effective skill-set when going the distance.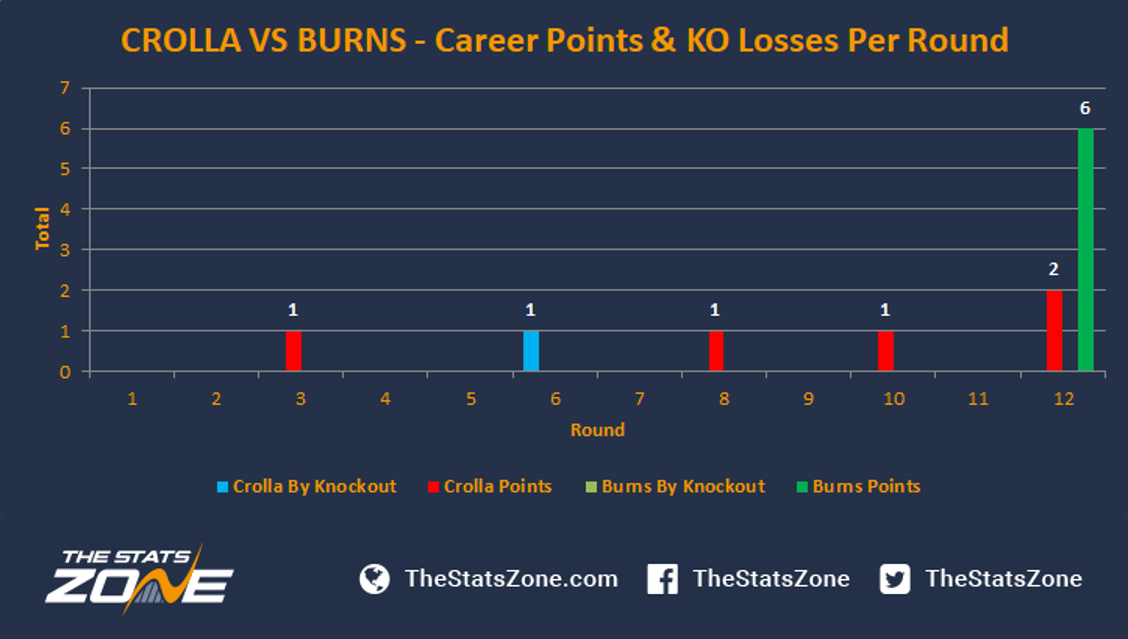 Crolla's career has been constantly stalled by losses, which further shows how impressive it was for him to finally claim a world title after so many knock-backs.
Burns on the other hand has experienced all six of his career defeats after going the full distance, mostly against the very best fighters in their respective divisions and on the biggest of stages.
Notably, Burns has suffered four of his six career losses during his last nine fights, suggesting he is coming to the end of his stellar career. Contrastingly, Crolla has developed vastly throughout his career and is currently producing his best form. Arguably, the two are at completely different stages – one has had it all whereas the other is only just starting to appear in the biggest fights.
Perhaps if this fight was four years ago the odds would have been in favour of the Scot, but at this stage in both boxers' careers, it is 50/50. If Burns is to lose, expect him to retire, whereas the younger Crolla has come back from numerous knock-backs, and has the pedigree to go again. The difference between the two mind-sets could be the deciding factor that just edges the Englishman.