Anthony 'Million Dollar' Crolla has come a long way since December 2014. After attempting to stop a burglary at a neighbour's house, Crolla was left with a broken ankle and fractured skull, with his world title dreams in tatters. Since then, he has used what happened that night as a source of inspiration and claimed the WBA World lightweight title and now heads into his second defence against Venezuelan Jorge Linares, whilst also trying to prize away Linares' WBC Diamond title in the process.
In this preview, TSZ will look at how the two compare; analysing how and when they win their fights.
Tale of the Tape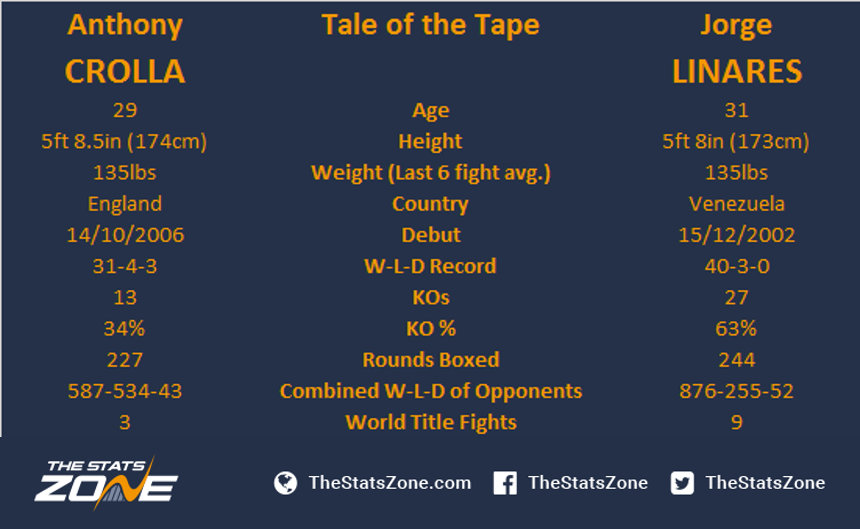 Both men have weighed in at an average of 135lbs for their last six fights, but whilst Crolla has spent the vast majority of his career at lightweight (other than a brief spell at super featherweight when he won the British title in 2010), Linares is a three-weight world champion. The 'Golden Boy' has held titles at featherweight, super-featherweight and lightweight, the division he has now seemingly settled.

Two big differences between the fighters are their knockout records and experience in world title fights. From Linares' 43 fights, he's KO'd his opponent 27 times (63%), but Crolla has only managed to KO his opponent 13 times from 38 fights (34%). In terms of world title bouts, this is relatively new territory for Crolla with this his fourth world title fight but it will be Linares' tenth. His first fight for a world title came in 2007 with Crolla only stepping up to this level in 2015.
KO Records
As previously mentioned, the respective KO records of the two men produce a large difference. Some have doubted Crolla's power to truly be a threat on the biggest stage but in his previous two fights and wins – the wins that saw him claim his World title and then successfully defend it – he produced devastating body blows to end the fights early.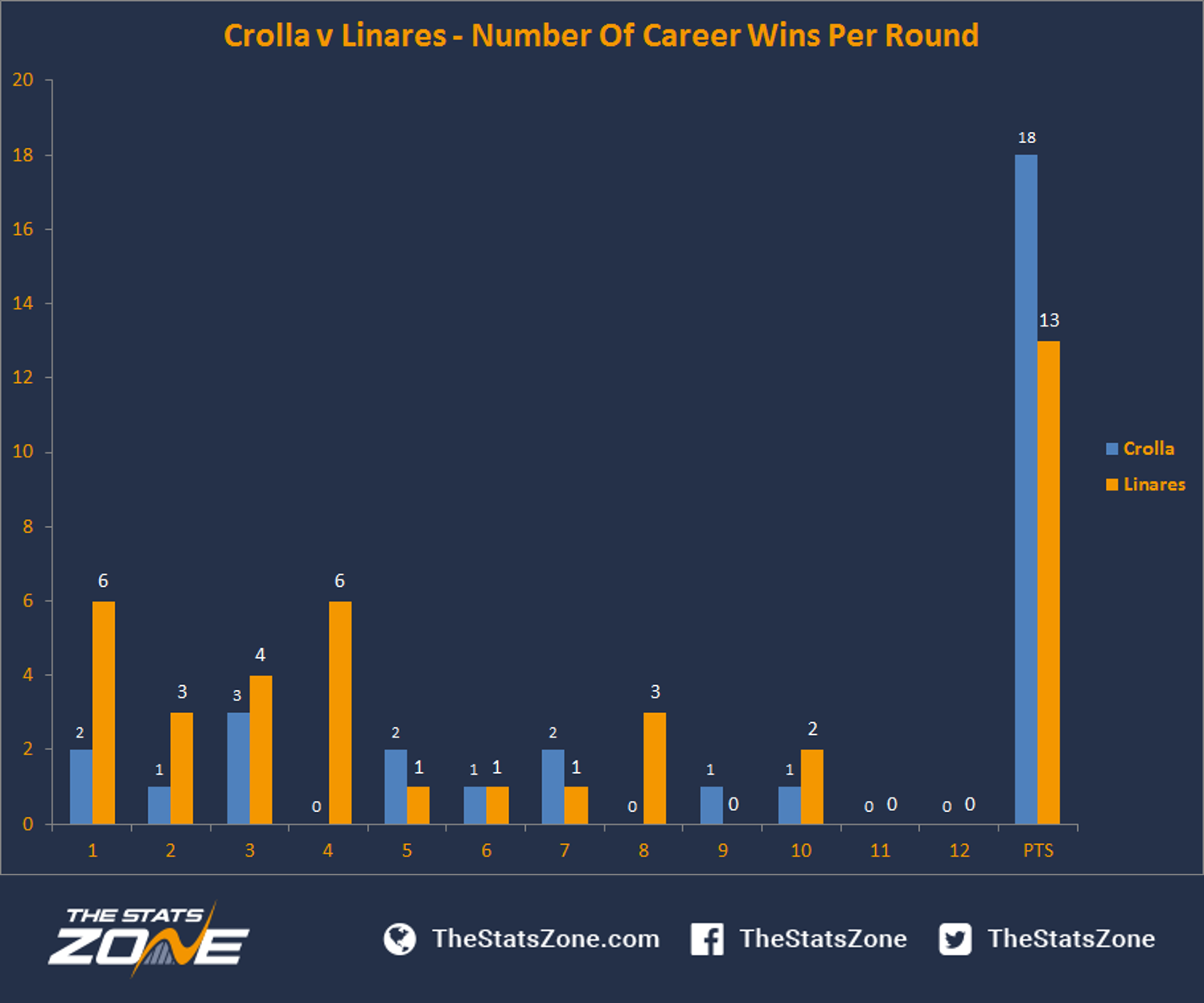 There are a couple of interesting points to take from the above graph. Neither man has KO'd an opponent in round 11 or 12. In fact, of the 40 KOs that the two have produced, only four of these have come in rounds 9-12 (10%). The vast majority of KOs have come in the early rounds with Linares managing 19 in rounds 1-4 (70%).
Of Crolla's 31 wins, 18 of those have come by a decision (58%) compared to Linares' record of 13 by points from 40 wins (33%). This might give Crolla the edge should the fight go the distance. On the flip side, Linares has obviously achieved almost double the amount of KOs that Crolla has managed in his career.
The Numbers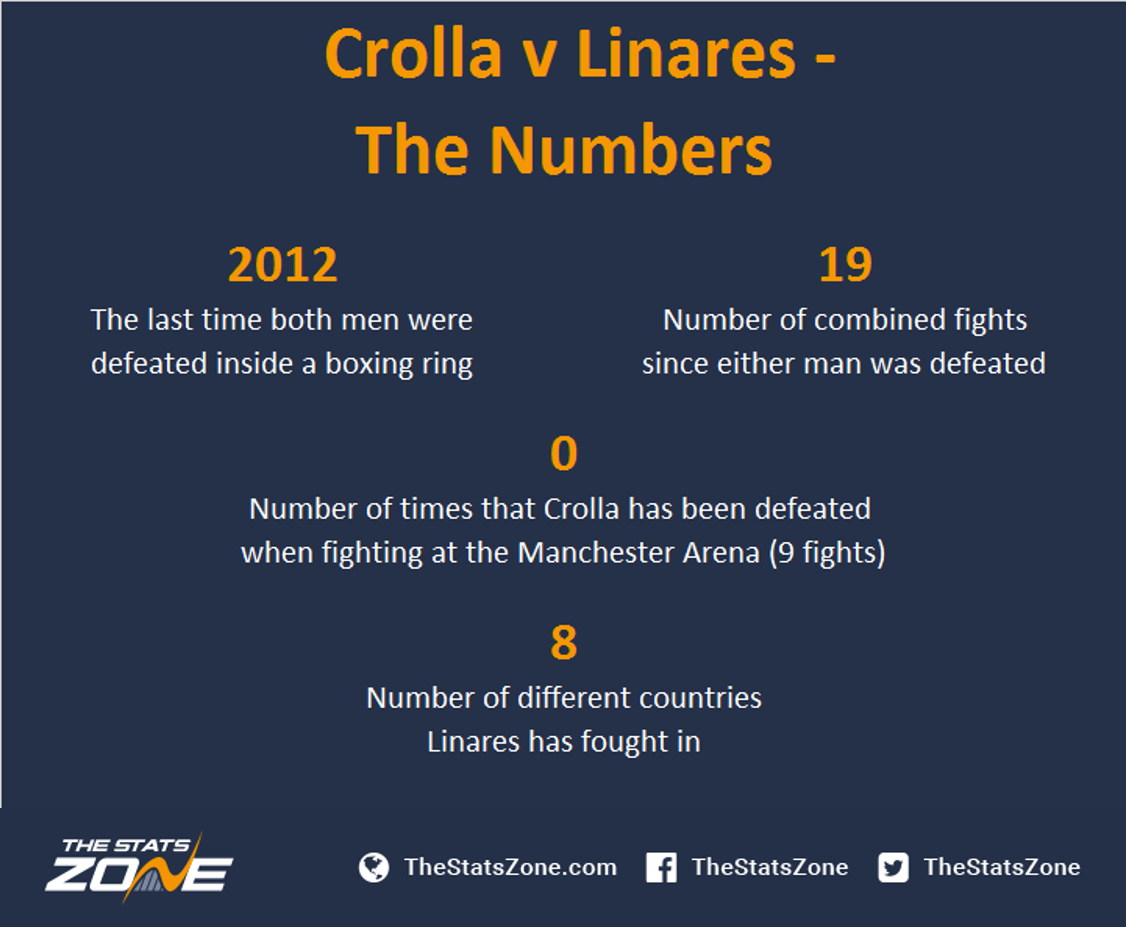 The above shows a couple of interesting points regarding the two fighters. You have to go back to 2012 to find the last time both men lost a fight, a combined 19 fights between the two. Crolla lost a split decision to Gary Sykes in the Prizefighter competition (over three rounds) with Linares getting KO'd by Sergio Thompson in just two rounds.
Linares is well travelled and has competed in eight different countries, with Saturday's fight his second visit to Britain. Although he's well-travelled, one daunting prospect for Linares is that Crolla has not lost any of his nine fights inside the Manchester Arena with the crowd sure to get behind the local man again.
Conclusion
This is Crolla's most difficult task to date. He's facing someone with real pedigree having held world titles at three different weights. He'll remember what Linares did to Kevin Mitchell in 2015 when he demonstrated some serious power that forced the referee to wave the fight off because of the state of Mitchell's left eye. However, Crolla will also remember that Mitchell put Linares on the canvas in the fifth round.
It's a very well balanced fight but Crolla will believe he can justify his tag as slight favourite in front of his home fans. The Manchester man has become a bigger puncher than he was earlier in his career and will look at the three losses that Linares has suffered which were all by the means of KO. There are bound to be some heavy punches landed in this one and it wouldn't be a surprise to see a KO – can Crolla unify the division by landing a shot to the body to win his third consecutive fight in the same manner?