Andre Ward and Sergey Kovalev face each other again in a rematch between two of boxing's current pound-for-pound best. Ward was victorious in the first bout and will defend the belts he originally took from Kovalev after a highly disputed unanimous decision victory.
There is bad blood between the two fighters, with Ward stating he has genuine dislike for Kovalev, and there is a natural bitterness from the man who perhaps unfairly lost his titles to the home favourite. TSZ takes a look at where the first contest was won and lost, and how each fighter will need to adapt to their opponent to be victorious.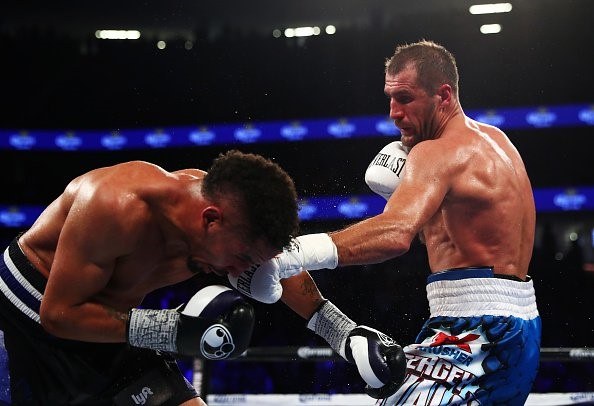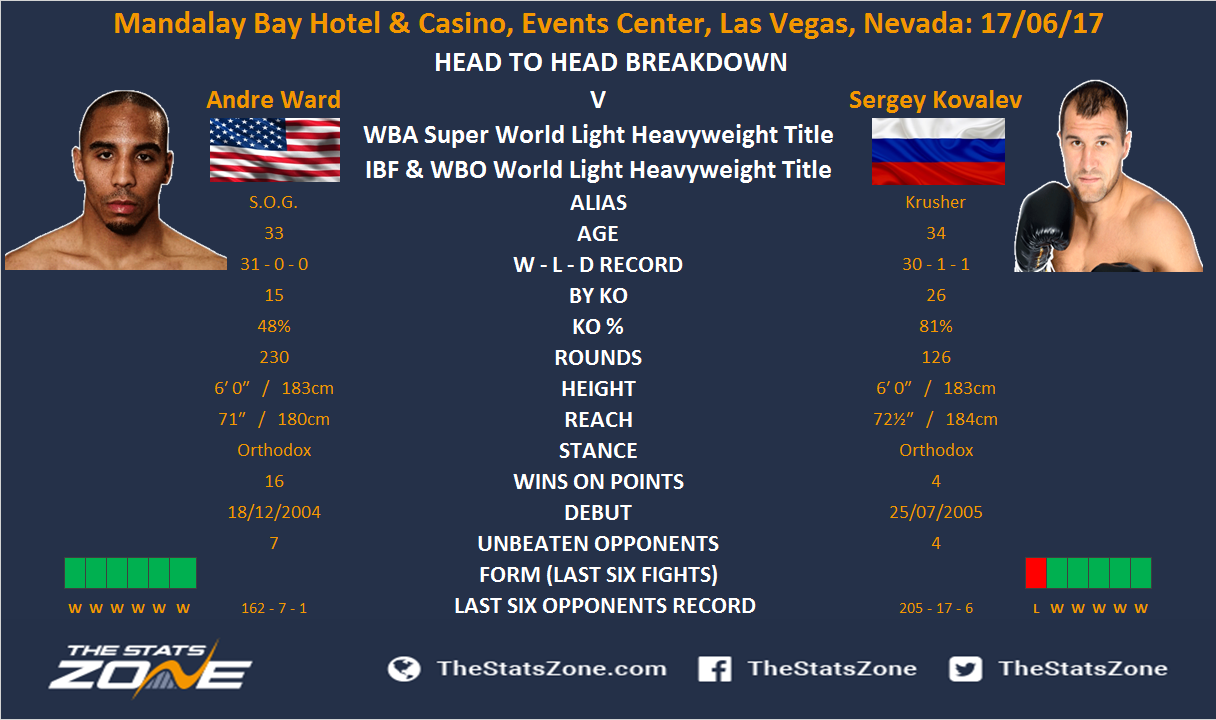 To date, Ward is the only man to beat the Russian, and even that is highly debated in some corners. Both fighters are at the top of the light heavyweight division, which is what makes this such a fascinating contest. They will know exactly what they need to improve upon from the first fight, so this could be another close call on points.
The standout statistic for the Russian is his 81% knockout ratio from 32 bouts. This attribute almost proved decisive in the first fight, when he knocked down Ward in the second. His power is undeniable and if he lands clean on Ward – which is a big if – he could be taking back his titles.
The American on the other hand possesses some of the best ring skills seen in modern-day boxing, having recorded 16 wins on points and 15 by KO, showing he can win a fight with different styles. He has amassed 230 rounds during his career, compared to just 126 from Kovalev, and if the fight does go the distance again, it seemingly will be in Ward's favour.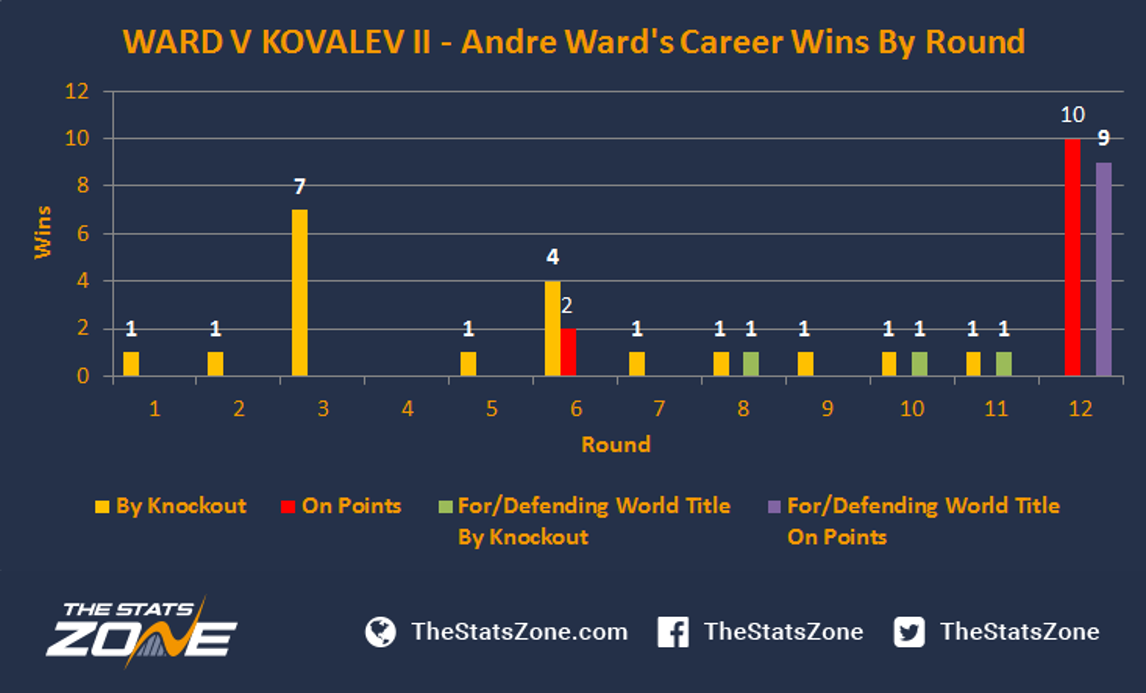 Ward's ranking as a pound-for-pound great can be justified by how he has dismantled his opponents when fighting for or defending a world title. On 10 occasions he has won on points during a 12-round bout, and has knocked out an opponent three times from round eight onwards, demonstrating his ability to out-think his challengers during the first half of fights and wear them down gradually.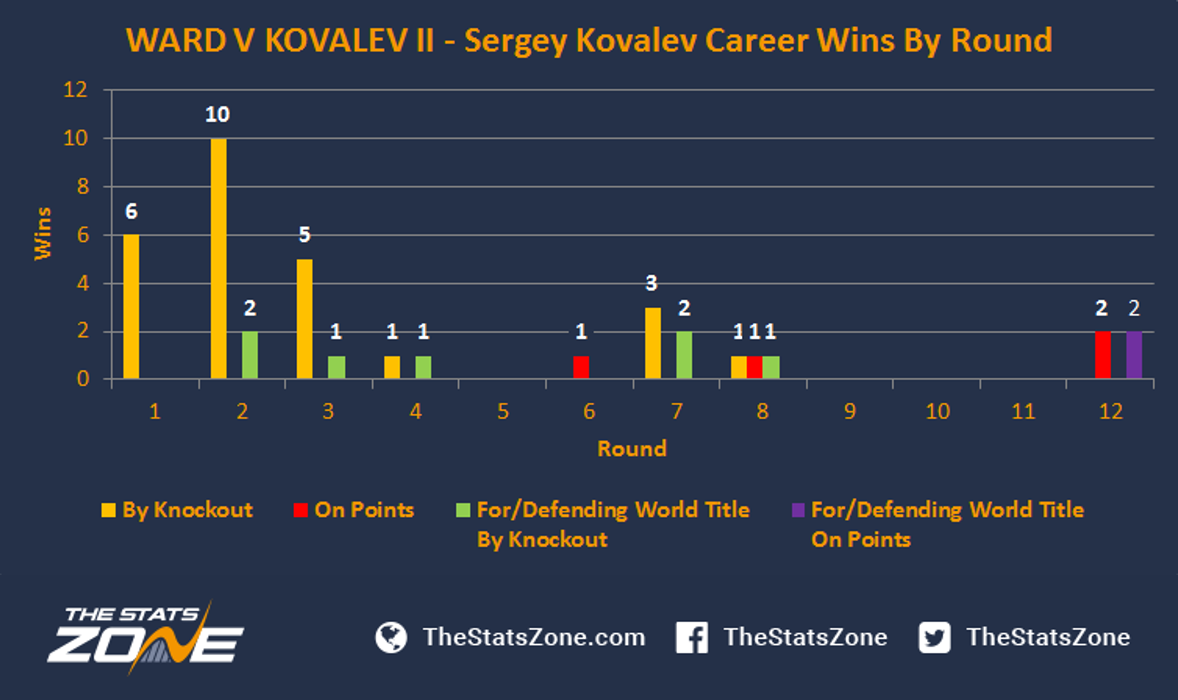 Conversely, Kovalev's power game has seen him knock out seven of his opponents during or before round eight when fighting for or defending a world title – seemingly the opposite style to Ward. The pair's first clash was the second time that Kovalev has been taken 12 rounds in such contests, and just the fourth in his career.
Kovalev threw over double the amount of jabs that Ward did, but was not as efficient and landed just 15 more.
Both threw virtually the same number of hooks but Ward was much more accurate in this respect, landing 53% compared to Kovalev's 40% - a key punch in Ward's triumph.
The uppercut was sparingly used by both fighters but again, Ward's accuracy was superior, landing 13 from 19 thrown compared to Kovalev's seven landed from 17 thrown.
Kovalev had success with the cross, throwing 76 times and landing 22, whereas Ward managed just seven landed from 27 thrown.
Overall, the differences between the two fighters are clear from the numbers. The Russian threw a total of 507 punches and landed 170, with a conversion of 33.5%. Conversely, Ward threw a total of just 303 punches and landed 162, with a conversion of 53.4%. Potentially, this was a factor in the American being awarded the victory.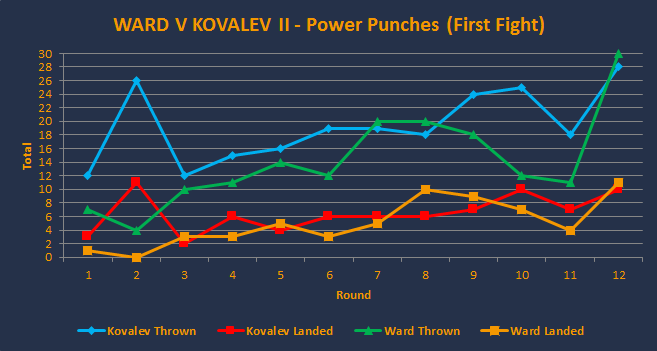 Kovalev started the fight strongly, throwing and landing numerous power punches which resulted in the Ward knockdown during the second round. From here, Ward slowly regathered and began to throw and land more power punches. Between rounds seven and nine, Ward increased his volume and had success in doing so, with both fighters producing high amounts of power punches and landing regularly on each other for the first time in the fight during the last three rounds. With the judges scoring the contest so closely, the fight could have easily ended in Kovalev's favour.
In conclusion, the contrasting styles make this rematch arguably even more fascinating than the initial bout. However, it must be stated that Kovalev has more than just a knock-out style; he possesses genuine boxing skills and no doubt has the ability to beat Ward over 12 rounds. Of course, Ward has the ability to KO Kovalev, and if he starts at a faster pace this time around – which is to be expected – he could win by a clearer points total.
Either way, expect another classic and do not be surprised to see a winner-takes-all third contest.
Punch stats are sourced via BoxStat.