With 2016 drawing to a close, it's been a somewhat underwhelming year in terms of huge fights in the boxing ring, with numerous big match-ups failing to materialise. However, one clash that did get the green light takes place in Las Vegas on Saturday night and it's got the whole boxing world excited.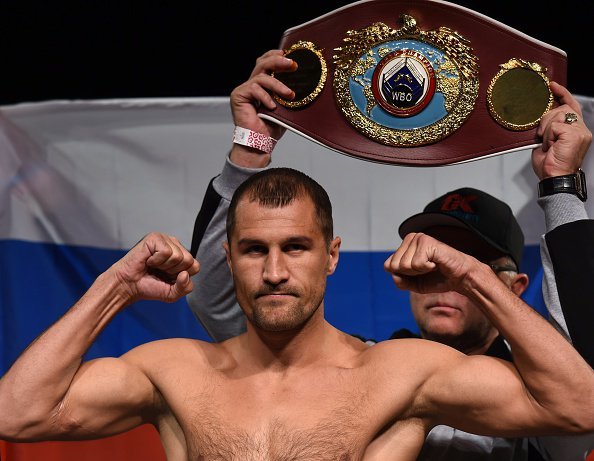 Andre Ward and Sergey Kovalev come face-to-face in a massive light heavyweight showdown. The general consensus is that this could be a classic example of a brains vs brawn contest. Ward has the ability to outbox anybody on his day but Kovalev has extraordinary power in his arsenal. Conversely, both would argue they possess what the other is renowned for; Ward will believe he has the power to cause problems whilst Kovalev's boxing skills are underrated due to his impressive KO record.
In what could turn out to be the fight of the year, TSZ will explore how the two stack up, how the KO records compare as well as looking at some interesting numbers behind the fight.
Tale of the Tape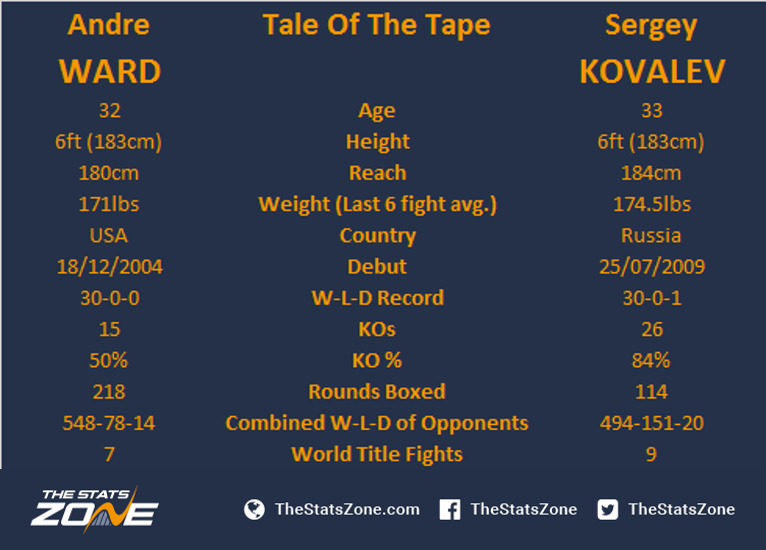 Both men head into the fight with an almost identical record, with a draw for Kovalev the only difference separating their 30 wins and zero losses. The only thing preventing Kovalev from possessing a perfect record was an unfortunate incident where his opponent, Grover Young, was unable to continue during their bout because of an accidental foul in the second round of their 2011 clash.
Although their records are similar, there are some startling differences between the two men. Despite measuring the same height of 6ft, Kovalev has a 4cm reach advantage. That, coupled with the fact that Kovalev is more used to fighting at this weight, could prove to be crucial come fight night.
Another noticeable difference is how both men have reached their respective number of fights. Ward is a year younger than his opponent but began his professional career in 2004, whereas Kovalev only began his professional career in 2009. However, in just one extra fight, Kovalev has boxed 104 fewer rounds than Ward which is down to the respective KO records of the two which we'll focus on next.
KO Records
Part of the reason that Kovalev has fought just 114 rounds in 31 fights – an average of under four rounds per fight – is because the Russian possesses 26 KOs. His KO percentage stands at 84%, which dwarfs Ward's 50%.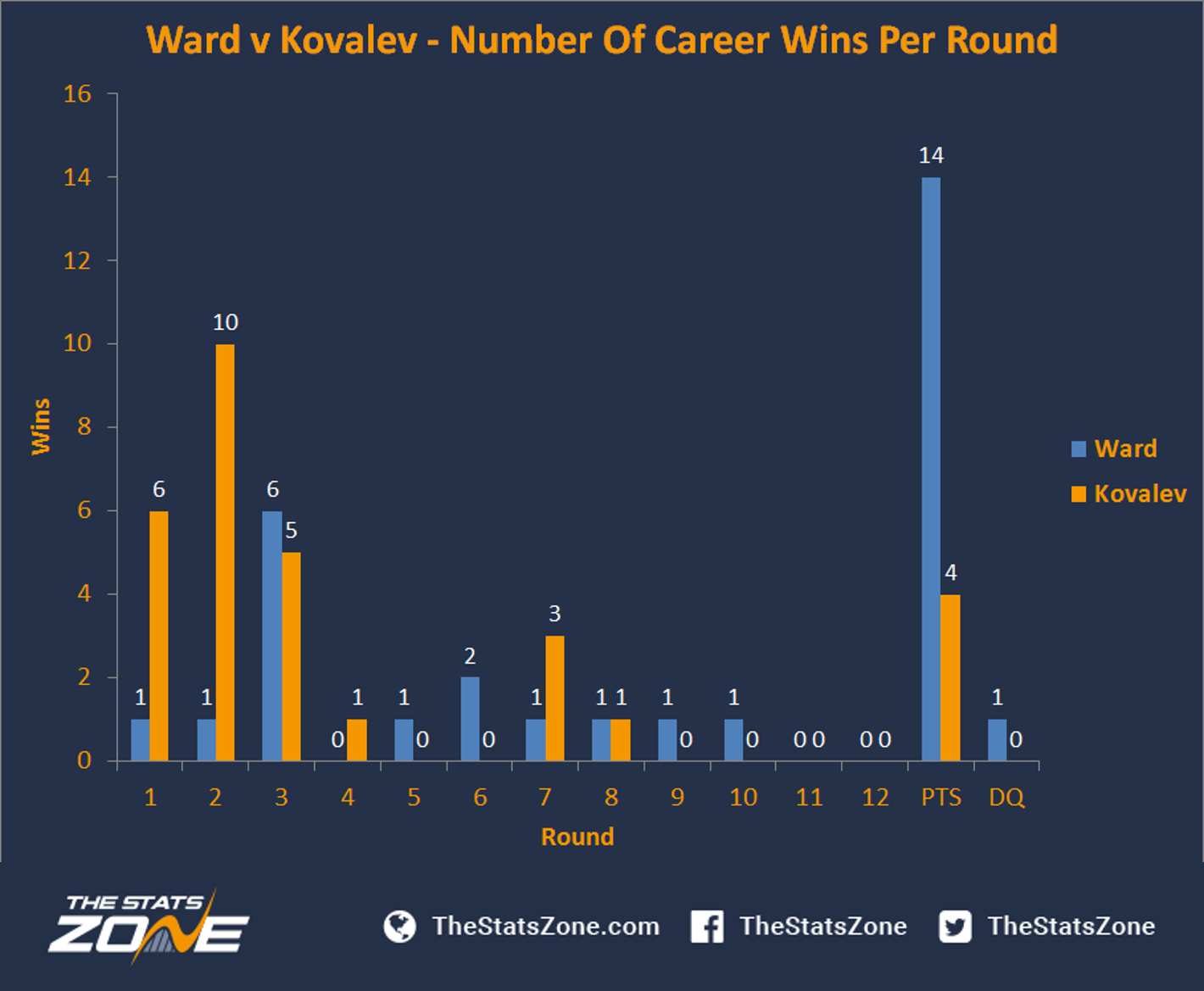 Kovalev's power becomes even more apparent with the number of early KOs he's achieved, suggesting either his opponents underestimate how strong he is or he's just that powerful that they cannot handle him. Of his 30 wins, Kovalev has ended the fight inside the first three rounds on 21 occasions (70%). He has never knocked an opponent out in rounds nine to 12 and has in fact only ever been beyond the eighth round on just two occasions.
Ward's record paints a different picture with only half of his wins coming by KO. He has won 14 fights by a decision with another by DQ. Ward has managed six wins in the third round but the rest of his KOs are spread around with only the sixth round producing more than one KO for the American. Unlike Kovalev, Ward has delivered KOs later on in a fight with one each in rounds nine and 10. However, he also has failed to KO an opponent in either round 11 or 12.
The Numbers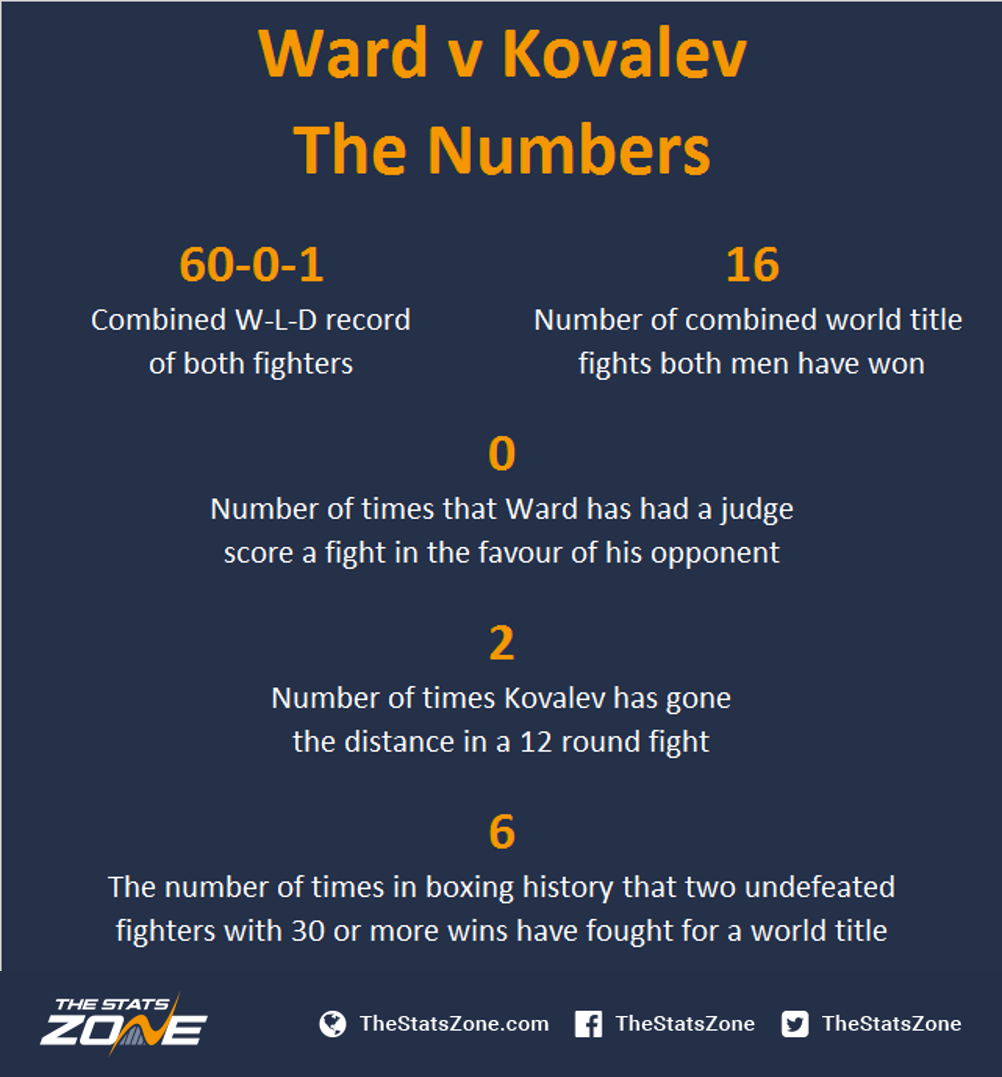 Whilst a lot of credit is given to Kovalev's KO record, Ward's record in front of the judges is just as impressive. In all 14 of his wins on points, Ward has never had a judge award the fight to his opponent, meaning he has won by unanimous decision on every occasion. In his last fight against Alexander Brand (a man who went into the fight with a record of 25-1) for the vacant WBO International light heavyweight title, Ward didn't even lose a round, with all three judges scoring the fight 120-108 in Ward's favour.
Having a combined record of 60-0-1 has resulted in both men fighting in their fair share of world title bouts, with them combing to take part in 16 world title fights. Kovalev won the nine world title fights that he's been involved in with Ward winning seven. With Kovalev's WBA Super World light heavyweight, IBF World light heavyweight and WBO World light heavyweight titles on the line in Saturday's fight, it also means that this will only be the seventh time in history that two undefeated fighters with 30 or more wins have fought for a world title.
Conclusion
This is a genuine 50-50 fight that could be won by either fighter by any method which adds to the excitement. There are a lot of factors that point to Kovalev claiming the win but Ward will have his own ideas. Kovalev has spent more time fighting at this weight with Ward making his name at super middleweight. The Russian has also spent more time in the ring recently; since both men fought in December 2011, Kovalev has had 13 fights whereas Ward has only had five, which has mainly been down to injuries.
Kovalev's power has also been highlighted but Ward has recently described him as a "bully", seemingly playing Kovalev's power down. Whether that is the case will be discovered on Saturday but Ward will feel he can absorb anything that comes his way having dealt with fighters such as Carl Froch and Mikkel Kessler. It's also easy to say that Kovalev hasn't been in the ring with anyone of the class that those two possessed and both struggled to handle Ward's jab.
It's sure to be a fascinating fight, whatever the outcome. Can Ward get back to his best and put on a boxing clinic against Kovalev's power or can the Russian demonstrate his own boxing skills? What makes this fight more intriguing is what happens next. Ward always gets his name bandied around with some of the other huge names in boxing and has often been linked with fights against Gennady Golovkin and Saul 'Canelo' Alvarez. Could a win for either man on Saturday be a precursor for another 'super' fight? We certainly hope so!