It is generally accepted in football that, over the course of a season, there will be more home wins than away wins. I wanted to test this theory in non-league football to see if this held true.
I also had a suspicion that there might be a difference between teams' away performances at the weekend versus midweek evening games. The theory here is that midweek away trips are more gruelling for the travelling players, particularly for the part time teams whose players are juggling regular jobs alongside their football.
Firstly, let's take a look at all the games so far in the National league, the 'All Games' pie chart shows that home wins are clearly the most popular result in the league.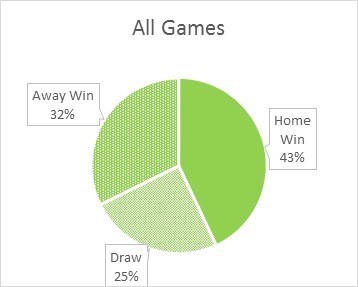 But how would this differ if we were to look at the weekend and midweek games independently?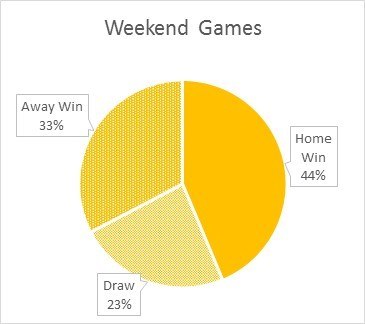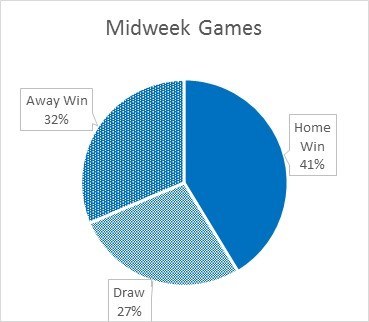 There is a difference between weekend and midweek games. The number of away wins in midweek is 1% less but there are significantly more draws at the expense of home wins.
However, looking at the actual number of points won by away teams as a percentage of the possible points available, there is actually no difference between weekend and midweek games. With both midweek and weekend away teams taking 41% of the available points back home with them.
Let's also look at results on a team by team basis.
The following graph shows the home bias of each team in the league (I.e. whether teams take more points playing at home than away). The graph shows the difference between the percentage of possible points won at home and the percentage of possible points won away.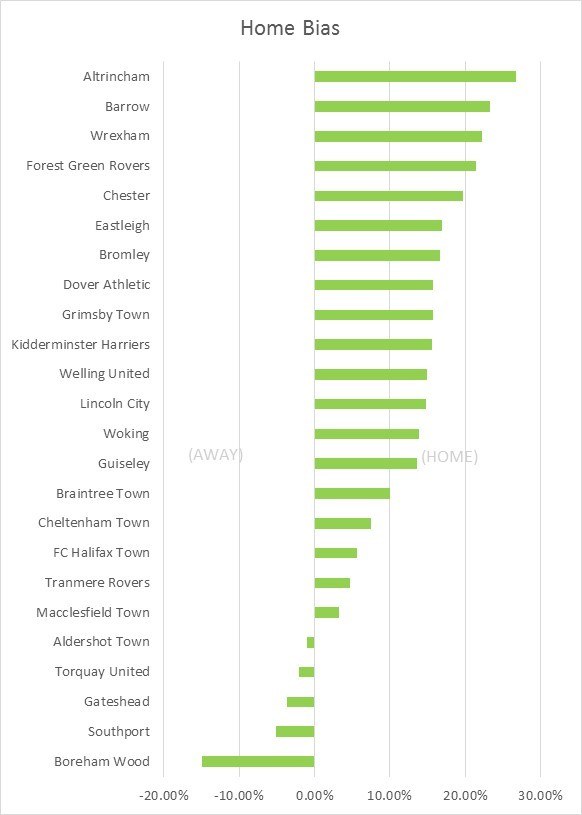 It is very clear that the most teams prefer playing at home, it is only Boreham Wood who are considerably better away than at home, they don't have the best away record in the league (Cheltenham have won 68% of available away points to Boreham Wood's 41%), but Boreham Wood are just poor at home (only 26% of possible home points won).
Aldershot Town show the least disparity between home and away performance (taking 41% of possible home points versus 42% of possible away points).
If we look at the current National League table, Cheltenham and Forest Green are sitting clear in first and second respectively, but I was a little surprised to see Forest Green with such a strong home bias. They clearly have the best home record in the league (winning 81% of possible home points to Cheltenhams 76%) but Cheltenham's greater consistency both home and away should see them in good stead to pip Forest Green to that automatic promotion spot.
It is also interesting to see that Altincham and Boreham Wood – the teams at the top and bottom of the above chart respectively– are both fighting to avoid that last automatic relegation spot.
To get back to the comparison of midweek versus weekend matches, let's have a look at how each teams' home bias varies between weekend and midweek fixtures. In the following graph, the teams nearer the top have the biggest variation of home bias between weekend and midweek, and the teams towards the bottom have the least.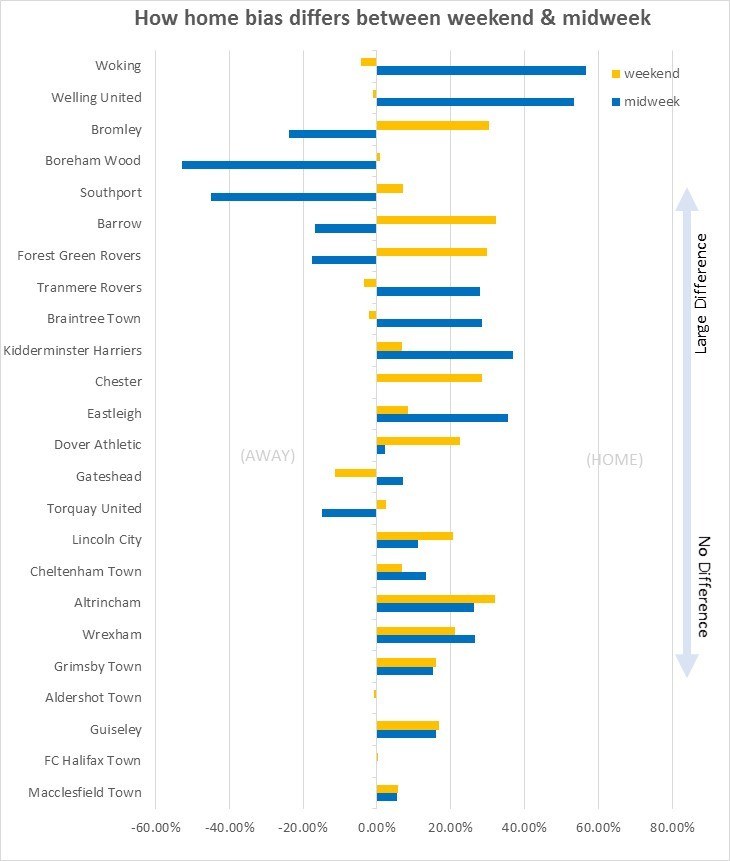 It is not surprising to see the consistent Cheltenham Town and Aldershot Town towards the bottom of the table with midweek or weekend matches seeming to have little effect on their performance, but what is going on with the teams towards the top of this table? What could be causing such a large disparity?
Let's have a more detailed look at the stats for Bromley and Woking.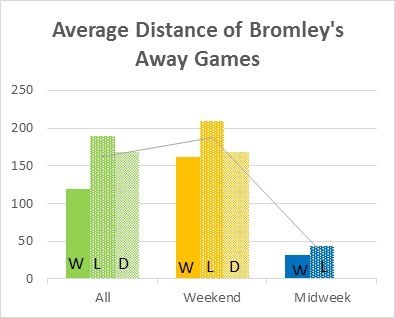 Bromley have won 67% of possible points in midweek away games but only 33% of possible points in weekend away games.
The chart shows the average distance Bromley have travelled to away games at the weekend and during the week.
The distance Bromley had to travel for their midweek away games was considerably less than the distance they travelled for their weekend away games, this could well be a factor for their strong midweek away record.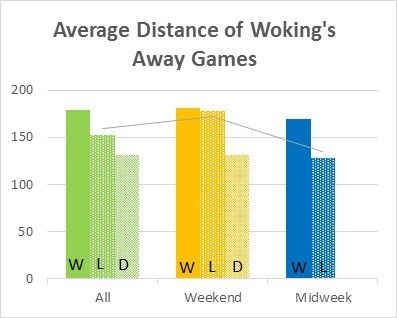 In contrast, Woking have only won 17% of possible points in midweek away games against 47% of points in weekend away games.
They have clearly had to travel a lot further than Bromley for their midweek matches.
Whether it is the distance or not, Woking clearly do not travel well in midweek.
We are starting to unearth some potentially interesting patterns here, but we need to delve deeper into the data across all the teams in the league, particularly in terms of the effect distance travelled to away games has on the outcome. So look out for a future blog in which we will be doing just that!
The data in this report contains all results from the 2015/16 National League season up to and including the fixtures on Tuesday 8th
March 2016###>