AT A GLANCE
When is the 42nd Ryder Cup? September 28th to 30th 2018

What channel can I watch the 42nd Ryder Cup on in the UK? Sky Sports Ryder Cup
Where can I stream the 42nd Ryder Cup? Sky Sports subscribers can stream the tournament online via Sky Go
Are tickets still available for the 42nd Ryder Cup? Visit https://www.rydercup.com/tickets
Where is the 42nd Ryder Cup? The Albatros Course at Le Golf National, Paris, France
What is the course yardage at? 7,331 yards
What is the par at? 72
What is the format of the 42nd Ryder Cup?
Play commences on the morning of Friday the 28th September with four foursomes (alternate shots) matches followed by four fourball (better ball) matches with the same structure being repeated on day two. The final day sees each player compete in 12 singles matches with a total of 28 points available over the three days. 14 ½ points are required to win the Ryder Cup and 14 points needed to defend for the USA.
Since the Ryder Cup became Team Europe rather than GB&I in 1979, Europe has won ten times compared to USA's eight with there being just one draw between the two teams.
THE LOWDOWN
Europe's 2018 Ryder Cup captain – Thomas Bjorn – leads his team into France aiming to reclaim the cup that was taken from them two years ago. However, USA's Captain – Jim Furyk – will be looking to lead his team to back-to-back victories for the first time since 1991/93.
Both captains are at the same stages of their careers whereby they still have quality in their own games to compete on their respective tours, which puts them in touch with the younger players and gives them the opportunity to be up close to measure their play, practice and personalities.
Jim Furyk has been one of USA's very best and most consistent modern day players having previously been world number two and he has recorded 17 PGA Tour wins, including a U.S. Open title.
'The Great Dane' has never quite reached the same level as his counterpart, but has been one of the European Tour's best players in the last 20 years, recording 15 tour wins and reaching a career high world ranking of ten which saw him finish runner-up three times in a major championship.
Both captains made their last appearance in the 2014 edition at Gleneagles.
Furyk has been a stalwart in the USA team, playing in every cup between 1997 and 2014 which is the second highest number of appearances (nine) - after Phil Mickelson - for the U.S. However, a 30% individual win record is less than impressive with an overall record of 10 wins, 20 losses and four draws which included seven losses for Team USA.
Bjorn's last appearance came 12 years after his second outing in 2002 – quite a remarkable feat and something that show's his personality trait of never giving up. During his three appearances, the Dane logged a solid record of three wins, two losses and one draw with each one resulting in a European victory.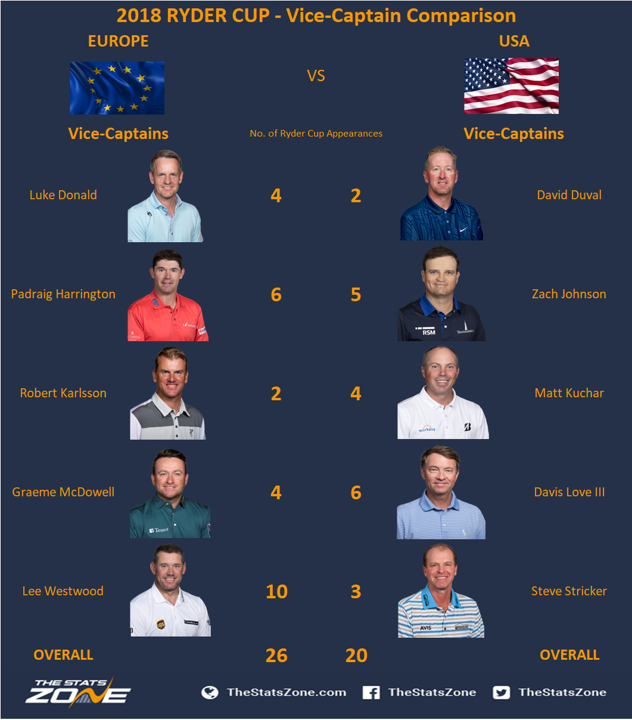 The vice-captains play an important role throughout the week, providing constant feedback to the captain on individual players and matches as well as giving extra support to players who may be suffering with form.
Europe has a more experienced backroom team when it comes to Ryder Cups with a combined 26 appearances compared to USA's 20 – an area that could be a key factor at important times of the week, where years of experience at the top of the game results in essential support.
OVERVIEW
On paper, Team Europe have a slightly more experienced set of vice-captains and more successful captain when it comes to Ryder Cup experience. However, having suffered seven losses as a player, Furyk may just know exactly what does and doesn't work for his team and in this circumstance, all those failings could be the secret to claiming another victory.