Alias: "nicolas99fc"

Nationality: Argentinian
eSports team: Transfermarkt eSports
Console: PS4
eWorld Cup seeding: 1
eWorld Cup group: Group C
Qualifying route: FUT Champions Cup > Global Series Playoffs > eWorld Cup Grand Final
Twitter: @nicolas99fcx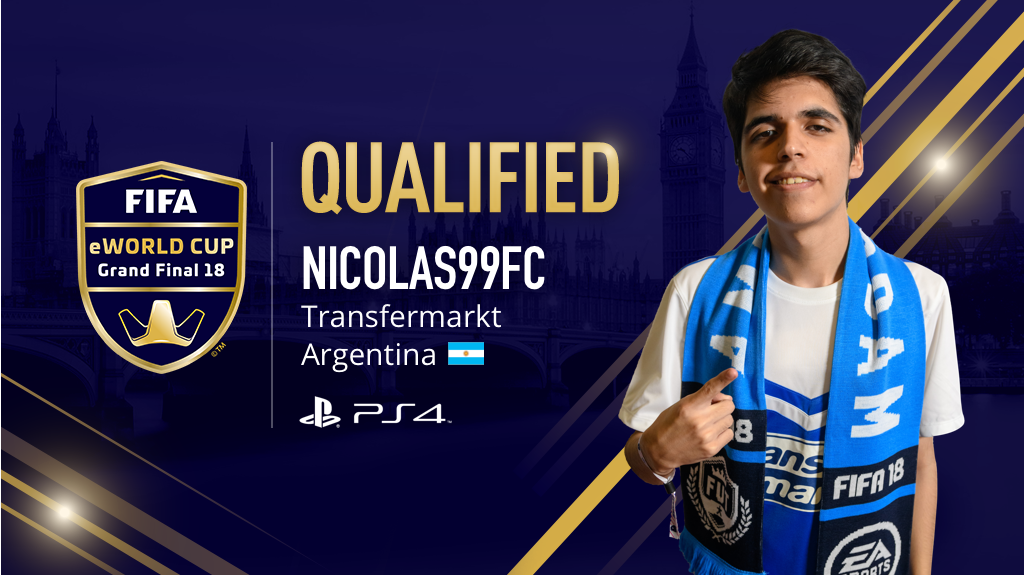 Nicolas "nicolas99fc" Villalba competes on the PS4 and is considered the favourite to win the 2018 FIFA eWorld Cup Grand Final. He is the only player competing at the event to have come from Argentina and he represents German organisation Transfermarkt eSports.
Villalba boasts the best online record of all the competitors, which includes over 1,700 wins and only 30 losses on the FIFA 18 FUT mode. It was this destructive form that saw him qualify for the FUT Champions Cup offline tournament in Barcelona where he finished runner-up, thus booking his place at the Global Series Playoffs in Amsterdam.
At the playoffs, "nicolas99fc" showed the world that he would be the man to beat at the FIFA eWorld Cup Grand Final. Not only did he book his ticket to London, he went on to win the tournament with a perfect record of 12 wins and zero defeats, beating "B04 M4RV" of Bayer 04 Leverkusen in the grand final of the PS4 bracket. This gave him the coveted PS4 number one seed at the 2018 FIFA eWorld Cup Grand Final.

TSZ's full interview with "nicolas99fc" can be found here.

Stats are based on Global Series Qualifiers group stage games only
GPG = Goals per game
CPG = Conceded per game
SHO = Shot accuracy
POS = Average possession
PAS = Pass accuracy
RNK = eWorld Cup ranking based on our algorithm