CURRENT TABLE

Players in white signify those currently in the play-off positions. Q = qualified.

MATCH-UPS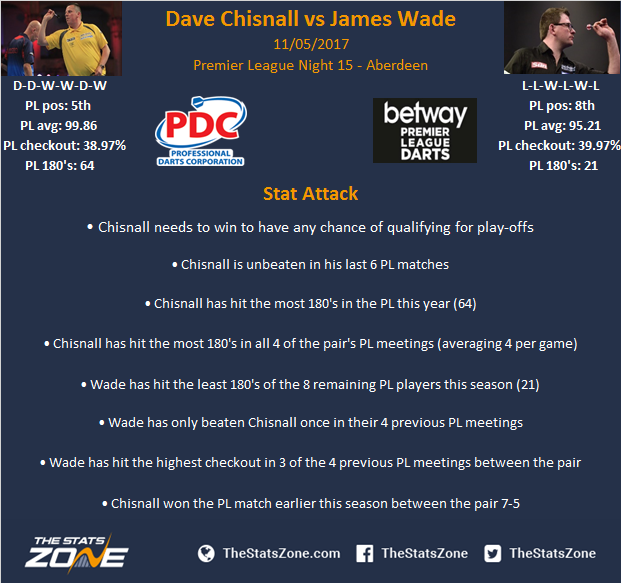 Verdict & Betting Tips
Chizzy has performed incredibly well in recent weeks to give himself an outside chance of qualifying for the play-offs, but in all likelihood, his regret will be that he timed his run a little too late. He needs a convincing win, for Taylor to lose, and must overturn a 10-leg deficit in order to leapfrog the Power. Wade has been under-par this season so take Chisnall to give himself a fighting chance by winning with a -3.5 handicap.
Prediction - Chisnall win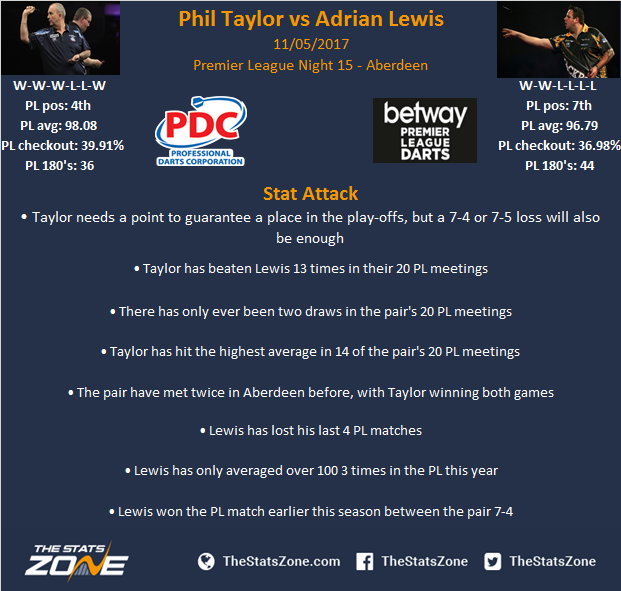 Verdict & Betting Tips
Taylor should easily have enough experience to get enough legs here, and will be fully focused on reaching the play-offs in his final year on the circuit. Lewis has faltered badly in the latter end of the competition, and although the pressure will be off, he is not in the sort of form to repeat the 7-4 victory over Taylor he managed earlier in the season. The reverse score-line is more likely here, so take Taylor to win by a correct score of 7-4.
Prediction - Taylor win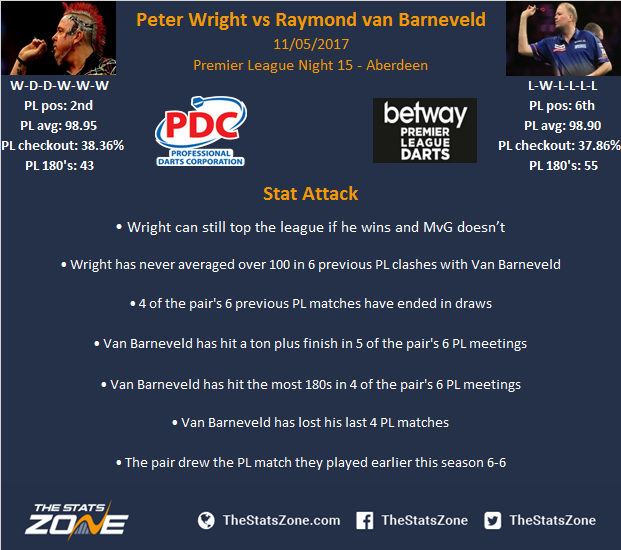 Verdict & Betting Tips
RVB is another player who has lost form at the wrong time, and can no longer qualify having lost his last four in the Premier League. His motivation will be questionable here, whilst Wright is flying at the moments having thrashed Van Gerwen 6-0 in a European Tour final on Sunday. He also has a chance of claiming top spot on the league if other results go his way, so consider Snakebite to average over 99.5 here, which surprisingly he has not managed against Barney in previous Premier League meetings.
Prediction - Wright win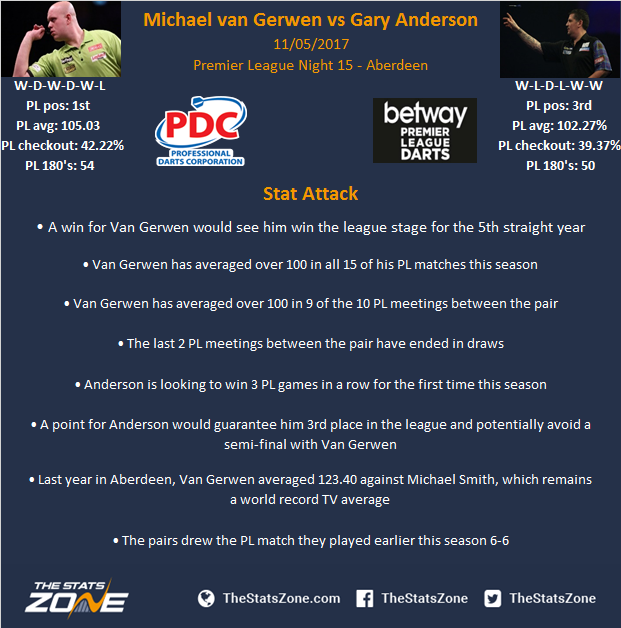 Verdict & Betting Tips
Van Gerwen has topped the league stage in each of the last four years and will be 100% focused on making it a streak of five here. His ego will have been bruised by his whitewash defeat to Wright over the weekend, so he should come out firing here. However, Anderson will be more than up to the task and may end up doing his fellow Scot a favour with a result, although a third Premier League draw in succession between the pair is perhaps the most likely score-line. If you fancy an outside bet on a nine dart finish, this would well be the match to look to.
Prediction - Draw
Betting tips are for Betway markets.