Termed golf's 'fifth major', The 2017 Players Championship returns to The Stadium Course at TPC Sawgrass. The PGA Tour's signature event sees 46 of the top 50 players in the FedEx Cup standings participate in a fiercely competitive field. The Stadium Course has provided dramatic finishes over the years in-part due to its famous Par-3, 132 yard 17th hole which boasts an island green surrounded by water (below). The course has once again undergone subtle changes for this year's edition to further enhance spectator viewing and provide one of the most challenging – yet fair – tests of golf in the professional game.
The Pete Dye design favours no particular style of play other than all-round consistency and course-management of the highest quality. Perhaps this is the main reason as to why there have only been five multiple winners of the event since it has been hosted around The Stadium Course.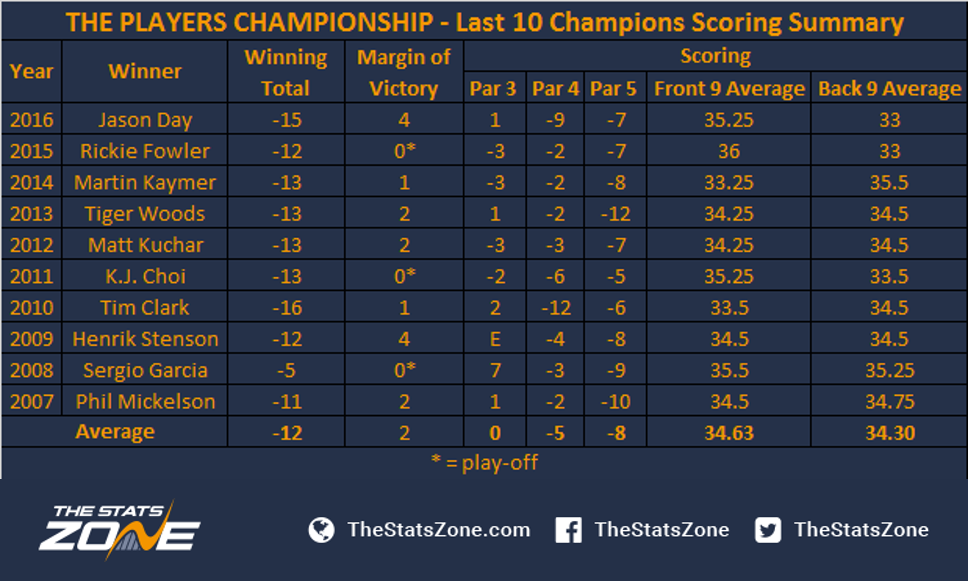 The previous 10 champions have averaged a winning total of 12-under-par, with Sergio Garcia's -5 in 2008 being the outlier due to strong winds which made the course - at times - unplayable that year.
The average margin of victory is two strokes, with only two players (Stenson 2009; Day 2016) overpowering the field leading to a four stroke winning margin. There have been three play-offs in the previous 10 editions.
Par three scoring average (level par) demonstrates the difficulty of the short holes, with five winners scoring over par for the week. However, par four scoring average (-5) has been low and only scores three strokes more than the par five average, suggesting this is a significant area to achieve low scoring.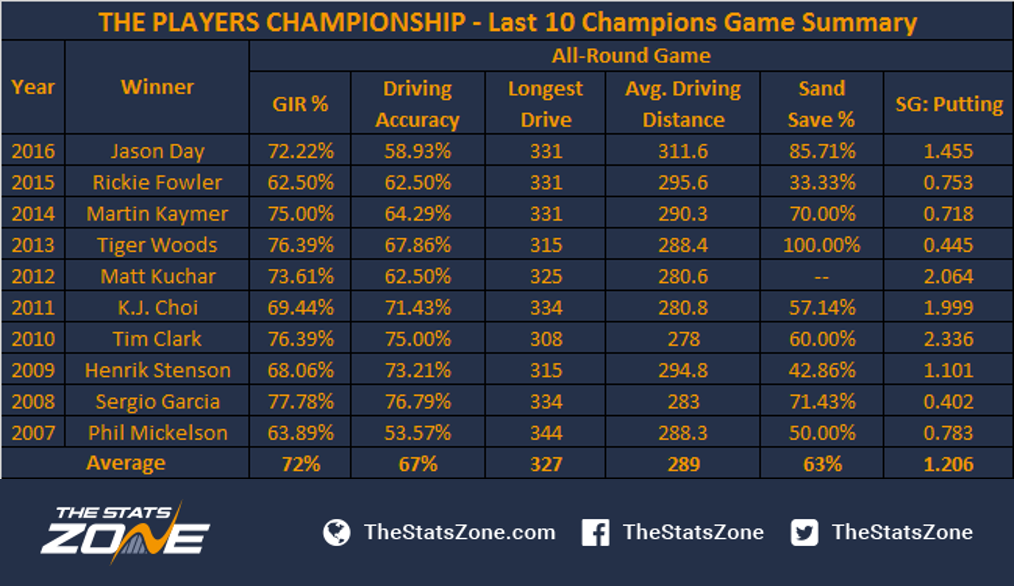 Performance statistics from the last 10 winners focus the importance of tee-to-green accuracy – specifically greens-in-regulations with an average of 72%.
Due to the challenging green layouts and surrounding bunkers, sand save percentage has been impressive for the majority of winners, getting up and down 63% of the time.
Linking into scrambling is high putting performance with the winners averaging 1.206 strokes-gained on the field per round.
This further highlights the importance of a strong all-round game, where scrambling is key to consistent and accurate ball-striking.
Consequently, we now focus on five players who we see as the main contenders due to their current season form and 2017 performance statistics in-line with required skill areas.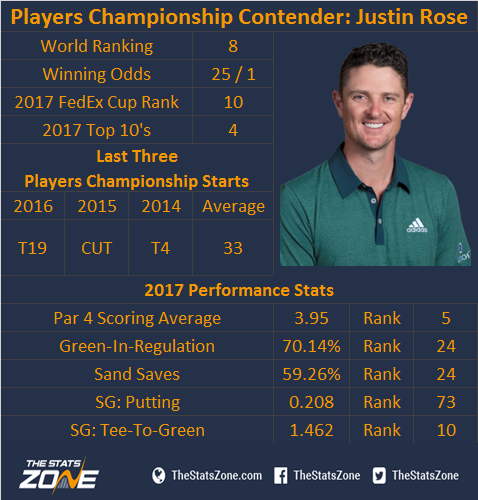 Justin Rose's performance at The Masters made for a great spectacle against Sergio Garcia and demonstrated his quality of game on the biggest stage.
With a T4th finish in 2014, he has a game-plan to contend and currently ranks fifth in par four scoring. Furthermore, he sits 10th in SG: tee-to-green and is successful from the sand (59.26%). If he putts as good as he did at Augusta, an 11th victory on the PGA Tour is a high possibility.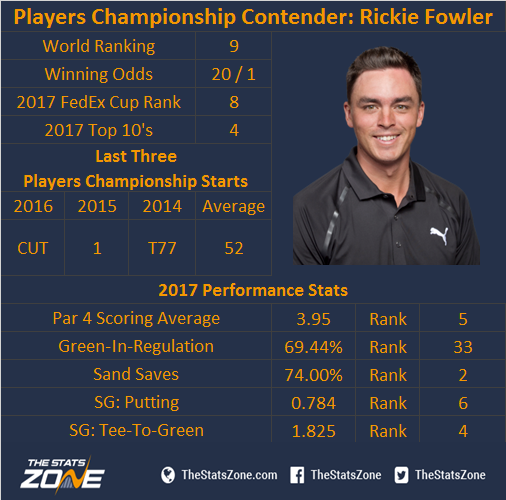 Fowler's disappointing Sunday at The Masters will only have driven him more heading into the middle of the season. After an impressive win here in 2015, he has established himself as one of the world's best and a main contender for all the biggest championships.
He ranks high in par four scoring (fifth), second in sand saves (74%), sixth in strokes-gained putting and fourth in SG: tee-to-green; his all-round game is a good as anyone's in the world.
Garcia's first major win last month will give him the extra self-belief that he can finally fulfil his undeniable talent. Although just four weeks since his triumph, he returns to a course that he has performed better on than anyone else in the game. With a second (2015) and third place (2014) finish in recent years as well as a win in 2008, he has every reason to achieve back-to-back victories.
Garcia ranks highly in par four scoring (fifth) and greens-in-regulation (fourth). The Spaniard is third in SG: tee-to-green, with his ball-striking skills set-up perfectly for The Stadium Course. Although his putting (SG: -0.607) is still his weakness, it is an area that is good enough to win around Augusta and therefore on his week he can win anywhere.
Jason Day's 2017 season has been poor by his standards, mainly due to family issues. However, since the improvement of his mother's health and a more positive frame of mind, it will only be a matter of time before the world number three starts contending again, and there is no better place to begin that than at the scene of his last victory on tour.
Day led the tour in SG: putting last year but currently sits 147th, an area that has to be linked to a lack of playing and practice time. For this reason, this skill area will significantly improve over the coming months and on his day he is arguably one of the best putters of the modern era. Additionally, he leads sand saves (68.97%) and has still been steady tee-to-green (SG: 57th). A win may be a stretch too far but expect a return to form for the Australian.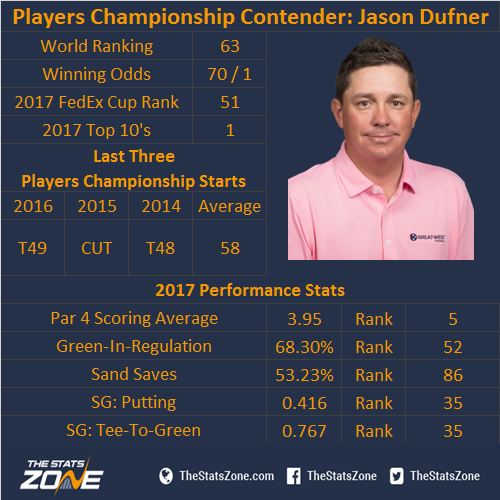 Past major champion Jason Dufner has struggled for form over recent years but appears to be rediscovering his game after a recent run of strong results, yielding top 25 finishes in all but one of his last nine starts.
He is ranked highly in par four scoring (fifth) and places 35th in both strokes-gained putting and tee-to-green. Although an outside bet, he is certainly a player who has the game to contend – expect a top 10 placing.
Betting odds obtained from Paddy Power.