The Community Shield will once again kick off the English football season in earnest as Arsenal and Chelsea do battle at Wembley on August 6th. This will be the 15th time that the fixture will take place in its current guise after being renamed from the Charity Shield back in 2002.

Here we will provide a statistical breakdown of the competition historically, before providing key facts for this year's final. Statistics used are for all finals since 1908, unless stated as 2002 (when the competition became the Community Shield).
We'll start with an overview of Charity/Community Shield champions: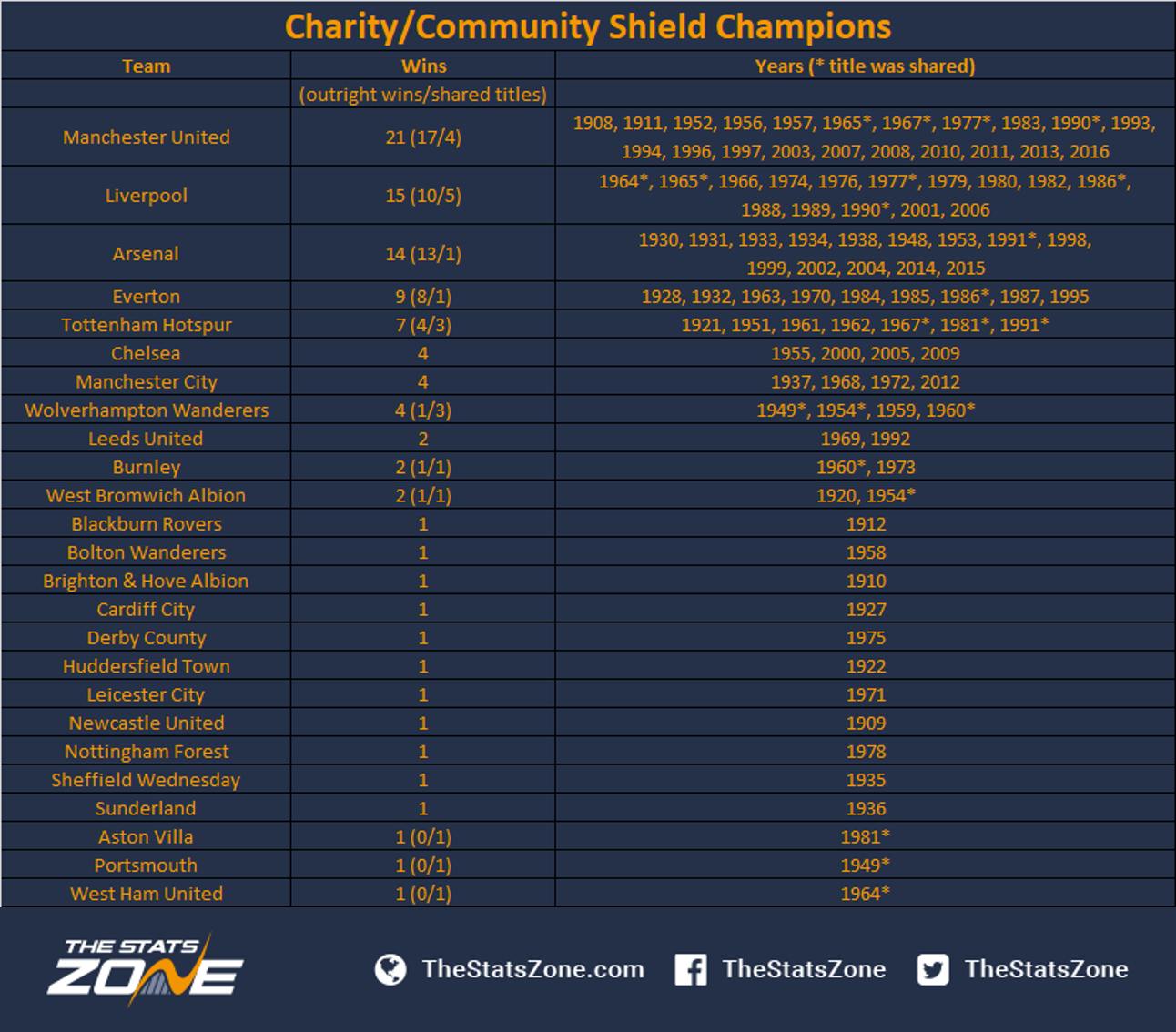 Manchester United top the rankings in terms of wins with 21 total victories (four of these are 'shared' titles).
Second in the all-time wins chart is Liverpool with 15 trophies to their name; 10 of those are outright wins while five are shared trophies. Of the two clubs competing in this year's edition of the fixture, Arsenal have a record of 14 successes. They will move joint-second with Liverpool should they win, although their record is better in terms of the outright split with 13 outright victories to their name and just one occasion in which they have shared the trophy.
Last season's Premier League champions Chelsea they have won the competition four times; two coming in the Charity Shield era (1955, 2000) and two in the modern Community Shield era (2005, 2009).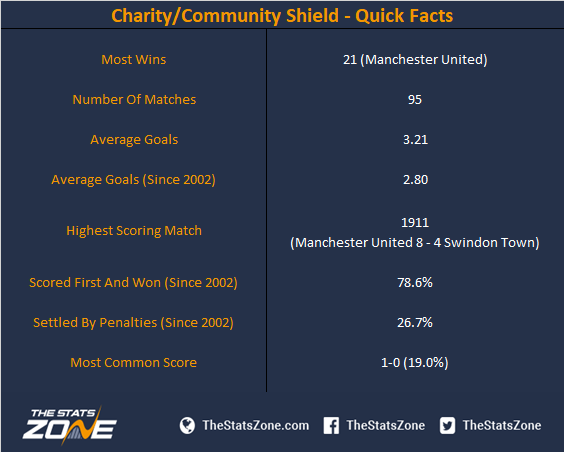 In terms of average goals, in the 95 fixtures since 1908 there has been a GPG (goals-per-game) average of 3.21. This average falls to 2.80 in the Community Shield era.

It bodes well if you score first in a Community Shield match. Of the 14 games that have had a goal in them since 2002, 11 have seen the winner also be the team that has drawn first blood (a success rate of 78.6%). The three instances that buck the trend are in 2009, 2011 and 2012 when Chelsea, Manchester United and Manchester City respectively all conceded first but still went on to win the silverware.
The most popular score-line in a Charity/Community Shield match is 1-0, which has happened on 18 occasions (a frequency of 19.0%) since 1908.
No extra-time is played in the Community Shield, with matches going straight to penalties instead. This has happened on four occasions and Manchester United have been involved each time. They have had shoot-out success three times (2003, 2007, 2008) but lost to Chelsea in 2009 after the match was tied at 2-2 after normal time.
In terms of the biggest win, there has been a margin of victory of five goals on four separate occasions in the competition's history:


In the Community Shield era, Manchester United have made the most appearances with nine since 2002, and they have prevailed on seven of those occasions.
Eight clubs have participated in the Community Shield since 2002. Five of those are Arsenal, Chelsea, Manchester United, Manchester City and Liverpool while another three clubs have made just one solitary appearance; that trio being Portsmouth in 2008, Wigan in 2013 and Leicester City in 2016. All three of the clubs that have made just a single appearance have been on the losing side.
For the two London clubs that are taking part in this season's curtain raiser, it will be the eighth appearance since 2002 for Chelsea while Arsenal will have made one less Community Shield bow with seven appearances to their name since the fixture's name change. Here is their respective records during that time:
When it comes to Community Shield success, Arsenal have been the more prolific with four wins from their six matches (2002, 2004, 2014, 2015), while Chelsea have not had the best of times in this competition with just two successes from seven attempts (2005, 2009).
Of their six previous Community Shield appearances (since 2002), Arsenal have won four, drawn one (lost on penalties) and lost one. They have scored 10 goals and conceded just four in comparison.
In Chelsea's seven appearances since 2002, they have won once in 90 minutes, drawn twice (winning once and losing once on penalties), and lost four in regulation time. They have scored nine goals in this fixture but have shipped 13 at the other end.