The European Tour's flagship event - the BMW PGA Championship - returns to the Wentworth Club in Surrey after having undergone a year-long reconstruction of both the course and tournament itself. The West Course has seen a multi-million-pound redevelopment, resulting in all 18 greens being re-laid to bring about immaculate new putting surfaces – a major weakness of the tournament in recent years – as well as new tees and bunkering. This week also scripts the launch of the European Tour's new Rolex Series – an agreement of eight premium events all with minimum prize funds of $7million, which has engrossed many of Europe's elite and is helping to return the championship back to its former glory.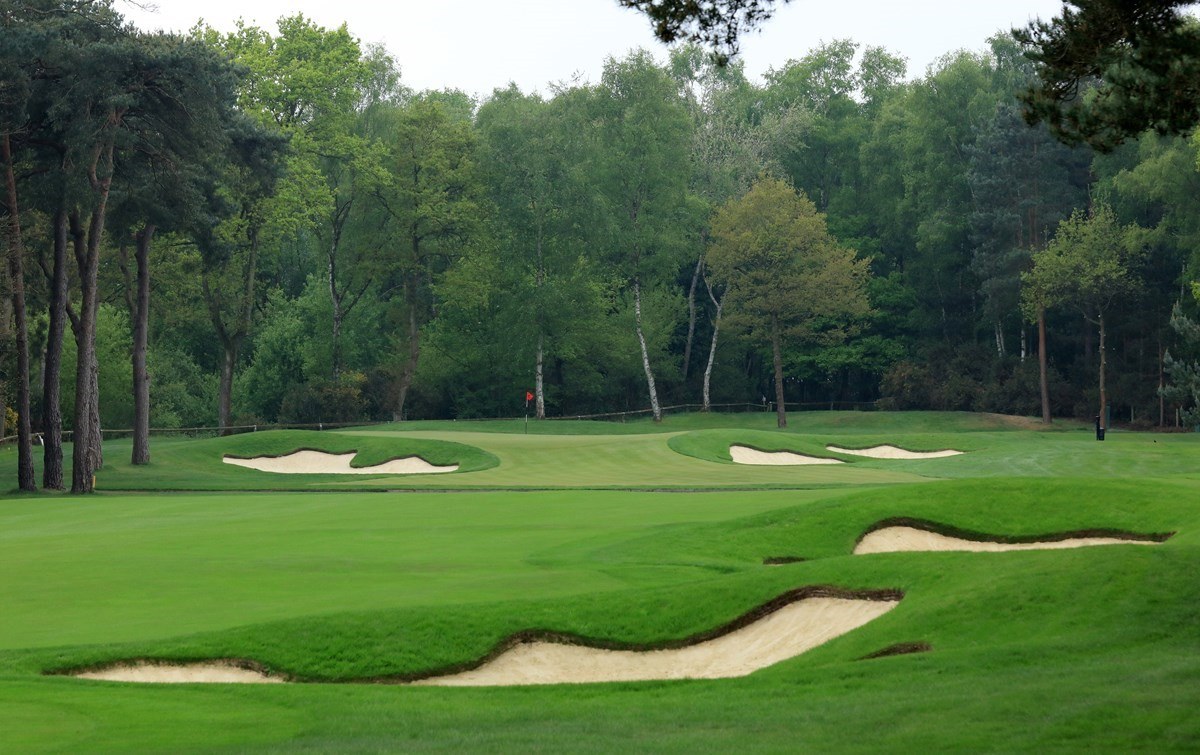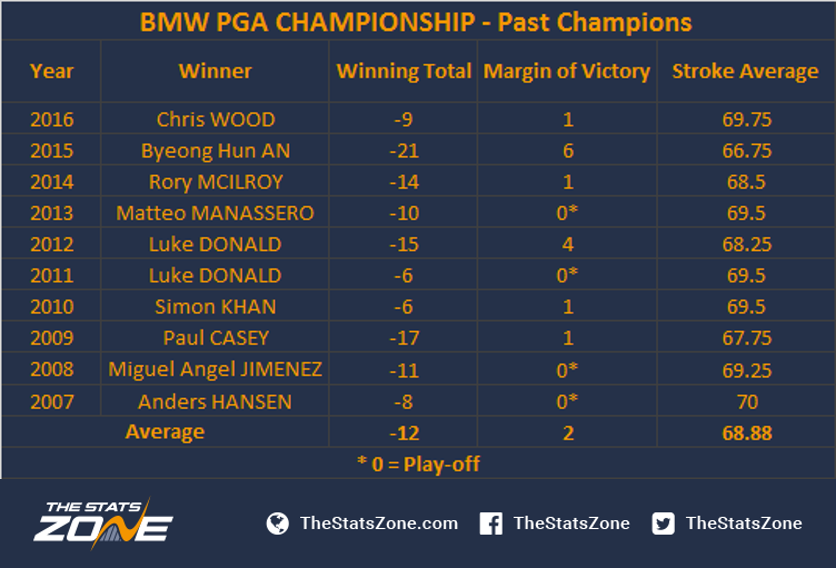 The past 10 BMW PGA Championships has seen an average winning total of 12-under-par, with a low of -21 (2015) and a joint high of -6 (2010 & 2011) – a difference of 15 strokes. Perhaps down to the varying British spring weather, this demonstrates the varying difficulty in course conditions.
Byeong Hun An (2015) and Luke Donald's (2012) winning totals are the only times the victor has run away from the field. On average, the champion has won by just one stroke (four times) with four play-offs. The 17th and 18th Par 5's make for a great finish and have played a significant role over the years in these closely run contests.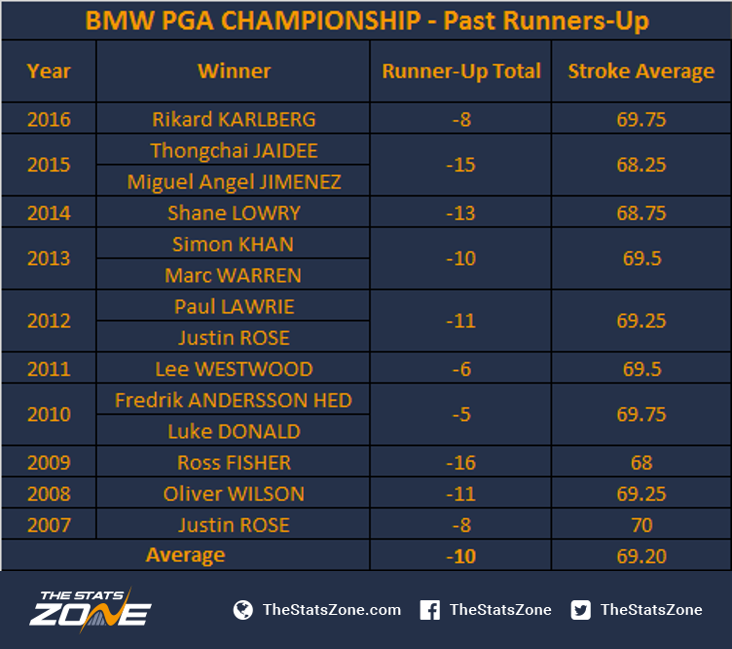 Of the 14 runners-up, Justin Rose is the only player to have contended more than once without a win.
Luke Donald finished runner-up in 2010 and went on to triumph during 2011 and 2012, Miguel Angel Jimenez followed his win in 2008 with a second place in 2015 and 2010 surprise winner Simon Kahn lost in a 2013 play-off.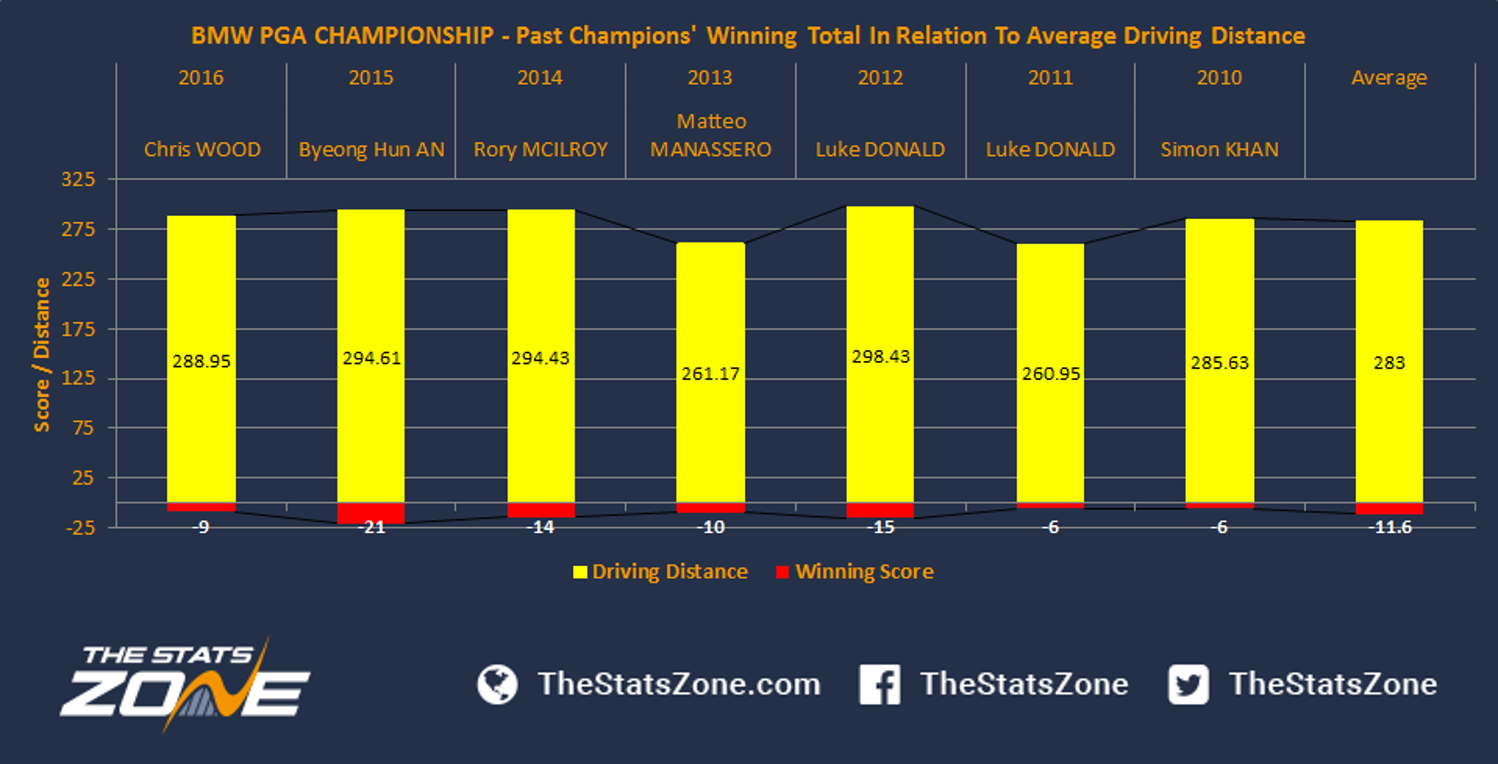 Since 2010, championship winners have, on average, measured 283 yards in driving distance. Significantly, the three lowest scores (2015, 2014 & 2012) have averaged the three longest distances from the tee, showing a relationship between driving distance and low scoring around The West Course.
However, two winners (2011 & 2013) have averaged below 262 yards, suggesting driving accuracy is more important to success at Wentworth. Although 'bombers' can overpower the course if accurate, winners have ranked on average 33rd in distance for the field, suggesting it does not always suit the bigger hitters.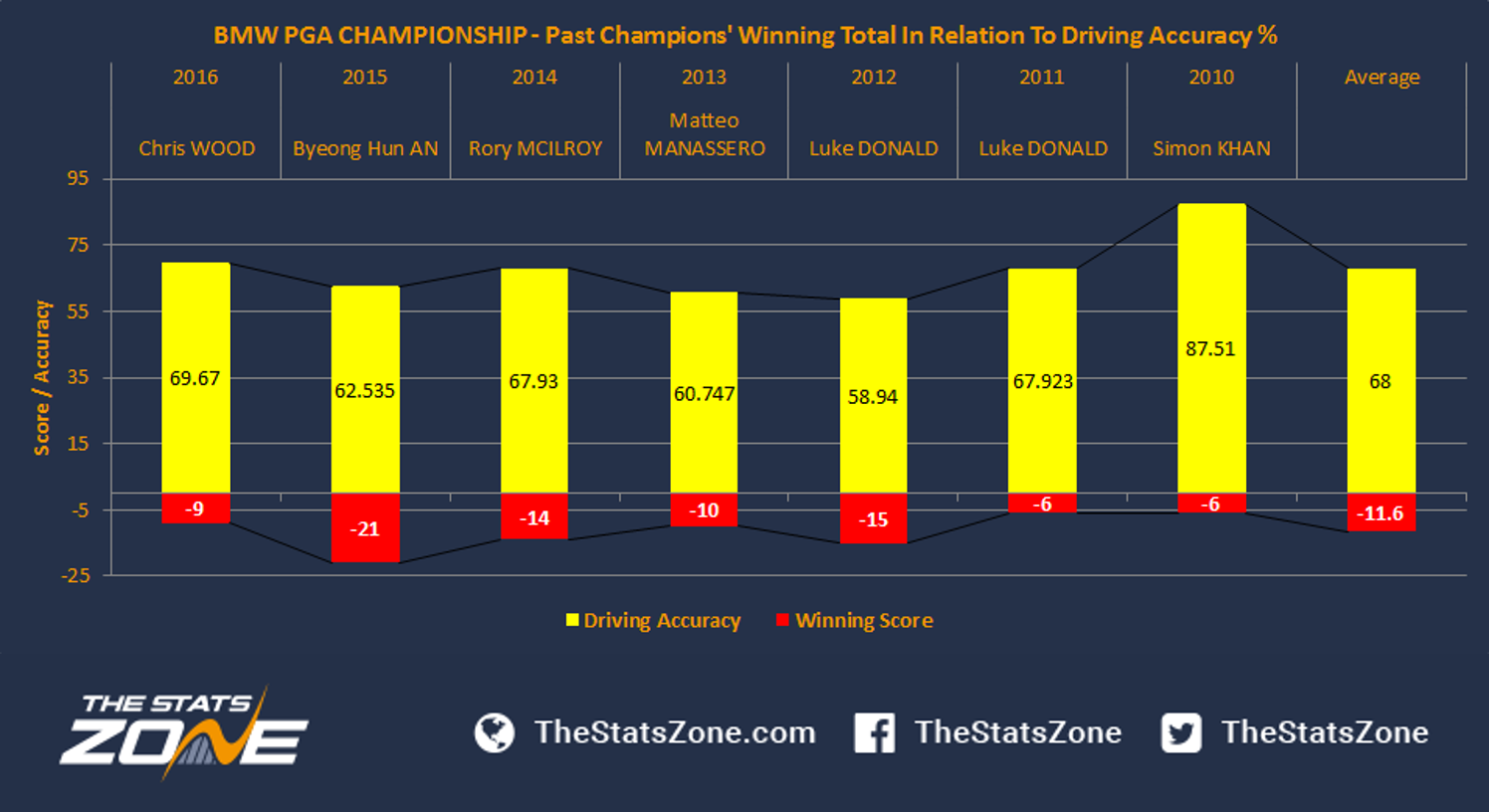 On average, winners have hit 68 % of fairways. Remarkably, 2013 winner Manassero hit just 60% while being the second shortest hitter (261 yards), showing that The West Course does not completely demand a strong performance from the tee for good scoring.
The lowest driving accuracy among past champions was Luke Donald in 2012 (58.94%), yet that is also the year where we see the highest average driving distance recorded (298.43 yards). Nevertheless, four of the seven winners have averaged at least 67% of fairways hit, showing a consistency from the tee is a strong advantage.
The winners ranked 26th for the field in driving accuracy, with only two winners inside the top 10 (2016 = 7 / 2010 = 1).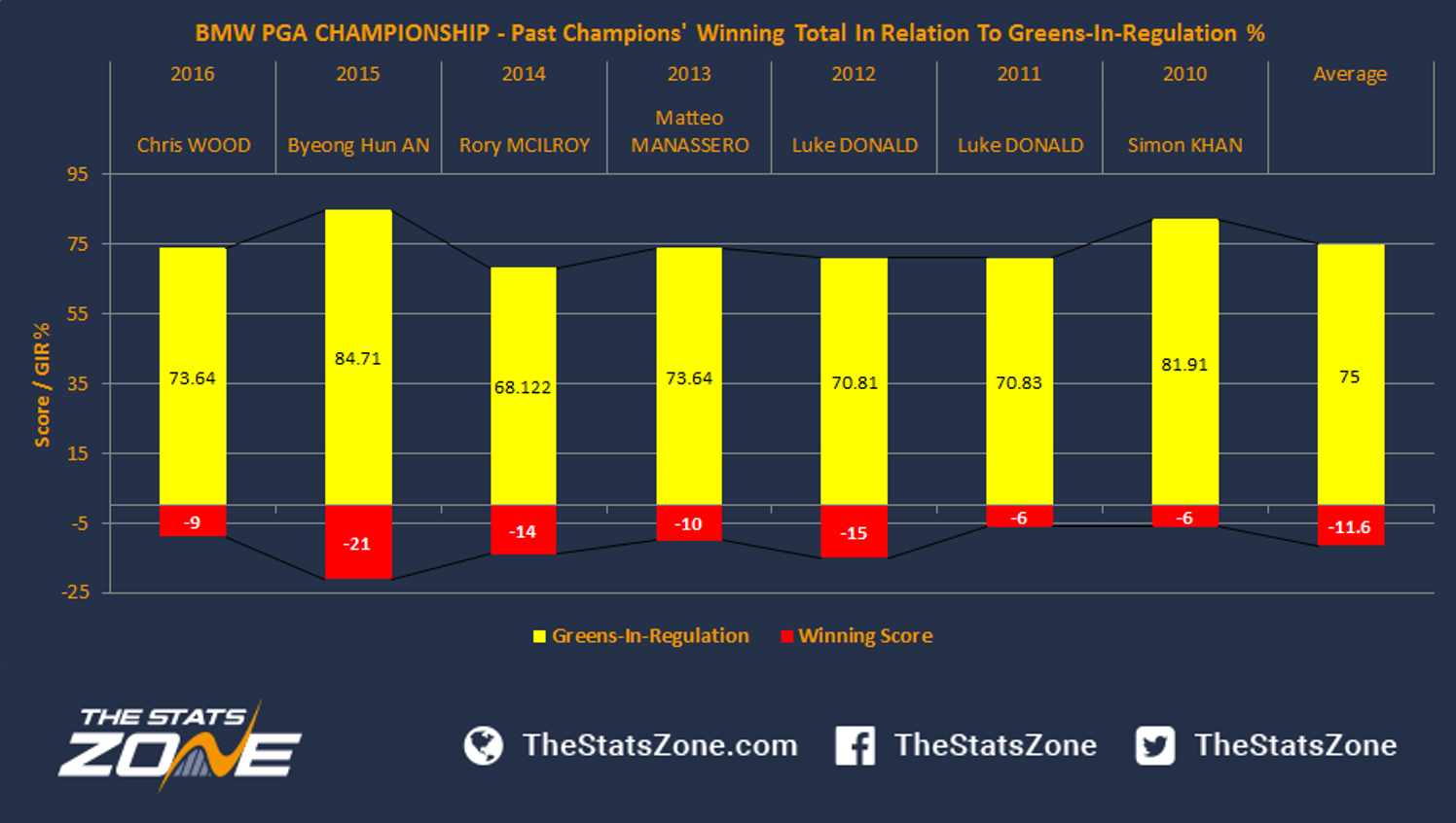 Winners have averaged 75% of greens, with a low of 68% (2014) and an incredible high of 84% (2015), which coincides with the lowest score recorded.
Of the last seven winners, only once has the champion finished outside the top 10 in GIR % (2014 = 22), with five of the remaining six winners ranking fourth or better, proving that greens-in-regulation around The West Course is a clear marker for success.
We now identify players who have averaged at least 68% of fairways and at least 75% of greens-in-regulation during the 2017 European Tour season. We've then averaged the ranking of both stats to identify three key contenders who are competing this week.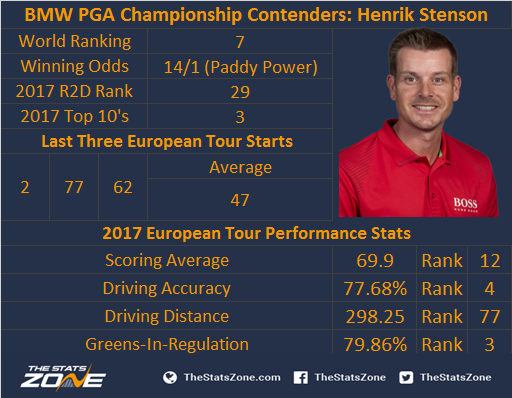 Stenson's form at the beginning of the season was as strong as any players in the world until a reoccurring injury put him out of the game. Since his return, his game has been there in short spells but as the weeks pass and full fitness is regained, the world number seven is due to start challenging again and record a win for the first time since last year's Open Championship.
He currently ranks fourth in driving accuracy and third in GIR with a 69.9 (12th) scoring average. For a player not firing on all cylinders yet, you wouldn't really know from these stats. Having not played The West Course all that often in recent years, Stenson may adapt to the new course layout quicker than most, and his game should suit the style perfectly.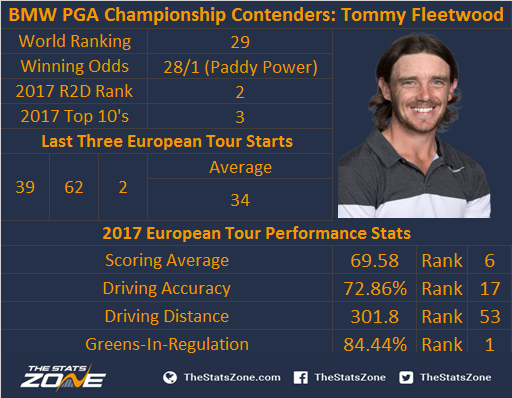 Tommy Fleetwood is emerging into a world class player and ranks second in the Race to Dubai (R2D) standings behind Sergio Garcia. After some strong finishes in the States this season, he is ready to take that next step in winning one of the world's biggest tournaments.
Fleetwood has been driving it long (301.8 yards) and straight (72.86%) this season, setting him up perfectly to hit many greens-in-regulation (84.44%). If he brings this standard of game to Wentworth after a runner-up finish in his last European outing, he could be a very difficult man to beat.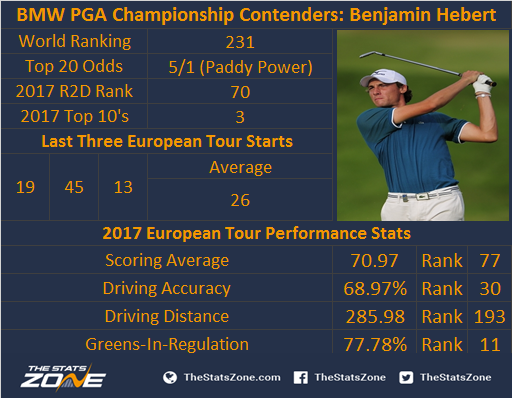 Benjamin Hebert has recorded two top 20 finishes from his last three starts against quality fields on the European Tour. He currently ranks 70th in this season's R2D, largely down to accurate tee-to-green play.
He ranks 30th in driving accuracy and 11th for greens-in-regulation, which equates to a strong combination for success around The West Course. With a scoring average of 70.97 (77th), he clearly has the all-round skills to be an outsider for at least a top 20 placing.