The 2016 Rugby Championship will be the fifth edition of the extended yearly southern hemisphere contest which is operated by SANZAAR – a joint venture of the four competing countries' national unions (South Africa, New Zealand, Australia and Argentina Rugby).
The 2016 championship will be the first official year that Argentina has become a full member of SANZAAR, although they have been participating in the tournament since 2012. Furthermore, for the first time since the creation of the championship as the Tri Nations in 1996, a match will be played outside the SANZAAR countries at Twickenham, London, between Argentina and Australia. There will be a total of 12 matches in a six-round format, with teams playing each other twice.
All statistics analysed are those recorded since Argentina's inception in 2012, when the Tri Nations became the The Rugby Championship.

Correlating with their international supremacy, the data shows that New Zealand have dominated the championship. Of the previous four editions, they have won three titles and won a staggering 21 matches in the process, losing only twice. There is little to choose between Australia and South Africa – both have won 21, lost 10 and drawn one; South Africa have been the heavier scorers with a stronger defence, but Australia have a championship to their name. However, this may be down to the reduced three round tournament in 2015 - due to that year's Rugby World Cup - where Australia were triumphant over New Zealand. With so few games played though, this gave little chance for another team to catch up. Argentina unsurprisingly are by far the least successful, with only two wins and one draw from the 21 games, resulting in a -308 difference of points. Nevertheless, the primary reason Argentina were introduced into SANZAAR was to allow the country's rugby to grow and over the coming years this may be displayed.

During the 2012 and 2013 championship, New Zealand were dominant in every department. They were triumphant in all six matches as a result of their superior attacking and defensive displays. However, during 2014, although victorious for a third successive year, they lost and drew one match out of the six played, with their attacking and defensive statistics decreasing. As previously discussed, Australia's title in 2015 came in a shortened tournament due to the World Cup that year (which New Zealand went on to win).
It is to be expected that New Zealand lead the way in head-to-head encounters between the four nations - even so, their results are staggering. During the last four championships collectively, NZ have lost two, drawn two and won 24 in total - and taking into account they are competing against three of the world's best teams proves how superior NZ have been in recent years compared to the rest of the world.

South Africa have consistently been New Zealand's nearest rivals over the previous four editions, with 12 wins, five losses and one draw. All the same, their fourth place finish in last year's championship and their loss to Japan at the 2015 World Cup does suggest their level is not where it needs to be.
Australia have been inconsistent during recent years with 11 wins, 14 losses and two draws, but their title triumph during last year's championship – where they beat New Zealand – shows the belief is there.
since their introduction, Argentina have almost been a case of 'making up the numbers'. With only two wins, one draw and an overwhelming 22 losses, their defeat record is almost as impressive as New Zealand's win record. Of course, with Argentina being given the opportunity to compete in such an event against the world's elite, it is hoped better results will come in the future.
A measurement of season form through international results could provide an indicator of which team is playing the best rugby to succeed during the 2016 championship.
Since 2012, New Zealand's record in international rugby is unparalleled. They have won 49, drawn two and only lost three from a total of 54 games, during which time they went unbeaten against the best in the 2015 World Cup. Australia's win against them during last year's championship may have been as much as a shock to Australia as it was to New Zealand, which highlights their level of dominance. The All Blacks have won all three games played this season, and go into the event as undeniable favourites.
South Africa's two second place finishes during 2013 and 2014 correlate with their respective season form where they won 19, lost six and drew none out of 25 matches for the two seasons combined. However, their third and fourth place finishes coincide with poor overall seasons where they won 13, lost eight and drew two out of 23 matches, suggesting their season form played a significant role during their respective Rugby Championships. Their 2016 form boasts two wins and a loss to date, but their dismal 2015 campaign will still be fresh in the memory, so a run for this year's championship seems unlikely.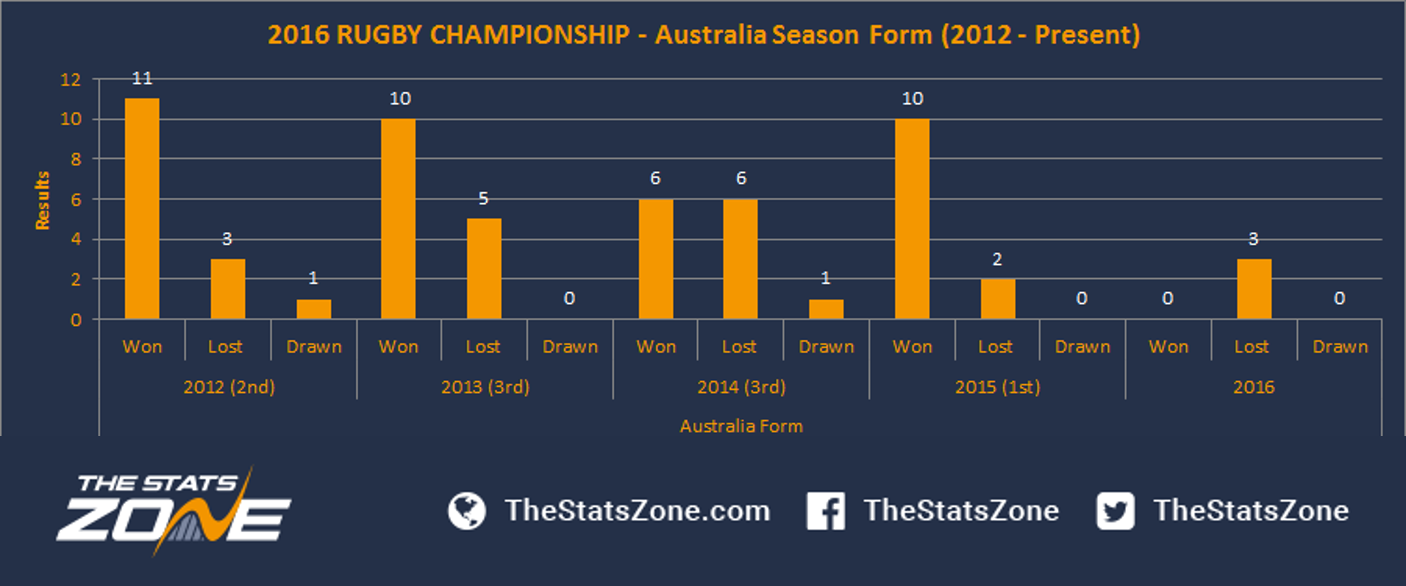 As discussed previously, Australia's form during the championship has been inconsistent, which corresponds with their respective season results. A second place finish yielded 11 wins, three defeats and one draw during the 2012 season. However, during 2013 and 2014 collectively, they accumulated 16 wins, 11 defeats and one draw out of 28 matches, coinciding with their two third place finishes. In 2015 – the year the won the Rugby Championship – they amassed 10 wins and only two losses, producing some of their best rugby in recent years. However, of the three matches played during 2016, they have lost all three during the England tour down under; meaning the chances of them beating New Zealand at least once is a very tall order for a team with such recent poor form.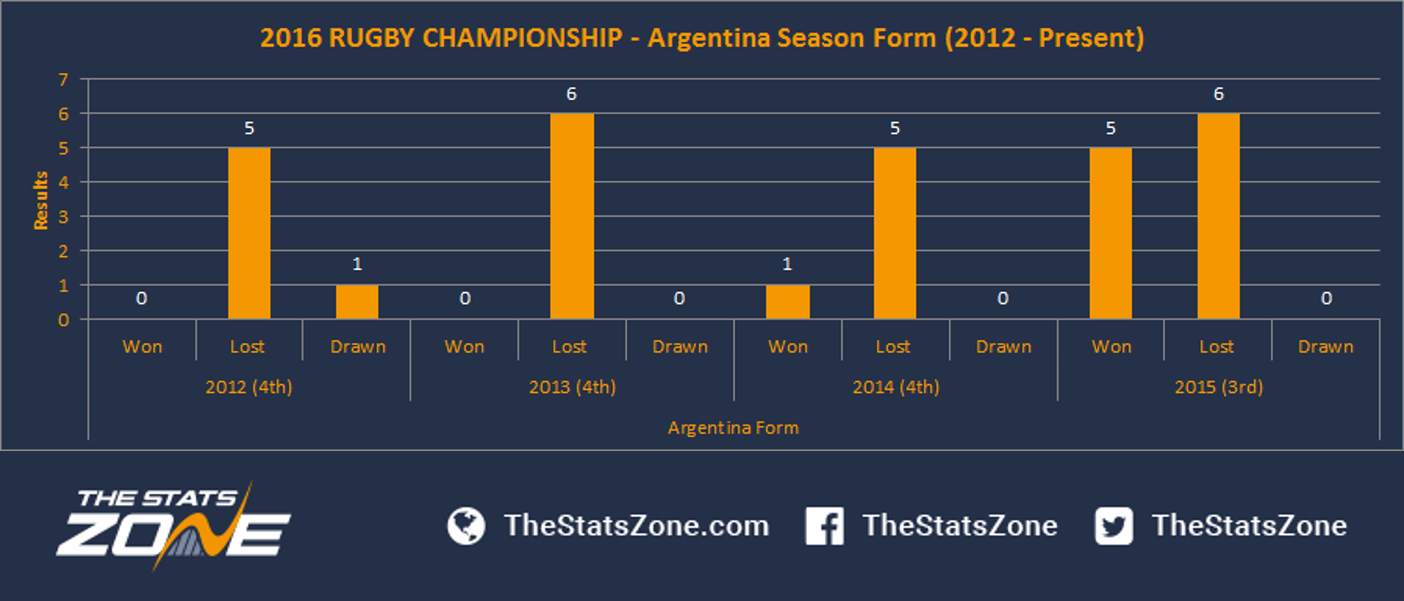 Argentina's rise in the international game can be evidenced by a drastic improvement during the 2015 season, where they managed third during the championship and fourth at the World Cup. Between 2012 to 2014, Argentina accumulated one win, two draws and 16 losses in their 19 matches. However, during 2015 they totalled more wins (five) than in the previous three years collectively, resulting in their successful World Cup run.
Due to their position in international rugby, they are yet to play a Tier One team this year, meaning their form/results are an unrealistic indicator of current form. Having said that, if they can produce the same quality of rugby as last year then they have a fighting chance of improving on their third place finish.
What do the statistics forecast?
The Rugby Championship is traditionally one of the most anticipated events on the annual international rugby union stage, with some of the best teams and players in the game making for exciting and top quality rugby. With Argentina joining the party and showing signs of their progression, this year's championship should be no different. Interestingly, the four teams each placed in the final four of the 2015 Rugby World Cup, suggesting this could be the closest championship to date. Of course, New Zealand's dominance during recent years is showing no signs of slowing down, and it would take a brave person to bet against them claiming another Rugby Championship crown.