In October of 1996, Arsenal appointed a relatively unknown manager by the name of Arsène Wenger. Little did Arsenal fans know that 20 years later, he would still be in charge. After winning 15 trophies during his tenure, Wenger's longevity in a period when football management seemingly became a revolving door is highly impressive.
Despite Wenger's success, he still splits the opinion of Arsenal fans. On his 20th anniversary in charge, TSZ has decided to look into the numbers behind Wenger's reign to see if the Frenchman should be given more credit or if those doubters are right.
October 1996
Having taken over from Bruce Rioch, Wenger's first game in charge of Arsenal came on 12th October, 1996. The starting XI Wenger selected that day is sure to rekindle some fond memories...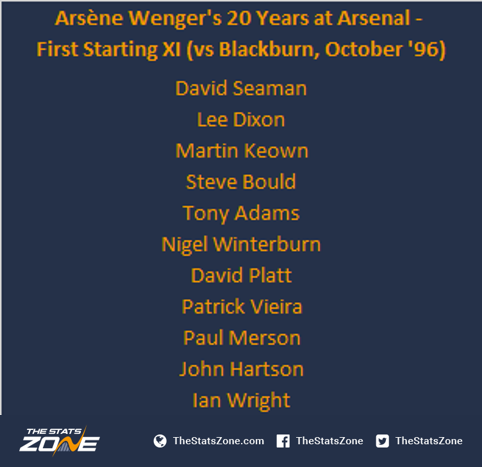 Wenger's side produced a 2-0 win on the day and it isn't difficult to see why with the talent on display. Despite that win, that season in '96/'97 saw Wenger produce his lowest win ratio over his 20-year reign (46.67%). From that season on, that number was bettered every year and it set the tone for what was to come. Wenger won his first trophies in his first full season in charge with his side, claiming both the Premier League (known as the Premiership back then) and the FA Cup.
It wasn't anything new to Arsenal who had been successful in the 20 years before Wenger. They had won the league (2), FA Cup (2), League Cup (2), Cup Winners' Cup (1) and Community Shield (1) in those 20 years, a total of 8 trophies. Wenger has almost doubled that number with three league titles, six FA Cups and six Community Shields.
Year-by-Year Record
Wenger's success at Arsenal hasn't just come in the form of trophies. His record in charge is extremely consistent and Arsenal have never finished outside of the top four with him at the helm.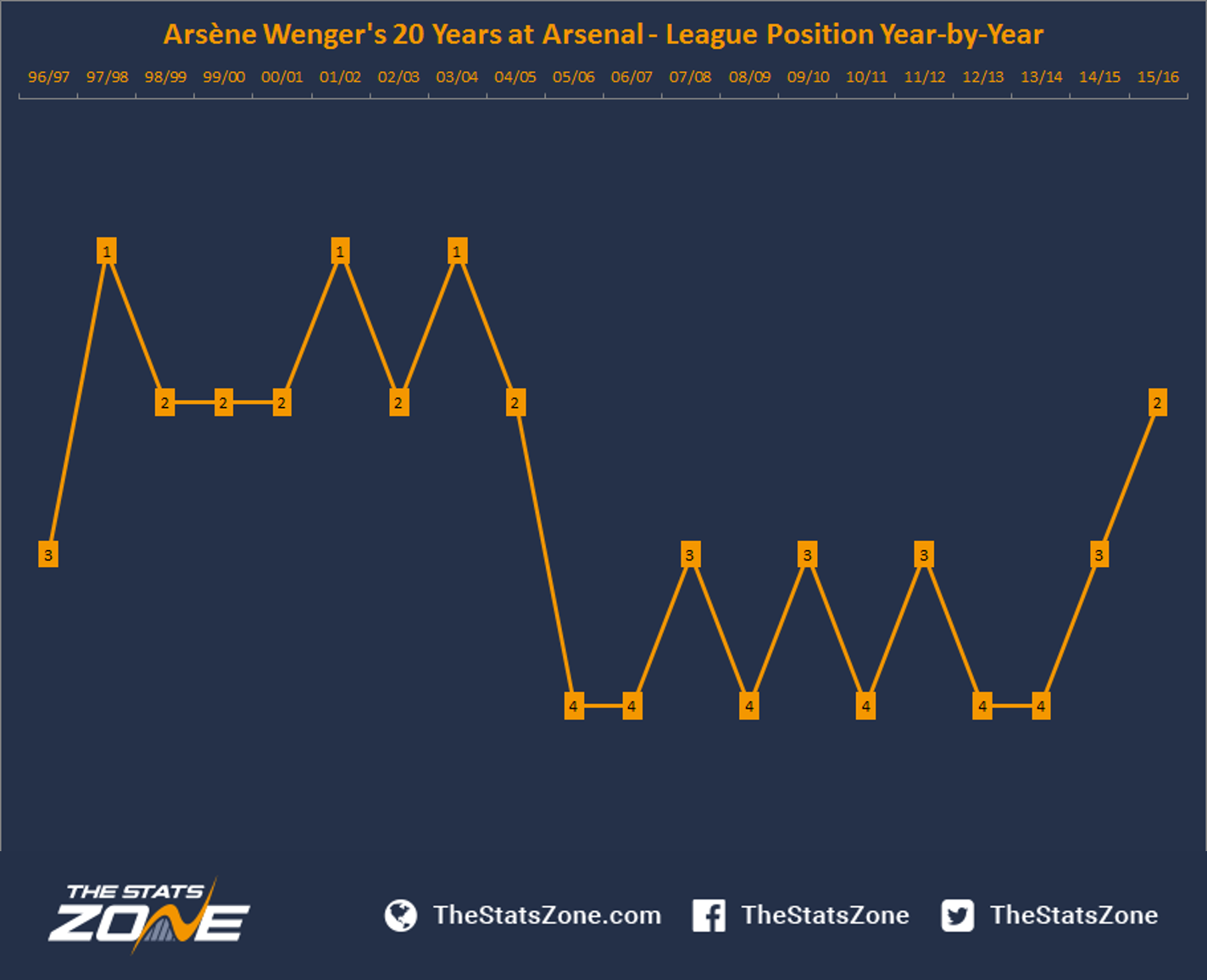 However, as the above graph shows, Arsenal had a 10-year period of not finishing in the top two, with that finally getting broken with a second placed finish last season. This forms part of the frustration for Arsenal fans. After such a promising start to his stint in charge, with three league titles and five second placed finishes in his first eight full seasons in charge, Arsenal didn't challenge for the title too much after that.
With this consistency in league finishes also comes consistency with points per game (PPG).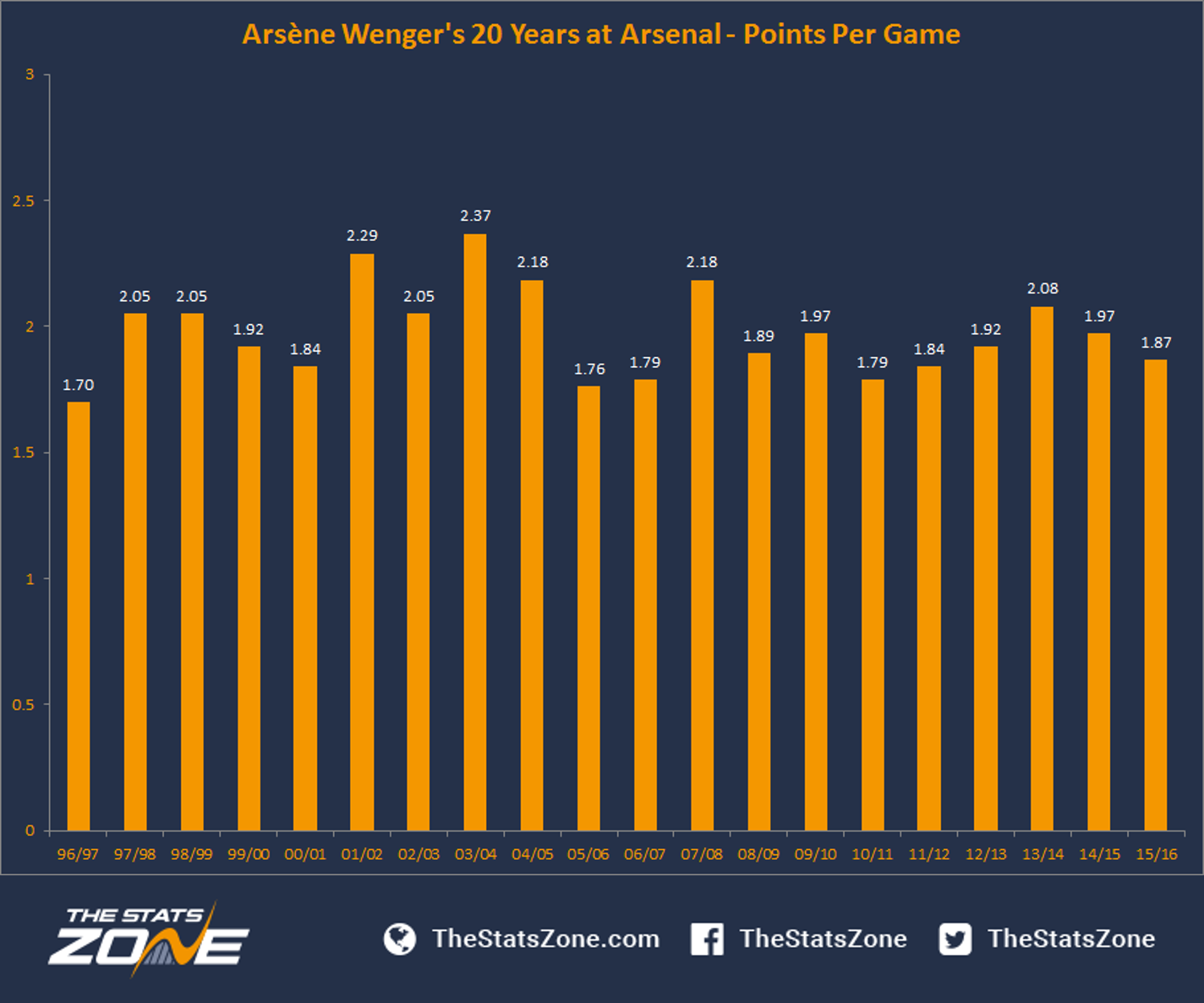 Wenger's first season in charge saw the lowest PPG during Wenger's tenure (1.7). The highest PPG came in '03/'04 when Wenger's 'Invincibles' went the full season undefeated and won the league with 90 points at 2.37 PPG.
Goals have not been an issue for Arsenal under Wenger but they have also been relatively good defensively too.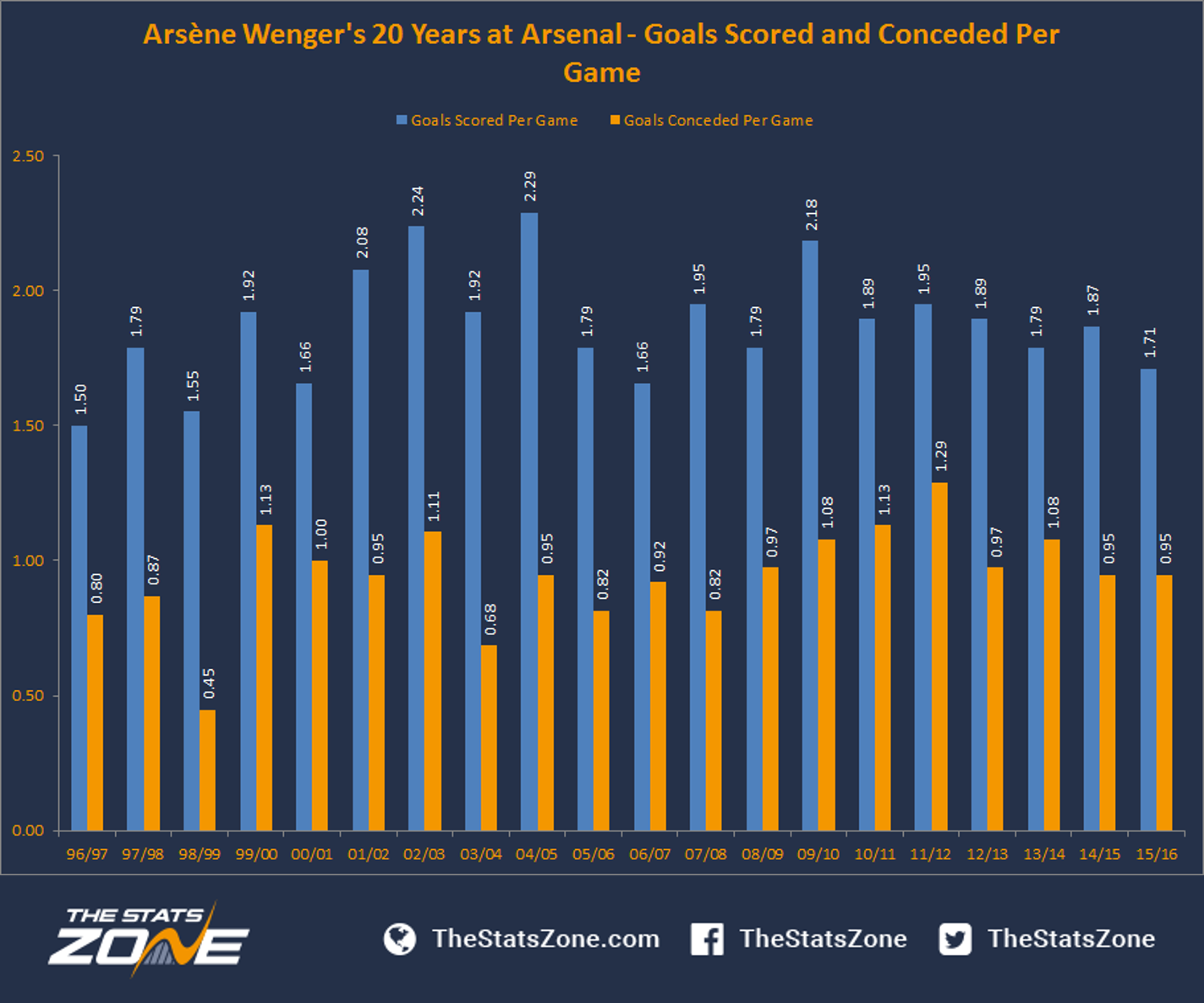 In the '04/'05 season, Arsenal scored 87 goals in the league at 2.29 goals per game (GPG). The lowest GPG managed by Arsenal was again in Wenger's debut season (1.5). In terms of goals conceded, Wenger's most impressive season came in '98/'99 when they only conceded 17 league goals at 0.45 goals conceded per game. The most goals Arsenal have conceded in a league season under Wenger came in '11/'12 when they conceded 49 goals at an average of 1.29 goals conceded per game.
League Record over 20 Years
With some impressive stats year-by-year, what do the numbers tell us about Wenger's overall tenure?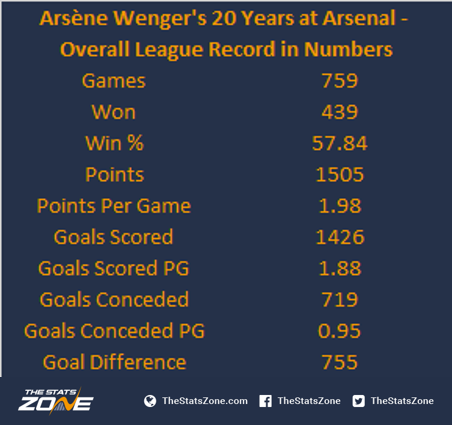 In 759 Premier League games under Arsène Wenger, Arsenal have won 439 games which is a win ratio of 57.84%. It's an incredible number over such a long period and shows how consistent Arsenal have been under Wenger. They've collected 1505 points over that period which is 1.98 points per game.
Arsenal have scored 1426 league goals under Wenger (1.88 GPG) and only conceded 719 meaning Arsenal have conceded under a goal a game under Wenger over the course of 20 years (0.95 goals conceded per game). The goal difference under Wenger in league games is a huge 755 goals to the good.
The numbers under Wenger are incredible. He's had great success winning as many trophies as he has and will surely think he can add to that total before he finally leaves the club. His consistency stands out above all else and despite jibes from long-term rival José Mourinho, it is something that Wenger can be extremely proud of. He's not only produced great success but has done it in an entertaining way if Arsenal's goal scoring record under him is anything to go by. Another league title is what Wenger craves and after making a positive start to the current season, can this be the year that Wenger silences his critics who claim consistency isn't enough?