In the last 10 years, 25 strikers have featured for England; some going on to become prolific for their country whilst others have become "one-cap wonders", but how have these strikers developed in their careers? Which players have the strongest domestic and international records? Do they replicate their club form for their country? Does being introduced to your national team at an early age mean you'll have a successful career?
Domestic Record
Which strikers have the strongest domestic statistics?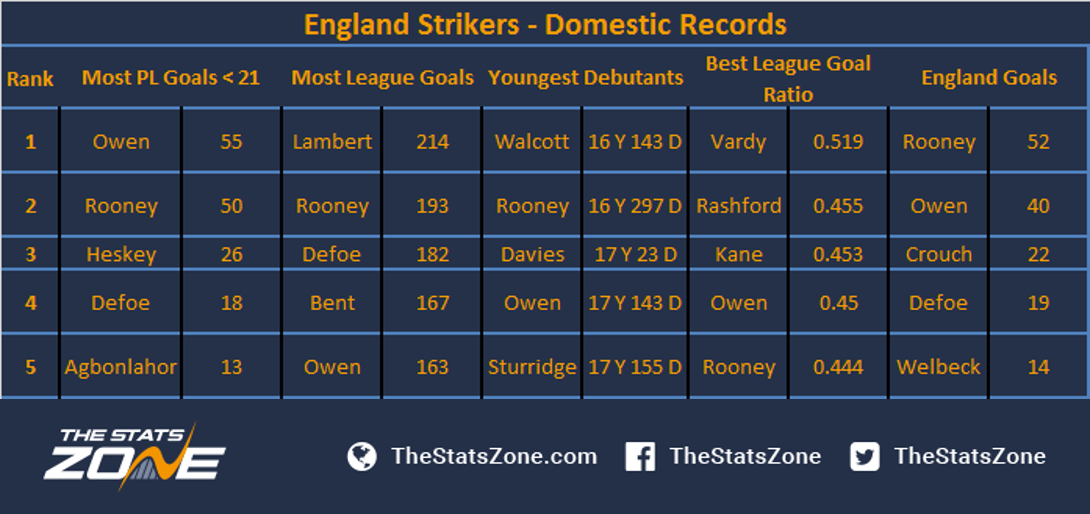 There is no coincidence that the two players with the most Premier League goals before the age of 21 have also scored the most number of goals for England. Surprisingly for some; Rickie Lambert has scored the most number of league goals out of everyone with 214, whilst Jamie Vardy has the best league goal ratio out of everyone with 107 goals in 206 appearances. However, these statistics are slightly misleading because the majority of appearances Lambert and Vardy have made have been in the lower leagues, so to say Vardy – who has spent half his career in non-league football – has a better goal scoring ratio than a player like Rooney – who has played every minute in the Premier League – is rather unfair. To level the playing field, a weighting can be assigned to the number of goals scored for any league the 25 strikers have featured in. Depending on the quality of the league, the following weighting has been assigned to give a player's "League Score" (any league listed has had a player feature in it at some stage in their career).

After the weighting has been applied, the strikers with the best "League Score" are given below. An "Average Score" has been calculated by dividing the League Score by the number of years a player has played:

Rooney leads the way with Kane – who has had two very successful seasons for Spurs – just behind. Defoe has scored more league goals than Owen, but 40 of those goals have been in the lower leagues, meaning his score is equal to that of Owen's when weighting is applied.
Current Crop
So which players have the best "League Score" out of the players used in the Euro's in France?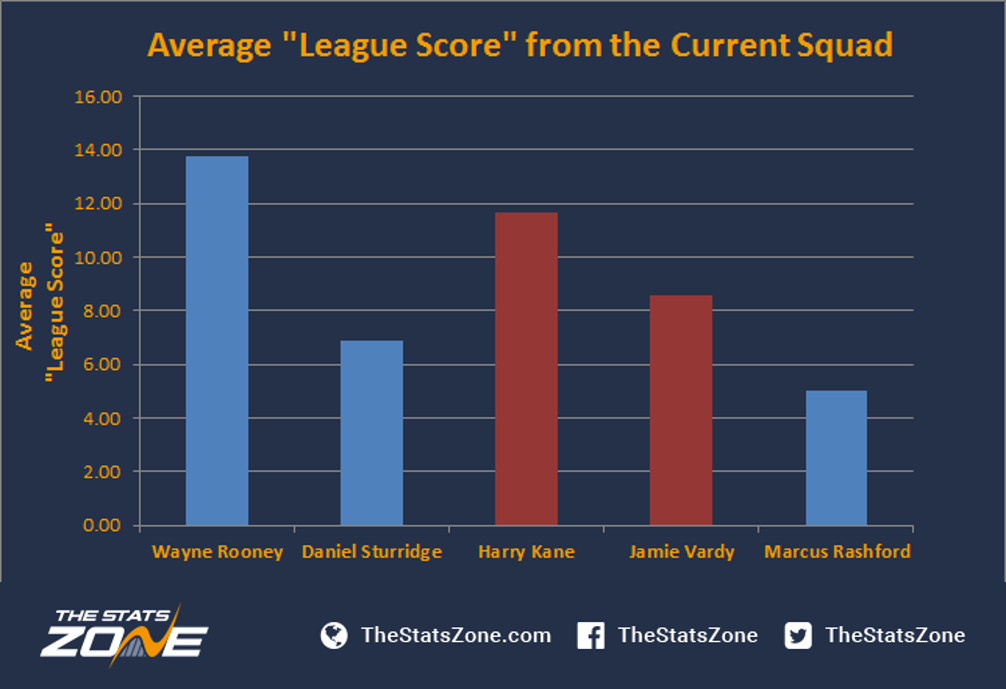 Blue – Players only played in Premier League, Red – Player started in Lower Leagues.
Still Rooney leads the way – essentially he averages almost 14 goals a season in the Premier League. Although Rashford only scored five goals in his first season, he did only play a few months so the graph could be a little misleading on his first season; if he had played the full season scoring at the same rate he might have had a score of at least 12. Daniel Sturridge has a notably low score, and although his goal ratio is 0.42, which is fairly strong, his terrible injury record has limited his appearances per season.
Does anyone raise their game when they play for England?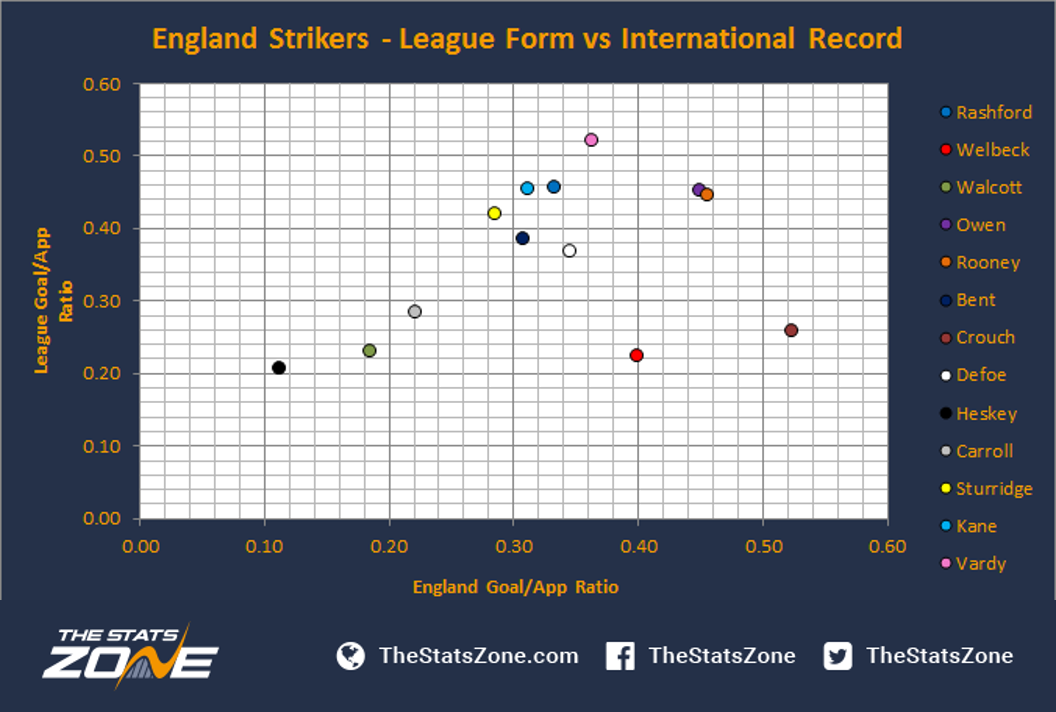 Only players that have scored for England and played more than 3 matches have been recorded to give some validity to the data.
The line that runs through the graph covers any point when a player has the same goal ratio both domestically and internationally, so any player above the line has a better goal scoring record for their club than their country. Only four players have better goal scoring records for England than they do for their country – Owen, Rooney, Welbeck and Crouch. Here you really see how Crouch and Welbeck have raised their game significantly for their country, whereas Owen and Rooney are just extremely consistent no matter who they are playing for.
International Record
Out of the last 25 strikers to appear for England, 7 have become one cap wonders – David Nugent, Dean Ashton, Kevin Davies, Jay Bothroyd, Frazier Campbell, Danny Ings and Jay Rodriguez.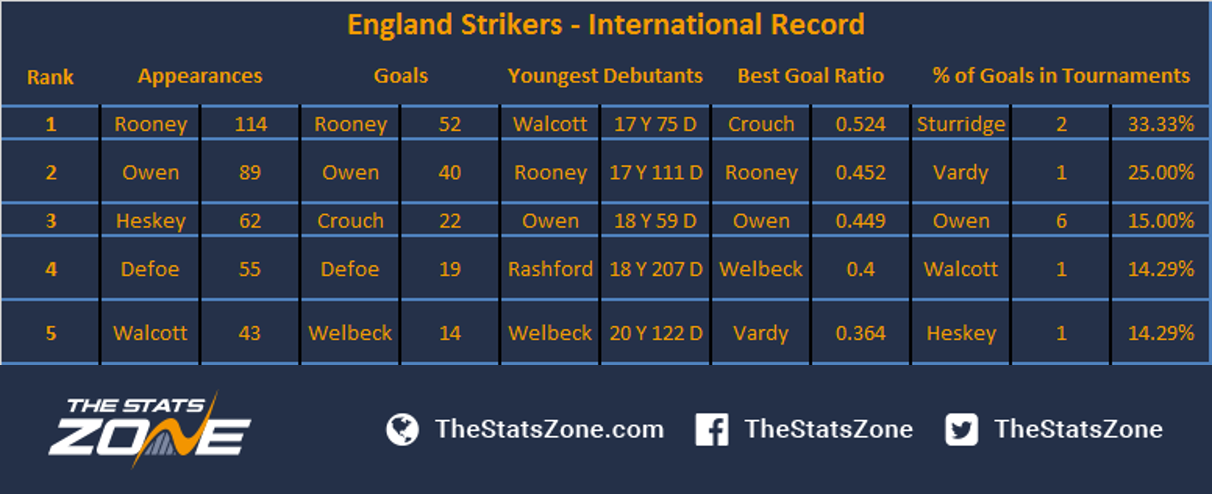 The table above shows Wayne Rooney to be very prominent with Michael Owen just behind him in every statistic. Surprisingly though, Peter Crouch has the best goal ratio of all England strikers of the last 10 years, with 22 goals in 42 appearances. Often a criticism of Rooney is, despite his impressive goal scoring record for England, he hasn't scored enough important goals in European Championships or World Cups. In fact, only 7 of his 52 goals (13.46%) for England have come in the most important competitions.
Marcus Rashford – The next Rooney or Walcott?
Interestingly, only 5 of the 25 strikers have been given their debut before they were 21. This would suggest that they were all promising individuals that had started their professional club careers very strongly. How did these five players start off their careers though, and how have they developed?

Although he was given his league debut at the latest age out of the 5 players, there was staggeringly only 89 days between Rashford's league and international debut (in which he scored in both matches!). With the future so bright and expectations constantly rising, what can we expect from Rashford over the next few years? Well, let's compare Rooney, Owen, Walcott and Welbeck's development before they reached 21. The following graph shows Premier League goals scored before they reached each age.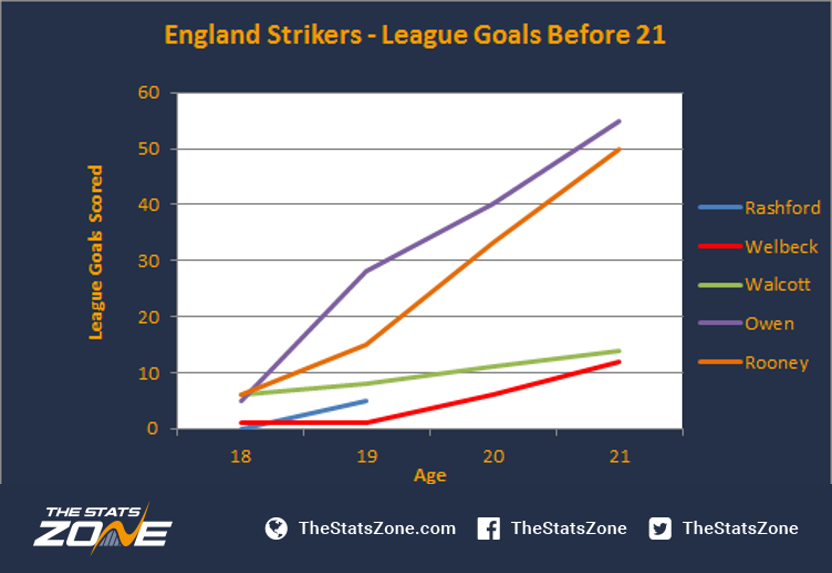 Here you really see the stark difference between reaching and not reaching potential. Both Rooney and Owen's careers really took off, and before they reached the age of 21 they both scored at least 50 Premier League goals. Walcott and Welbeck's careers in their early stages are much more stagnated, with injuries particularly halting Welbeck's progress. The graph indicates Rashford's career may possibly mimic Walcott's and Welbeck's but you have to remember that all these strikers had at least a few months' head start on Rashford, so there is still every possibility his form could reach new levels this year under Mourinho. For now though, he still has some work to do to catch Rooney and Owen.